The Last Word: Sterling's road from kid to commodity
As suitors and rumours grow, Anfield's star must heed coach's advice: character makes a career
Michael Calvin
Sunday 02 December 2012 01:00 Comments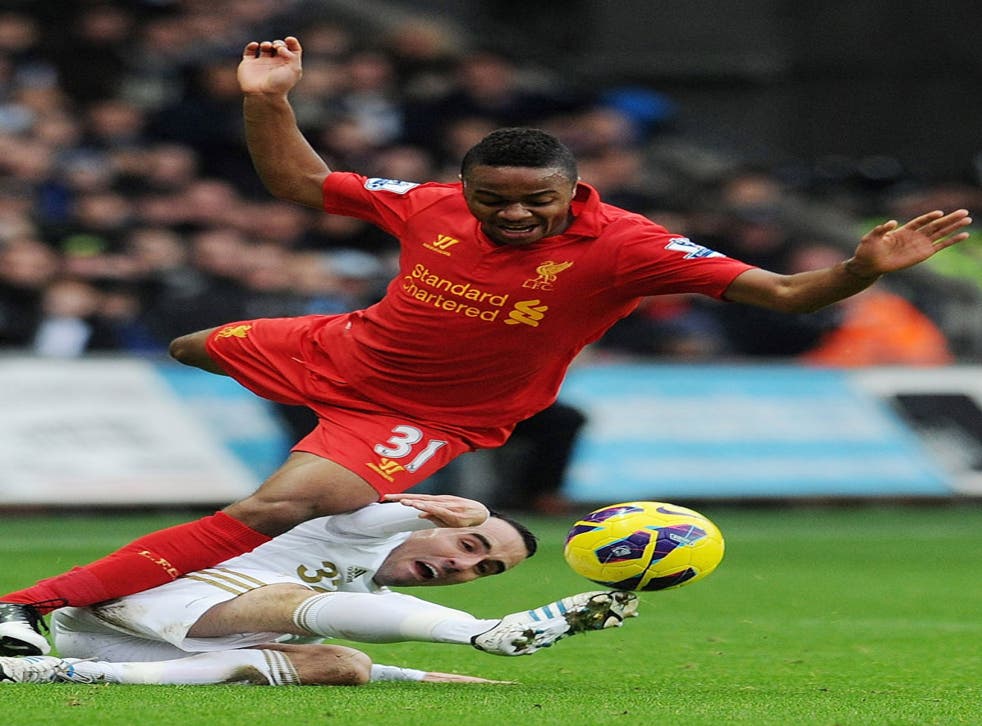 It was an image of everyday innocence. Two boys were playing football, one on one, in Cassiobury Park, Watford. They made the cliché complete by using jumpers as goalposts. One was my nephew, Jamie. The other was a friend, Raheem.
They were 14, and being watched by Tom Walley, a venerable youth coach who was a formative influence on such England internationals as Ashley Cole and David James. Instinct told him he had found "a bit of purple, a bit of quality".
He organised pick-up games for the boys on a pitch marked out in the back garden of the home of Tim Sherwood, Tottenham's technical co-ordinator. Walley was old-school and devised the Dustbin Run, a rudimentary stamina test, in a field behind his house, close to the M25.
When Raheem faltered on shuttle runs between refuse and recycling bins set 150 metres apart, Walley marched him inside to tell him his fortune. Character makes a career. Lack of character will leave your life in limbo.
This was when Raheem Sterling was a rumour, before the kid became a commodity. He played with a sense of joy beyond the comprehension of men who insist he is worth the ultimate 18th birthday present, a weekly wage of £50,000. Raheem was a boy with dreams rather than a meal ticket for those with a vested interest in the fog of football's dirty war. Depending on whom you believe, he is consumed by greed and disrespectful to the traditions of Liverpool FC, or a victim being driven into the arms of Manchester City, Tottenham or Arsenal.
The closer we get to the deadline of his birthday, next Saturday, the more frenzied the speculation will become. Briefings, on or off the record, will intensify. Sterling gives the impression of having effectively surrendered control of his destiny.
When he attempted to speak for himself, to his 250,000 followers on Twitter, his message was swiftly deleted. His official account, @Sterling31, was suddenly unavailable yesterday morning. The dispute between his advisers and Liverpool is increasingly poisonous.
Handled poorly, his career could quite easily implode. He is already the subject of grubby gossip about how many children he has fathered. The consensus is two. The caution of Liverpool's manager, Brendan Rodgers, about the toxicity of celebrity is understandable.
No name has been spoken at Anfield with such expectation since the scions of the Shankly era were quietly eulogising a prodigy named Michael Owen.
He was a recognisable product of a football family with middle-class pretensions. Growing up, Sterling was sustained by the protective instincts of a single mother, Nadine, who brought up four children in the most forbidding circumstances.
Sterling was born in the deceptively entitled Corporate District of Maverley, one of Jamaica's most brutalised communities, where drug cartels create no-go zones.
He was six when the family emigrated to the St Raphael's estate in the shadow of Wembley stadium. He failed to settle in a mainstream primary school because of behavioural problems, but the stigma of being statemented as having special educational needs was neutralised by his football ability. It encouraged his work ethic, underpinned his fragile self-esteem.
Even as the vultures circled, his mother attempted to teach him the importance of personal and mutual respect. Tottenham staged a trial, but rejected him. Fulham were convinced they were about to sign him from QPR for £200,000, but were gazumped by Liverpool a month before his 15th birthday.
The rest, they say, is history. Sterling has taken the Premier League by storm, and has won his first England cap. The idyllic anonymity of that afternoon in the park is a fond, fast-fading memory.
The words of Tom Walley are more relevant than ever: character makes a career. Lack of character will leave your life in limbo.
Dons row deserves better solution
Bookmakers can be relied upon to bring everything down to its lowest common denominator. Their opportunism is crass, theatrical and hugely profitable.
One firm sought to exploit the so-called moral dilemma of today's FA Cup tie at MK Dons. They offered to refund the ticket money of any AFC Wimbledon fan who couldn't face the journey, and made a complementary donation to the Supporters' Trust who run the League Two club.
The gratitude of AFC's manager, Neil Ardley – amplified by the inevitable, self-serving press release – was ill-advised. A club with such purity of purpose do not need fairweather friends.
The most affecting piece of pre-match propaganda has been a simple three-minute video in which AFC fans silently hold up hand-written placards detailing their first Wimbledon match.
It shames the fourth-form protest which promises that fans will wear radiation suits and bring their own sandwiches. The abandonment of traditional courtesies, such as mutual scouting opportunities, was petty.
MK Dons are a progressive club, who deserve greater respect. They should use today's tie to make the peace offering of signalling their intention to be known from next season as Milton Keynes FC.
It is time to move on.
Stop now Fred
Freddie Flintoff got away with it. His TV documentary has the requisite happy ending, as long as he does not sustain the charade of being a heavyweight boxer. Those who granted his licence need to examine their consciences. They, too, got away with it.
Register for free to continue reading
Registration is a free and easy way to support our truly independent journalism
By registering, you will also enjoy limited access to Premium articles, exclusive newsletters, commenting, and virtual events with our leading journalists
Already have an account? sign in
Join our new commenting forum
Join thought-provoking conversations, follow other Independent readers and see their replies