The Last Word: 'Water carrier' is the only man to douse French egos
France will have recognised Didier Deschamps as the only candidate with the clout to bang galactico heads together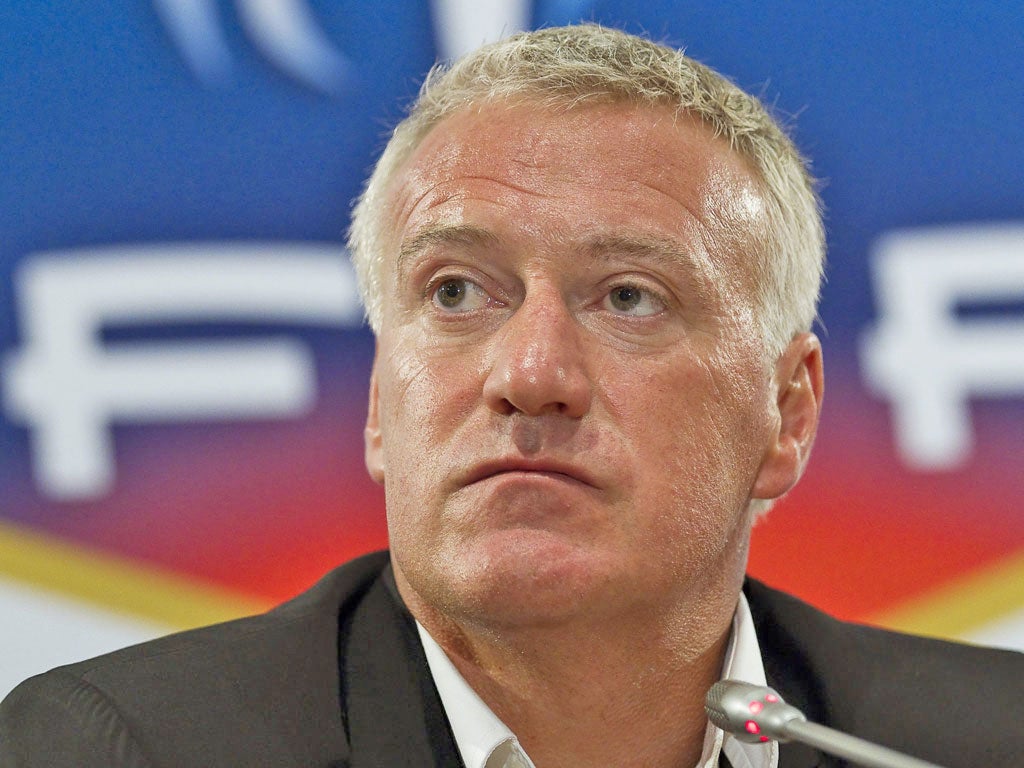 On this side of the Channel, something is invariably lost in translation. We misunderstood one French philosopher, Eric Cantona, when he apparently disparaged Didier Deschamps as "a water carrier". All the big stars on the Tour de France would tell you how indispensable is the "domestique" who weaves through the peloton, hydrating his team. More problematic for our footballers, however, is the paradox suggested by André Gide: "Complete possession is only achieved by giving." Judging from his performance at the European Championship, Ashley Young is evidently a more extensive reader than might be supposed.
England will not have the slightest pretension to international credibility so long as players treat the ball like a grenade with the pin removed. One of the few exceptions, Joe Cole, has duly proved almost unique in playing serious football abroad. The French could justly argue that his form for Lille last season represented a powerful rebuke to the asphyxiating football of his homeland. In the meantime, however, they have contrived to comfort their neighbours by reiterating still more fundamental deficiencies in their own game.
For the fact is that no England player would abase himself as shamelessly as Florent Malouda, when he seemed to decide he was too bored, disaffected, apathetic, arrogant and downright lazy even to stroll in the same direction as Xabi Alonso when he opened the scoring in the quarter-final. It was the moment when the French renaissance under Laurent Blanc was exposed as no less fatuous a delusion than the one that long sustained England's "golden generation".
Two years after their disgrace at the World Cup, and the return to outer space of Raymond Domenech, France had arrived on an unbeaten run of 21 matches. Samir Nasri spoke of a repaired image and spirit. "We've started from scratch," he declared. "All the problems of the past are behind us."
He is now one of four players facing disciplinary charges, following a tournament that prised open sulphurous fissures of discontent until all the old demons came pouring out. There was a blazing row after defeat by Sweden. Blanc's tactics grew ever less coherent. By the time they lined up against Spain, France had acquired a taint of cowardice: Blanc played two right-backs and Karim Benzema, ostensibly the target man, found himself forlornly foraging in midfield.
One way or another, France have ended up very nearly back at square one. The great team of so few years ago has been succeeded by incorrigible generations of narcissists and numbskulls. They comprise such a basket case that Deschamps, despite having left Olympique Marseille, hesitated for several days before accepting the invitation to replace Blanc. He knew the risk to his reputation – not just as one of the most accomplished younger coaches in Europe, but also as an icon of the French game.
For here is an exception to the modern trend of star players, switching to the dug-out, being outsmarted by cerebral technicians. How fitting, then, that Deschamps and Jose Mourinho should have announced themselves in bringing Monaco and Porto to the 2004 Champions League final. Only 35, Deschamps had recently ended one of the most decorated careers: winner of the Champions League twice, Serie A three times and the World Cup and European Championship with Les Bleus.
But Deschamps would quit Monaco the next season, and only ended his sabbatical to rescue Juventus from Serie B. His departure from Turin implied friction behind the scenes, but that does not necessarily bode ill. For his very capacity for making enemies confirms Deschamps as a strong character who insists on his own authority. And the expectations that preceded him to Marseille were scarcely less ruthless than those he must meet now.
He returned in 2009 with everything to lose. The club was restless for a glory unsampled since Deschamps captained them as France's only Champions League winners in 1993. He promptly secured a first league title in 18 years, and took six trophies in three seasons. A mid-table finish last time around takes something of that gloss away, albeit a Champions League quarter-final represented renewed progress in Europe.
Certainly all France will have recognised Deschamps as the only candidate with the clout to bang galactico heads together. He has the sort of unassuming air that derives from total self-assurance – just as the egotism in some of his new charges reflects a deeper fragility.
His previous teams have tended to manifest unity, courage and commitment. His new one has no hiding place. France have drawn the shortest straw of all in World Cup qualification, sharing a group with Spain. But Deschamps will already have in mind the fact that the 2016 European Championship is to be on home soil. If he is still in the job then, it seems safe to assume that France will be back in business.
Join our commenting forum
Join thought-provoking conversations, follow other Independent readers and see their replies