The Rafael Benitez Column: I'll leave the philosophy stuff to Plato and do my work on the field at Napoli with our players
Italian football is full of systems, and in that sense it is more challenging than in England
Rafael Benitez
Tuesday 01 October 2013 09:01 Comments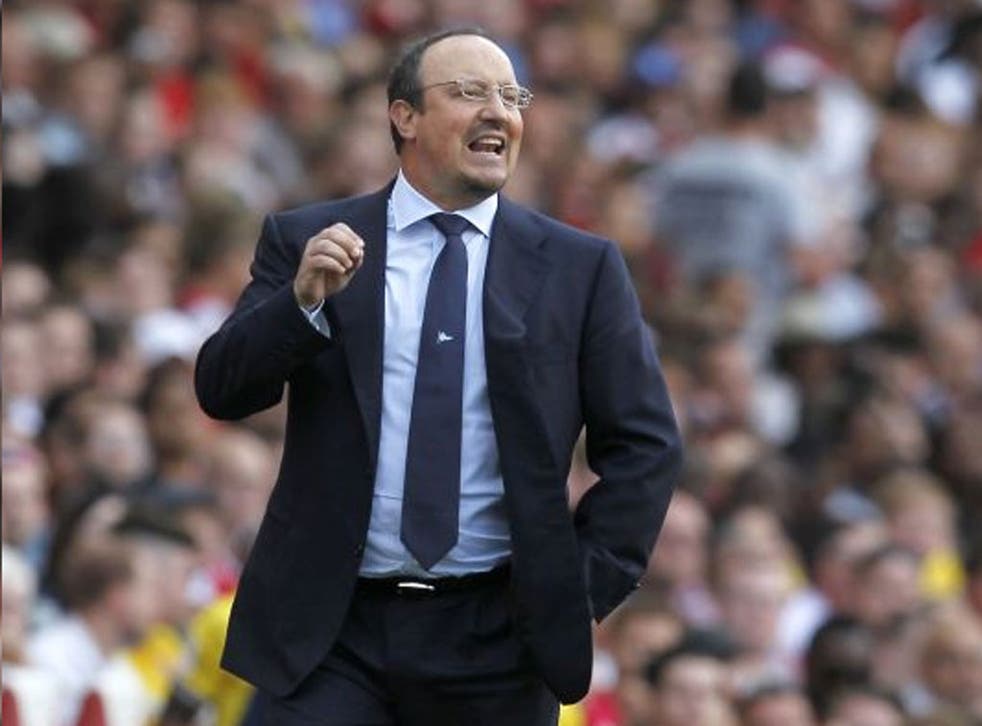 Systems, systems, systems! I can tell you that it's all about systems here in Italy, in a way that it isn't in other countries.
My Napoli team have played five games so far in Serie A and we have been up against a different system in every game, with some opponents changing their system two or three times during a game. For those of you like numbers, we've faced 5-3-1-1, 5-3-2, 3-5-2, 4-3-3, 4-3-1-2, 4-4-2 and 4-1-4-1 and the challenge of counteracting and reacting to the systems is a great challenge for any coach in this country. It is more challenging than England, in that sense. Everyone seems to be talking about analysis and statistics in football, and managers' philosophies about offensive football. Well, I'm sorry, but the philosophers were Plato and Socrates. The essential part of winning games for a coach is the work done on the field, helping players to deal with the systems thrown at them. Never is it more so than in Italy.
The team we played on Wednesday night - Sassuolo – are a good example. Against Inter Milan at the weekend they played 4-3-3 and lost 7-0 at home. Against us, they changed to 5-3-2 and we drew, instead of keeping our 100 per cent record. We had to change four or five players and rotate the squad with a lot of matches we had, but Sassuolo were a different team. We had 72 per cent of possession and still could not break through to score a second goal.
The people who like to think that systems mean more than making the right decisions in the match talk about a possession style of football as if it means everything. But look at Barcelona against Rayo Vallecano in La Liga a week ago. It was the first time in five years that Barcelona did not see more of the ball than their opponent – 49 per cent to the opponent's 51 per cent. The result? Barcelona won 4-0.Don't get me wrong. I've always been interested in data and statistics. I had my old Commodore 64 computer to analyse and control the work rate of my players many years ago and have used many computer programmes to generate statistics since. But when I hear managers talking about their philosophies, their projects and using statistics to 'create' an offensive style of play, I think you need to be very careful. You don't only need data but the ability to make the right decision before, during and after games. That's the value of a manager: not his ability to generate thousands of figures on who's run, passed or won the second ball.
These are very early days for our Napoli team and though we have been working well and have started well, with our unbeaten record in Serie A and the win against Borussia Dortmund in the Champions League, we are still learning and developing as a squad. The major challenge is how to coach the players to deal with the different systems they might face – how to play if the oppositions start 5-3-1-1 and how if they line up 4-3-3. With two games a week, training and travelling, there is no time to show them all the systems. It requires a great deal of game intelligence from them, which some players in the Premier League would find it tough to adapt to. It depends on how good you are as a player. The better your game intelligence, the better you will adapt. If you are just strong in the air or quick, it's not the same.
Our win over Dortmund helped with the players' confidence and the key to it was being able to react to what they were confronted with. The systems in our Stadio San Paolo were straightforward and familiar to British football fans – their 4-2-3-1 matching up against our 4-2-3-1. But the key was to see the way the Champions League finalists played, with their intensity, pace, high tempo, and to be hard, resilient, deal with it and be strong on the counter attack. Again, philosophies and statistics are nice – I like to play the ball – but I like pragmatism more.
You will perhaps have seen a little more of our players, if you saw the highlights of the match. We have talked about Gonzalo Higuain already in these pages. He needed confidence and it is the same with all of them. Another of the players who is still learning here is Lorenzo Insigne. You will know his name by now, if you saw the Dortmund game, because of his free kick which was the decisive goal. Insigne has travelled in the past few years, perhaps wondering whether there would be a place for him in Naples, this incredibly passionate city where he was born. He has been away from here for three years – on loan at Cavese, Foggia and Pescara, in lower leagues. That is normal: loans like that are the Italian way. Now he is back, a real Naples street kid with all the passion I saw in the Scousers in Liverpool, a city which shares many fine things with my new one. He can still improve and can still get focus and find the calm place in his mind. But he showed in the Champions League that he can understands the game and can grasp what we ask him to do. It is no surprise that every other person in Naples seems to be talking about him.
Our win against AC Milan in San Siro last weekend, which was our first there in Serie A since Diego Maradona's team beat them in April 1986, helped build the confidence of the team, too. The team is growing but is still a long way from being right. There is a need to adapt to a new mentality, make big decisions in big games at the right time, while we bring young layers through at the right age. We have our plans but in this country, like others, we need to do more than give a good power-point presentations and a fantastic long report to the owner. The reality for the manager is knowing about football and using that to help him make decisions in the game.
Arsenal trip will be a tougher test for us
I don't expect the systems to be as straightforward as they might seem in the Champions League, either. It will be a major challenge to be back competing in England playing a great team in Arsenal next week. It will be very difficult against a team with a great manager. In our elite coaches' meeting at Nyon recently, they were talking about 4-2-3-1 being the most used system but we cannot rely on that always being the case. We drew against Arsenal in pre-season in the Emirates Cup and though our record against them with Liverpool in Europe was good, we must be thorough in the way we approach this. The Dortmund game was only one result. A European night at the Emirates is something to savour. But there is a long road ahead.
Even Balotelli can be outfoxed in the box
It was a challenge for us when AC Milan won a late penalty against us in San Siro because they have Mario Balotelli and every Manchester City fan knows that Balotelli does not miss penalties! Researching where the goalkeeper might dive is something we have always worked on with Pepe. At Liverpool, we divided the goal into six numbered sections and our goalkeeping coach Jose Manuel Ochoterena before, and Xavi Valero now, would study the numbers with Pepe when the moment came. The goalkeepers would also look at patterns on a laptop. We have been doing the same here, using television as well, for analysis. Balotelli paused in front of the ball and struck his kick to Pepe's right. He saved it well.
Register for free to continue reading
Registration is a free and easy way to support our truly independent journalism
By registering, you will also enjoy limited access to Premium articles, exclusive newsletters, commenting, and virtual events with our leading journalists
Already have an account? sign in
Join our new commenting forum
Join thought-provoking conversations, follow other Independent readers and see their replies