The star makers: How Fulham became one of the best youth academies in the modern game
Jack Pitt-Brooke meets the men who developed the fledgling careers of Gareth Bale, Theo Walcott and Adam Lallana at Southampton and have transformed FA Youth Cup finalists Fulham into one of the best academies in the modern game
Jack Pitt-Brooke
Saturday 26 April 2014 10:20 Comments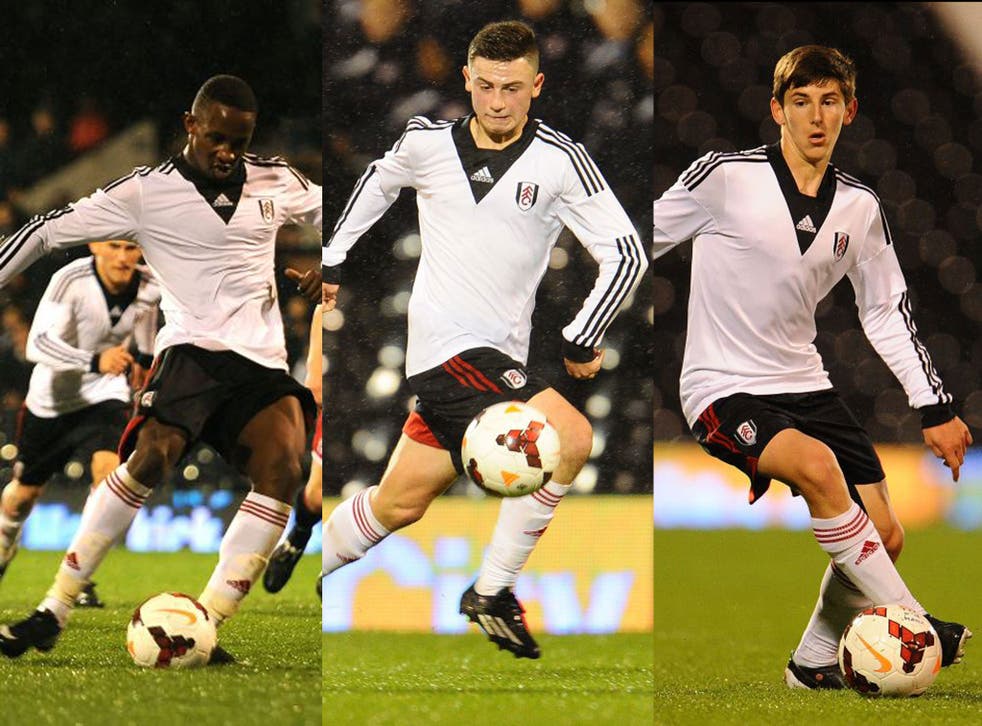 "It is about trying to say yes," replies Huw Jennings when asked to describe the ethos that has made him the best academy director in modern English football. "Generally in the workplace, and typically in football, a lot of people say no. I am the type of person who will see if we can say yes, first and foremost. If it is a no, then so be it. But you've always thought about the opportunity to succeed."
Fulham play in the FA Youth Cup final on Monday night but for Jennings success is more than just collecting silverware, it is about developing young players. Of course Fulham would rather win than lose over two legs against Chelsea, but defeat would be no disaster.
"There is a difference between a winning mentality and winning at all costs," says Jennings. "You use the games to develop the winning mentality. You certainly don't go into competitions only to win them."
Jennings has proved rather good at winning competitions since taking over Fulham's academy in 2008. They have won the Under-18 Premier League for the last three seasons, although this year league form has suffered under the weight of their cup run as well as their participation in the Dallas Cup this month.
For Jennings and his team, it is all about broadening the young players' experience. The Youth Cup is valuable, but not always perfectly predictive. Even when Jennings was at Southampton, nurturing one of the best generations of young players in recent memory, they did not win it.
"I have had an interesting love affair with the Youth Cup. At Southampton, I was knocked out in the third round, and we got to the final and lost. Both experiences are equally beneficial. It is when the players realise the consequences of winning and losing. They all aspire to do well, but it isn't the be-all and end-all."
That Southampton side, including Theo Walcott, Gareth Bale and Adam Lallana, were beaten in the 2005 final by an extra-time winner from Ipswich Town 15-year-old Ed Upson. The subsequent careers of that Southampton side, which also included Nathan Dyer and Leon Best, demonstrates that winning "is not the most important thing".
The quality of players Southampton produced under Jennings is remarkable and his work over the past five years has been an attempt to replicate those successes at Fulham's Motspur Park base. It is certainly difficult; Southampton had a vast catchment area, while Fulham are one of 14 professional clubs in the London area, all competing for the best players.
Jennings was recruited by Fulham chief executive Alistair Mackintosh six years ago, hoping to instil an identity to the club's youth development. Jennings tried to bring a "can-do mentality" to the academy and the optimism he and Under-18 manager Steve Wigley exude is contagious.One colleague describes Jennings as "extremely thoughtful, passionate and intelligent" and his approach is to give as much of himself as possible to his players and staff. "I try and be accessible and available to people; I have an office where the door is always open," he says. "We laugh a lot. Our academy is open for a minimum of 350 days a year; you have to be able to foster companionship."
It makes for a far more personal approach than at many academies. Jennings knows every boy from the Under-eights upwards and there is an emphasis on personal as much as sporting development. This is made easier by the small size of the year groups.
"Unlike a number of our contemporaries, we have got a very limited squad," Jennings explains. "We don't believe in over-recruitment. We would only look to recruit players who we genuinely feel have got an opportunity to succeed. In the Under-18s we have 15 outfield players, so it's a squad of 17. We've compared that with our rivals and some are up to 39. How can you give competitive football – any football – to 39 players?"
When Jennings took a team out to Dallas, their Under-16s had to step up for Under-18 games, but they consider it a price worth paying. It is easier to have smaller groups, too, when they are so carefully picked.
Jennings brought Malcolm Elias to Fulham as head of talent ID and recruitment, having worked with him at Southampton. Jennings and Elias first met in the mid-1980s when they were both teachers in Oxford, looking after some of the Oxford Schools sides, before Elias joined Oxford United as youth development officer. Since then Elias has become one of the best talent-spotters in the game, and a vital part of Fulham's work.
"Malcolm is, in my view, one of the best recruiters in the country, and has been for two or more decades," says Jennings. "He is the best person at going the final furlong with a player. Some people identify the talent and that is job done, but that is never true for Malcolm."
Elias is described as "pivotal" to the recruitment of Fulham's two most exciting players, Patrick Roberts and Moussa Dembélé, both of whom have broken into the first team this year but should still play on Monday night. Their two stories demonstrate the different routes into the academy.
Roberts is a local boy who impressed with Surrey Schools but was playing for AFC Wimbledon when the parents of an existing Fulham player brought him to the attention of the club. He joined them relatively late, at 13, but has already surprised some and made his first-team debut last month, one of 10 academy graduates to do so this season.
Dembélé was first spotted playing for France Under-16s in the Val-de-Marne tournament in 2011. In August 2012, with his club Paris Saint-Germain having changed ownership, Fulham were alerted to his availability and quickly took advantage. Dembélé has been scoring goals for the Under-18s and Under-21s ever since. He is arguably the most dangerous striker at the club.
"You have to be open-minded to understand the pathway for each individual can vary," says Jennings. Cauley Woodrow joined Fulham from Luton after being released by Tottenham at 14 before breaking into the first-team at Kenilworth Road. Goalkeeper Marek Rodak is from Slovakia, Emerson Hyndman is from Texas, Josh Passley is from Thornton Heath.
Working with them every day, setting the standards, is Wigley, head of coaching and Under-18 manager, who joined in 2012, having been with Jennings and Elias at Southampton. "The culture, if we're honest, boils down to what happens on the training ground," he says. "We have a competitive environment. The players are expected to be competitive every day. You can't always win, but you can always be competitive."
The players clearly get this. "If Moussa Dembélé so much as loses a five-a-side or a shooting contest, you should see him," Wigley says. "He walks around the pitch for five minutes shaking his head. He's just got that about him. I want them to care, about one another, about the game, their performance and how they conduct themselves."
Fulham host Chelsea in the FA Youth Cup at Craven Cottage on Monday night. Tickets are £5 adults, £3 concessions.
Register for free to continue reading
Registration is a free and easy way to support our truly independent journalism
By registering, you will also enjoy limited access to Premium articles, exclusive newsletters, commenting, and virtual events with our leading journalists
Already have an account? sign in
Join our new commenting forum
Join thought-provoking conversations, follow other Independent readers and see their replies