Thierry Henry: Why the actions of the former Arsenal striker led to the Irish boycotting Henry hoovers
The nation will probably never forgive the former striker
Simon Rice
Tuesday 16 December 2014 12:15 Comments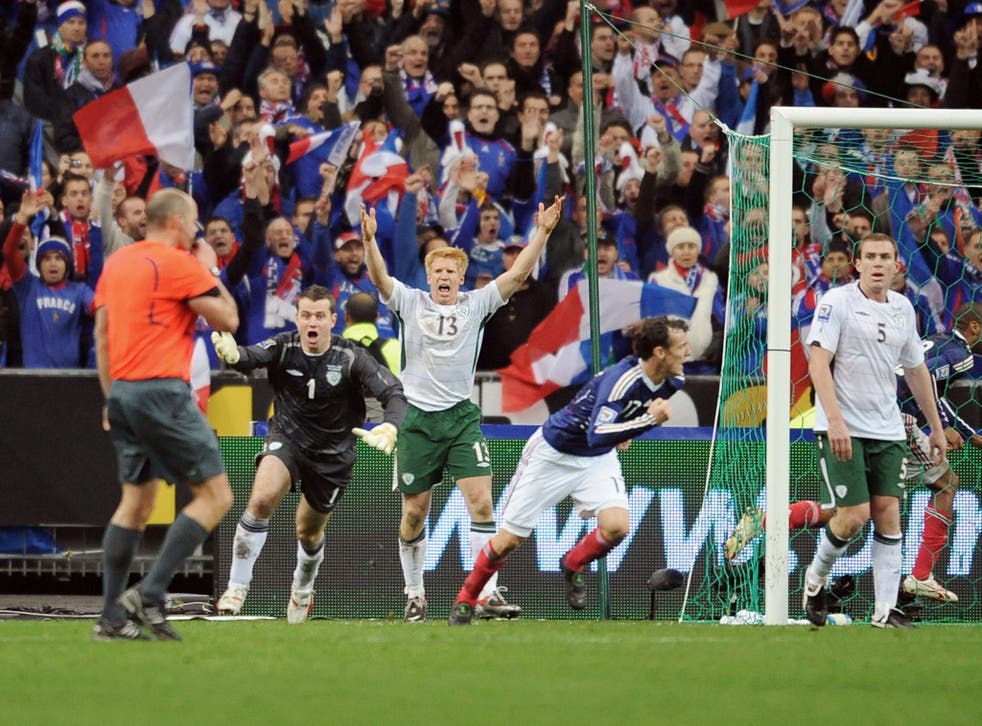 Thierry Henry today announced his retirement and with it put the cork in a vintage career.
But like many of the greats, in addition to all the special things the Frenchman did, there were also a few ugly moments and none more so than the incident that robbed Ireland of a place at the 2010 World Cup.
France and Ireland met in a two-legged qualifying match in November 2009 to determine which would be going to South Africa the following summer. Heading into the game, Ireland were already feeling aggrieved when at the last minute Fifa introduced a questionable seeding system to keep the big-guns away from each other. That all the teams had finished second in their respective groups made this seem incredible unfair.
In the second-leg in Paris, Ireland were brilliant and deservedly led thanks to a goal from Robbie Keane.
It was enough to take the game to extra-time but with Ireland on top Henry intervened, not with a moment of greatness, but with a show of gross cheating.
With a free-kick lofted into the box, Henry controlled the ball with his hand before playing the ball across goal for William Gallas to score. After the goal, Henry wheeled away in celebration as the Irish players tried to explain to the referee what had happened. The protestations were to no avail and the game ended 1-1 and France went to the World Cup with with a 2-1 aggregate scoreline.
Despite having taken his country to the World Cup, Henry was villified. Amid talk of replaying the tie, even the French media had little sympathy with the striker.
But obviously the most hurt, and the ones that had lost out, were the Irish. Such was the anger in the Emerald Isle, it was reported that as a sign of protest, cleaners refused to use Henry vacuum cleaners in the aftermath as they couldn't bear to see the name. Sales were also were reported to have dipped.
Arsenal's 2004 'Invincibles': Where are they now?

Show all 11
Rory Delap, who was part of the Ireland squad denied a place at the World Cup said today: "There is still a lot of feeling back home. The fact that people stopped buying Henry hoovers shows how far it went and how horrible a thing it was to happen to the country. You don't mind getting beat by greatness - and that is what he had - but it is disappointing that people remember that over all the great things he did. But that will in the top players is to win at all costs and sometimes you have to take the bad with the good."
That France were atrocious at the World Cup in South Africa only rubbed salt into the wounds.
Register for free to continue reading
Registration is a free and easy way to support our truly independent journalism
By registering, you will also enjoy limited access to Premium articles, exclusive newsletters, commenting, and virtual events with our leading journalists
Already have an account? sign in
Join our new commenting forum
Join thought-provoking conversations, follow other Independent readers and see their replies