Thomas Hitzlsperger gay: The reaction in Germany after former Aston Villa player comes out
The former midfielder, who was capped 52 times by Germany, has received widespread support
Kit Holden
Wednesday 08 January 2014 16:33 Comments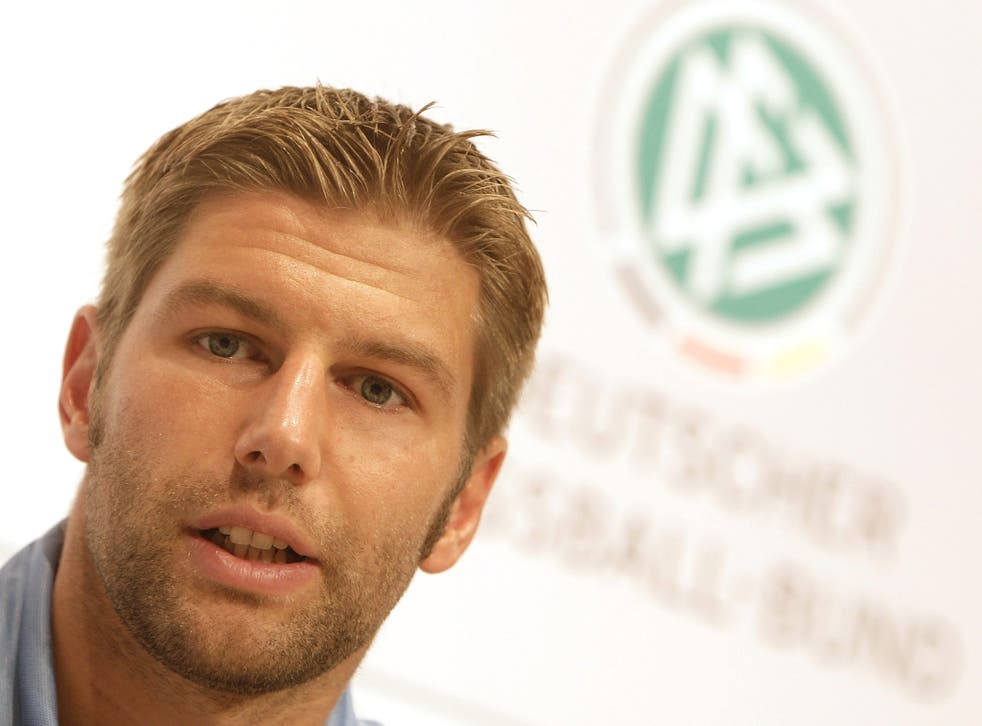 Thomas Hitzlsperger has been greeted with an overwhelming wave of support in Germany following his public declaration of his homosexuality earlier today. The 31-year-old came out in an interview with Die Zeit, stating that he wished to move forward the discussion of homosexuality in football.
One of the first to congratulate the former Aston Villa, West Ham and Everton player was Arsenal's Lukas Podolski, who tweeted that it was a "brave and right decision. His outing is an important sign in our time". This was echoed by Fredi Bobic, former Bolton striker and Director of Sport at Hitzlsperger's former club VfB Stuttgart, who expressed his "great respect".
The Lesbian and Gay Association of Germany (LSVD) were also quick to praise Hitzlsperger for his decision, stating that "this is a declaration which will shake up one of the biggest taboos in professional football. It's a hugely important step, and one which will have a huge significance for the next generation of footballers".
Former President of the DFB Theo Zwanziger, who in the past has made clear his view that football needed a gay professional to come out, said that this decision was a positive one, but warned that the struggle against homophobia in football remains a crucial issue: "It is still a risk to come out. In any team, there are players from many backgrounds, and thus necessarily some from backgrounds which reject homosexuality. But I think we are getting closer to the time when rejection of homosexuality is no longer an issue in football."
Zwanziger's successor as DFB President Wolfgang Niersbach went one further, promising that the association would give Hitzlsperger any support he may require, while General Manager of the national team Oliver Bierhoff added that: "We had no idea that Thomas was gay while he was still a professional. He only informed us about it after his retirement. It is a step we welcome."
VIDEO: Thomas Hitzlsperger hopes to encourage others...
Germany national team coach Joachim Löw also made a statement today, saying that "Thomas has made this personal decision for himself, and should be treated with respect from all sides".
Even DFL and Borussia Dortmund president Reinhard Rauball praised Hitzlsperger. The politician from the Social Democratic Party (SPD) went on the record in August, discouraging professionals from coming out for fear of the reaction. He qualified this opinion today in light of Hitzlsperger's announcement: "The clubs bear the greatest responsibility (to protect their players.) If a player is to come out, I would advise him to confide in the club and the players first."
Berlin's governmental quarter was also ablaze with voices seeking to praise the former German international. Government spokesman Steffen Seibert stated that it was good, that Hitzlsperger was able to speak about something that was important and liberating for him."We live in a country, where no one should be afraid to be open about their sexuality for fear of intolerance," he said, adding somewhat awkwardly that, "generally, we are able to respect each other, regardless of whether we love women or men."
Guido Westerwelle, former Minister for Foreign Affairs and one of Germany's most prominent gay politicians, was more eloquent. "(Hitzlsperger) deserves a huge amount of respect," he said, "this is a much more difficult step to take than it may appear to the public. I hope it grants encouragement, respect and recognition to the many who are still struggling with themselves, those around them or society as a whole due to their homosexuality".
Register for free to continue reading
Registration is a free and easy way to support our truly independent journalism
By registering, you will also enjoy limited access to Premium articles, exclusive newsletters, commenting, and virtual events with our leading journalists
Already have an account? sign in
Join our new commenting forum
Join thought-provoking conversations, follow other Independent readers and see their replies