Tom Curtis targets new fairytale ending to Caribbean crusade
Ex-Chesterfield player managing Antigua and Barbuda making waves in cricketing heartland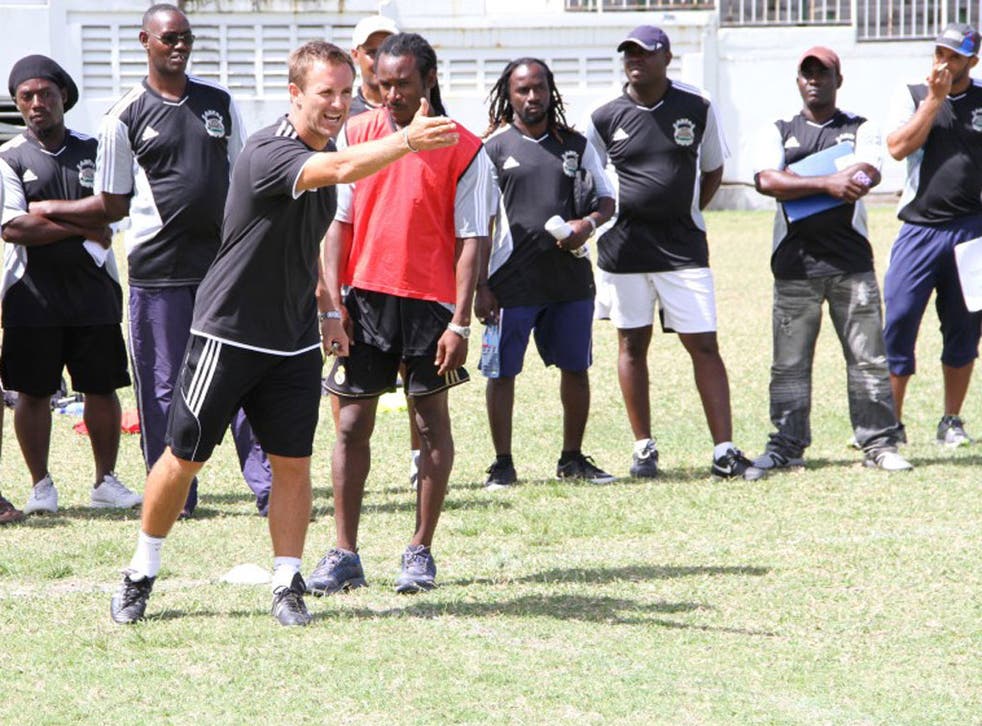 As the final whistle blew at the Sir Vivian Richards Stadium on Friday night, an Englishman emerged from the dugout to exchange handshakes with one of world football's most familiar figures.
It's unlikely that Jürgen Klinsmann was aware of Tom Curtis during his time with Spurs but he certainly knows who he is now. Antigua and Barbuda needed a win against Klinsmann's United States side to maintain their interest in qualification for the 2014 World Cup but a last-minute strike from former Fulham striker Eddie Johnson in a 2-1 win ended their hopes of mixing it with the big boys in Brazil.
It was always likely to prove a bridge too far for the Caribbean minnows, but given the limitations Curtis is working with, he has already surpassed all reasonable expectations.
"It was always a long shot, but it's a huge, huge thing to have had the USA here," said Curtis. "The disparities between the two organisations in terms of budgets, infrastructure and player pools are so vast. There are 88,000 people on the island and they haven't got a football pitch. Yes, qualification is important but the fact that we're actually playing these guys is a success story anyway."
Curtis arrived in Antigua in March 2011 after leaving his job as the head coach of Loughborough University. Before taking the plunge in the Caribbean, he was best known as a member of the Chesterfield side that reached the semi-finals of FA Cup in 1997.
That fairytale run was ended by Bryan Robson's Middlesborough in a replay, but the former midfielder – who racked up over 400 league appearances for the likes of the Spirerites, Portsmouth and Mansfield – is a man who has always enjoyed the underdog tag.
"I thought it would be a challenge, something different," he said. "And I haven't been wrong. When I came here we were 125 in the world and we got ourselves up to 83 at one point. The island has never been to the semi-final stage of Concacaf World Cup qualifying so we've already come a long way. We don't have training facilities, we train on cricket grounds and pieces of grass that we can find all over the island."
Antigua and Barbuda's World Cup run has given the sports-mad population hope that, one day, an island usually renowned for its cricketers can see its footballers rub shoulders with the likes of Wayne Rooney and Lionel Messi at a global tournament. For the moment though, Curtis is far more likely to bump into them on one of the island's pristine beaches. Or maybe not.
"All the Premier League stars stay in the best hotels in the most expensive areas of Antigua," he said. "There's no chance of our paths crossing."
Register for free to continue reading
Registration is a free and easy way to support our truly independent journalism
By registering, you will also enjoy limited access to Premium articles, exclusive newsletters, commenting, and virtual events with our leading journalists
Already have an account? sign in
Register for free to continue reading
Registration is a free and easy way to support our truly independent journalism
By registering, you will also enjoy limited access to Premium articles, exclusive newsletters, commenting, and virtual events with our leading journalists
Already have an account? sign in
Join our new commenting forum
Join thought-provoking conversations, follow other Independent readers and see their replies