Tottenham analysis: Emmanuel Adebayor enlivens fresh attacking formation - but defence remains broken
Striker on the scoresheet on return - but he can't stop Spurs losing to West Ham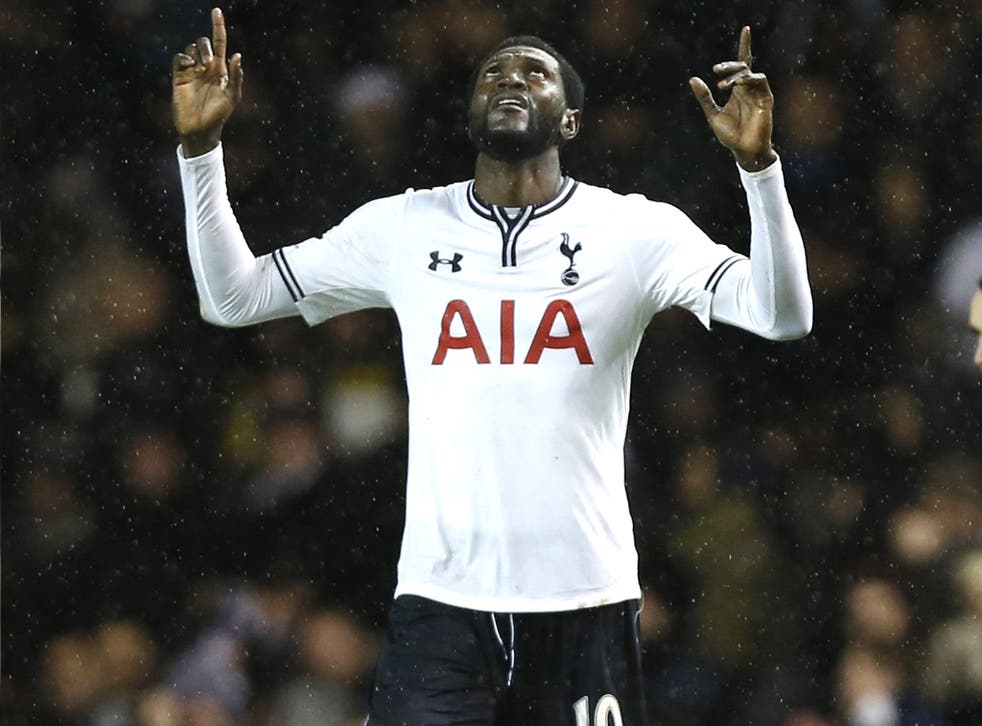 Tottenham Hotspur needed an injection of energy, pace and optimism, and Tim Sherwood provided them all. What he could not provide, though, what Tottenham have desperately missed recently, and what helped to finish off Andre Villas-Boas, was the solid defence that is the basis of any good team.
This match was not on the scale of the mass collapses which led to the concession of six goals to Manchester City or five to Liverpool. But it was still a disaster of its own. Spurs had one foot in the Capital One Cup semi-finals, 10 minutes away from qualification, from a perfect start to the Sherwood tenure.
West Ham United, who had barely threatened all game, who do not have a firing striker, who had scored five goals in their last seven games, three of them gifted by Martin Jol's Fulham, threw on Modibo Maiga.
The struggling striker had not scored for more than a year, and his difficulties up front had, in part, encouraged Sam Allardyce's 4-6-0 system. And yet it was Maiga who turned the game, making the equaliser, scoring the winner and even hitting the bar in stoppage time. Yes, anything can happen in derbies, in the cup, in the rain, and at this time of year, but even with those circumstances coinciding it was still a remarkable turnaround.
But then these things can happen when your defence is thrown together as Sherwood's was, through no fault of his own. His two best centre-backs, Jan Vertonghen and Younes Kaboul are injured. Had the two of them played together at centre-back all season, Sherwood might well not have been in charge. Michael Dawson, the club captain, was suspended.
So it was Vlad Chiriches and Etienne Capoue at centre-back together. Chiriches is a very natural defender but in his risky impetuousness is much like Laurent Koscielny, and might well take just as long to settle in north London. Capoue is a tremendously gifted footballer but is a midfielder, not a centre-back. He had a very difficult game on Sunday against Luis Suarez, but this was different.
Tottenham had not even had too much defending to do for the first 80 minutes, as Sherwood's revitalised 4-4-2 system put them ahead through Emmanuel Adebayor. But football is a 90-minute game and Sherwood will be devastated that he did not have the defence to close out the win.
There was a warning, just before the equaliser, when Maiga won a header with Chiriches, setting up Mohamed Diamé, whose powerful shot was saved by Hugo Lloris. That should have made clear the problem but the next time the ball came forward Maiga, not known for his aerial prowess, was able to flick the ball on again. It fell to Matt Taylor, who squared to Matt Jarvis, who did the rest. That was bad but the second was worse, Diamé's cross from the right drifting to the far post for Maiga, evading Capoue and Kyle Walker, to head in.
If only Sherwood had a good enough defence to build on, there were encouraging signs from the first 80 minutes, signs that suggest he might solve some of Spurs' other problems.
He certainly approached the game differently, playing a fast, driven, broad 4-4-2 formation, so different from the constrained caution of Villas-Boas's 4-2-3-1 that it felt like a riposte. Part of the case against Villas-Boas, in those anxious, difficult final weeks, was that he did not play two up front and he did not play Adebayor. Here, Sherwood did both.
Width was an early priority. Spurs do still have wingers, and Andros Townsend and Aaron Lennon were the immediate threats, tearing forward as Sherwood waved and shouted them on. Lennon's crosses made an early chance for Gylfi Sigurdsson, and nearly induced an own goal from Joey O'Brien. Townsend shot wide and made a good chance for Adebayor.
Spurs slowed down but Sherwood stuck to his plan. 4-4-2 maintains a constant threat, not least when the strikers are quicker than Roberto Soldado. All it took was the ball and some space. Spurs cleared a corner and it was one and then the other, Jermain Defoe bursting down the left and squaring to Adebayor.
It should have been enough but, with other problems not so easy to solve, it was not.
Join our new commenting forum
Join thought-provoking conversations, follow other Independent readers and see their replies