Tottenham Hotspur facing fresh calls to clamp down on 'Yids' nickname
The Community Security Trust, the Jewish Leadership Council and Action Against Discrimination have all told The Independent they want Spurs to change their stance on the issue
Jack Pitt-Brooke
Monday 07 January 2019 14:08 Comments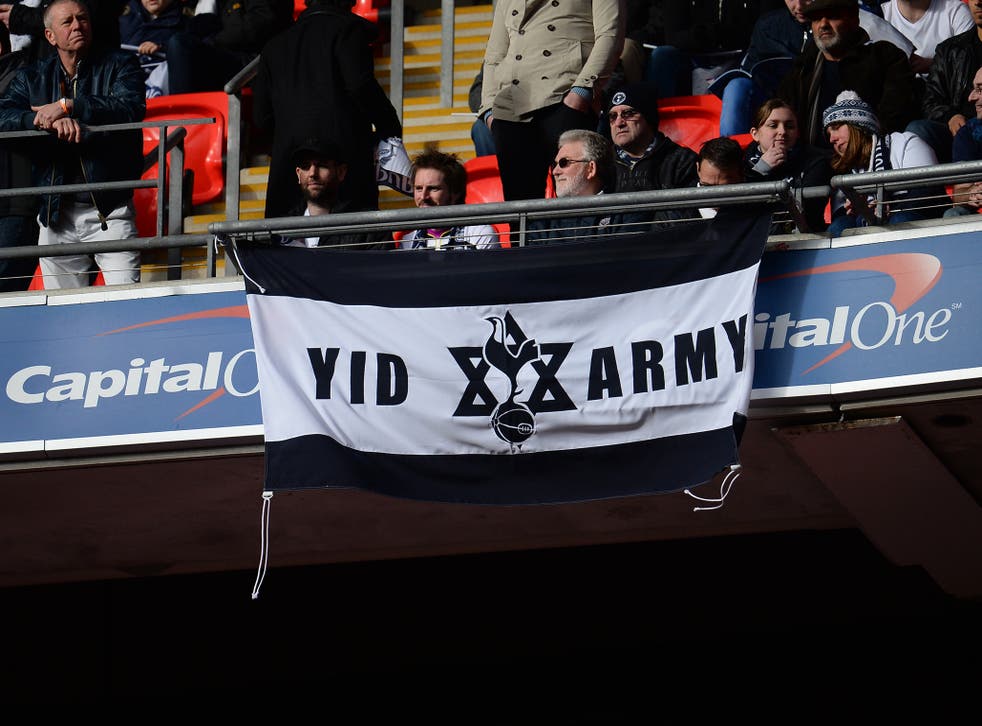 Tottenham Hotspur are facing fresh calls to clamp down on fans using the word 'yid' after a series of Jewish organisations condemned the common usage slur at football grounds.
The Community Security Trust, the Jewish Leadership Council and Action Against Discrimination have all told The Independent they want Spurs to change their stance on the issue, following Friday's statement from World Jewish Congress and the Board of Deputies of British Jews calling on Tottenham to "take a stand" against its own supporters using the word.
Tottenham say they have a "zero-tolerance position" regarding antisemitism, but insist that their fans use of that word has never been "intended to cause offence".
Spurs face Chelsea in the League Cup semi-final tomorrow night, a fixture that has been stained by antisemitism in recent years. That antisemitism, predominantly directed by Chelsea fans to Spurs fans because of Spurs' historic Jewish links, prompted Chelsea to launch a 'Say No to Antisemitism' campaign earlier this year. Chelsea have been working with the Holocaust Educational Trust to educate fans who have behaved in an antisemitic way in the past.
Fresh attention has turned to the prevalence of the word 'yid' in English football. The word, a derogatory antisemitic slur, has long been adopted by Tottenham fans, in recognition of the club's Jewish heritage. Tottenham Hotspur have traditionally defended the right of all of their fans, Jewish and non-Jewish, to do this and to reclaim the word as a 'badge of honour'.
This has long been opposed by vocal segments of the Jewish community and on Friday Robert Singer, the CEO of the World Jewish Congress, put pressure on Tottenham to change their stance and to crack down on the usage of the word. Even when it is used by Spurs fans about themselves, rather than as insult directed at someone else.
"[The use of the word 'yid'] by fans in the stands, either as a self-designated nickname or as a slogan against rivals must not be tolerated in any way," Singer said in a statement. "We would also ask Tottenham Hotspur to take a stand against the use of 'Yid Army', 'Yid' and 'Yiddos' by their fans. Such a long overdue action is important to kick antisemitism off the pitch and create a welcoming environment for all."
Earlier on Friday three different Jewish community groups separately told The Independent that they had similar concerns, that in the cause of rooting out antisemitism in football they wanted Tottenham to stop their fans from using that word.
"The y-word remains an antisemitic insult in wider society and Spurs fans do not have the right or the power to 'reclaim' it on behalf of British Jews," says Dave Rich of the Community Security Trust. "Its use does not in any way excuse or justify the vile antisemitism directed at Spurs by some fans of other clubs, but ultimately ridding football of antisemitism has to involve Spurs fans finding another way to express their identity."
Simon Johnson, the chief executive of the Jewish Leadership Council, also opposes the popularisation of the word by Tottenham fans. "The y-word is a derogatory expression for a Jewish person," he says. "It is a word that has been adopted by Tottenham fans. It is wrong for them to say that they are 'reclaiming' it".
While Chelsea's campaign this year was seen as encouraging, Johnson believes that curing English football of antisemitism has to involve a broad-based solution, and that includes Spurs' stance on the use of the y-word. "Does anyone think this is only Chelsea's problem? To eliminate antisemitism from the terraces, all clubs, including Tottenham, have to be part of the solution. It is entirely unrealistic to think that this problem will go away if only Chelsea address it, and if Tottenham are not to be part of the solution."
Jonathan Metliss is chairman of Action Against Discrimination, a charity which combats racism in football including antisemitism. "The dictionary defines the word 'yid' as a derogatory word for a Jew," he says.
"In a perfect world, and being a Jew myself, they should ban the use of a derogatory description of a Jewish person, which arguably is a hate crime under legislation. I feel disgusted by the use of the word, whether it's by Jewish or non-Jewish Tottenham fans. The word is used prevalently by non-Jewish fans, who may not understand what they're saying, that adds to the complication of the issue. Because if they were told that this was a derogatory, racist word, they might think twice about using it."
"The least Spurs should be doing is condemning the use of the word. And saying that the use of that word provokes and incites racial hatred, and this has to stop. If Tottenham were under pressure from the football authorities, they would take it more seriously."
The Football Association do have a strong preference that Tottenham fans would stop using the word. Although they feel limited in what they can do by the fact that the Metropolitan Police and the Crown Prosecution Service decided in 2014 not to prosecute Spurs fans using the word about themselves.
"We fully support any club which tackles antisemitism and anti-Jewish abuse proactively," said an FA spokesperson. "We continue to work closely with the police and other relevant authorities to combat all forms of discrimination in football and encourage all fans and participants who believe that they have been the subject of, or witness to, discriminatory abuse to report this through the appropriate channels: The FA, our county FA network or via our partners at Kick It Out."
Kick It Out also want Tottenham fans to stop using the word, and they proposed further meetings with Jewish community groups and Tottenham Hotspur to discuss the issue. "Kick It Out's policy on antisemitism and the use of the y-word in particular is clear: we believe it has no place in football regardless of context, which was recently reiterated in the release of an antisemitism film and stewards training resource. However, there is still a need for Kick It Out, Jewish organisations and Tottenham Hotspur to work collaboratively to agree upon ways in which to address the issue – we will be discussing a productive way forward in the near future."
Ultimately it is Tottenham's decision and the club insisted over the weekend that the use of the word by their fans has never been intended to be offensive.
"We remain wholly committed to ensuring that a zero tolerance position is adopted in respect of anti-Semitic behaviour," said a club spokesman. "The Y-word was originally adopted in order to deflect such abuse. We have always been clear that our fans (both Jewish and gentile) have never used the term with any deliberate intent to cause offence. A re-assessment of its use can only occur effectively within the context of a total clampdown on unacceptable anti-Semitism."
Register for free to continue reading
Registration is a free and easy way to support our truly independent journalism
By registering, you will also enjoy limited access to Premium articles, exclusive newsletters, commenting, and virtual events with our leading journalists
Already have an account? sign in
Join our new commenting forum
Join thought-provoking conversations, follow other Independent readers and see their replies