Victims or fraudsters? The world of football trafficking laid bare
Thousands of African boys are said to have been tricked into coming to Europe for non-existent trials. However, Ed Hawkins finds a more complex picture, where those claiming to help are part of the problem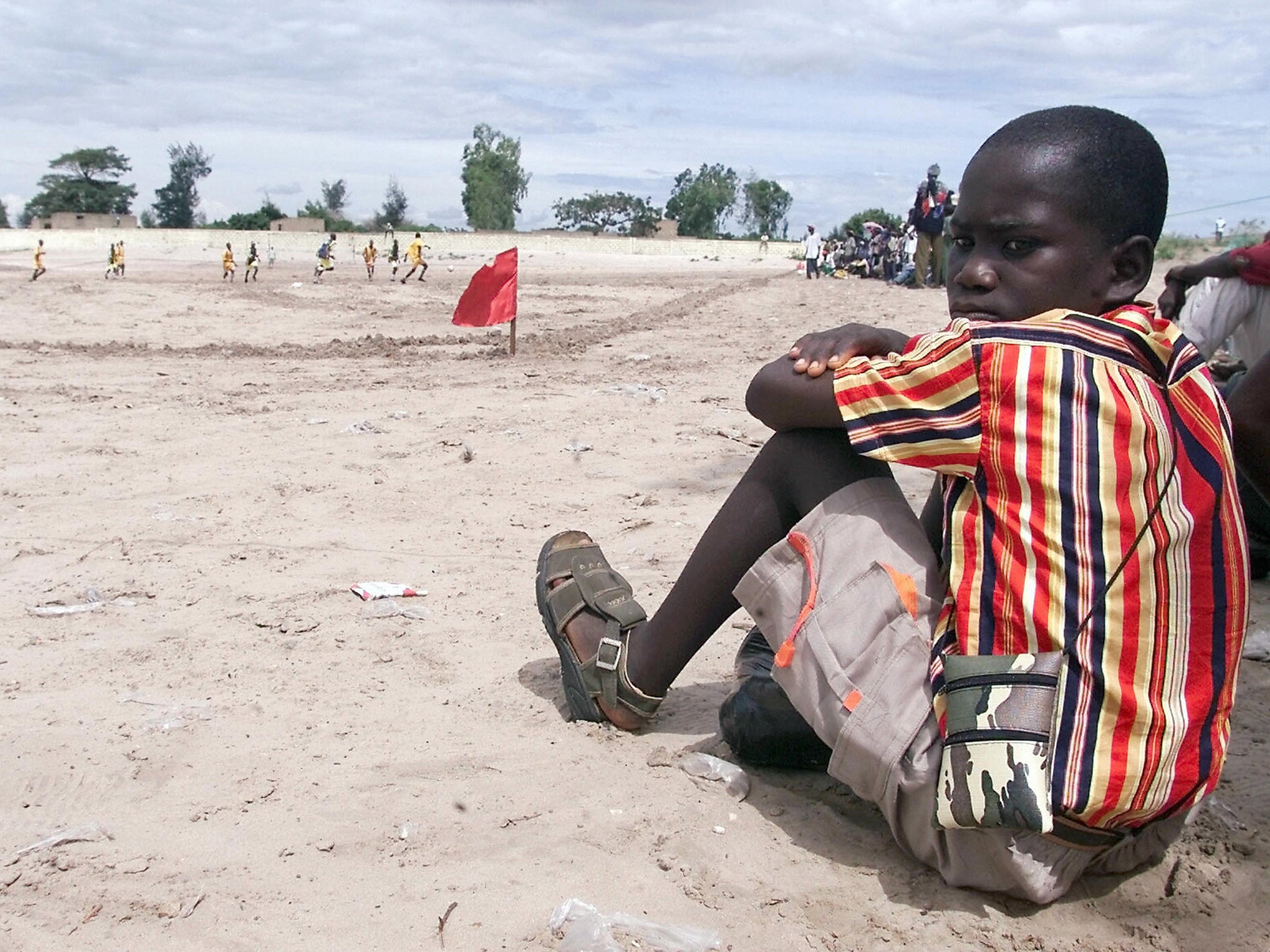 Four years ago, Ben thought he had the football world at his feet. At 16, an agent had spotted him playing in Yaoundé, the capital of Cameroon. He was promised untold riches and a trial at Paris Saint-Germain. But it would come at a price – €3,000 – which also included the cost of his visa, passport and airfare. Ben's family raided their life savings.
"We got off the airplane and went to a hotel in Paris," Ben said. "The agent told me, 'I am just going somewhere, I will be back very soon'. He never came back. I called and called. To this day, I don't know what happened to him."
Ben's account is not unusual. He claims to be one of thousands of victims of football trafficking who every year leave families all over the world for Europe in the hope of becoming the next big football star. When they arrive at their destination they realise they have been duped. Abandoned in a foreign city, they often end up involved in crime.
In 2009, the United Nations warned that football's obsession with fame, money and the hunt for talent had spawned a modern-day slave trade. But is it really so straightforward as that? Following a two-year investigation into the ugliest side of the beautiful game, I discovered the truth is far more disquieting.
There is evidence that Foot Solidaire, the only charity set up to counter the problem, has been exploiting players for financial gain – the very thing they were set up to prevent. Other experts in the field even claim many "victims" of trafficking are lying to exploit the benefits systems of the countries in which they end up.
Foot Solidaire was founded in December 2000 by Jean-Claude Mbvoumin, a former Cameroon international whose career was cut short by injury. Mbvoumin had discovered a group of African boys training near the Stade de France who told him they had been victims.
Since then, Foot Solidaire have been at the forefront of the fight against trafficking. They have made contact with thousands of other lost boys and Mbvoumin has been feted as a hero, appearing on television and the subject of numerous newspaper and magazine articles. He has engaged with politicians and football administrators on his world travels.
The charity, however, has struggled for funding and has drifted in and out of existence, active only when it had funds. The African Union and France's national Olympic committee supported it, as did Fifa. In 2008, the two combined to contribute to the International Conference on Young African Footballers, which focused on the protection of underage players. Fifa president Sepp Blatter announced Foot Solidaire would receive "full support" from football's governing body, but that was mysteriously withdrawn in 2010.
Last March, in Geneva, the UN staged a conference on football trafficking in conjunction with Foot Solidaire. It was a natural first port of call for my investigation.
Mbvoumin's impassioned keynote speech was acclaimed. A charity game involving Yaya Touré and Samuel Eto'o was supposed to be staged but was cancelled. A 20-year-old Japanese footballer called Shinji, who had been part of Mbvoumin's entourage, had hoped to play in that game.
Weeks later, I got an email from Shinji which read: "Please Help Me." It transpired he had fallen prey to a con. Over the course of 11 months, from September 2013 to July 2014, he had paid an "agent" €3,080. The money was for accommodation, trials at football clubs in France and travel for the "agent" to visit the club where the trials would be held. Four out of five trials never materialised.
Shinji kept the receipts of the transactions he had paid to the "agent". It was Mbvoumin. "I trusted him," said Shinji, who is now studying at a college in Orléans. "He was the top person at Foot Solidaire, the charity which would help young people. It's one of the most sneaky, underhanded... we really want [our dream] to come true, so we're ready to pay a bit of money for it. Jean-Claude knows that. That's why he's doing what he does."
Mbvoumin said he did nothing wrong. "What Shinji forgot to tell you is that these sums are actually reimbursements," he said. "I can provide the proof of such trips and other expenses." He is ignorant of the crashing contradiction of an anti-football trafficking charity encouraging a player to leave his family and pay huge sums for trials at clubs where he had little hope of success.
If football's only anti-trafficking charity could not be trusted, it begged the question, what was the truth about this supposed slave trade? Foot Solidaire had been responsible for exposing the problem in the first place, yet, on closer examination, they appeared to be part of it.
Solange Cluydts, a former director of immigration at Zaventem airport in Brussels, and now head of Payoke, one of Europe's leading anti-human trafficking charities, based in Antwerp, said the stories perpetuated by boys like Ben and Foot Solidaire are "bullshit" and that it was a story concocted by illegal immigrants.
Cluydts had seen an "explosion" of African boys claiming they had been trafficked for football in 2001 after the state announced they could receive benefits following a high-profile case brought to court by Jean-Marie Dedecker, a Belgian former MEP.
"It was stories like that we were told around this very table after the hype and publicity," she says. "That the boys paid someone and then they were standing there and nobody came, or they were in a hotel and no one came for them for the trial. We checked it with the embassies. They have to go to ask for a visa. If it's somebody who is arranging the papers for all those who are arriving in Paris, the embassies have to know the name of that man. It's bullshit. I don't believe it."
Dedecker, himself, does not know what to believe. He had discovered two Nigerians playing for a pittance at Roeselare FC. Their ages had been falsified to make them younger so the club would not breach transfer rules. Dedecker alleged they had been trafficked but the court found in favour of the club, stating the boys could not be victims if they had agreed to leave their home country. In essence, it ruled football trafficking did not exist.
It is this question of complicity by the boys themselves which could do more to undermine football trafficking than any error of judgement on behalf of Foot Solidaire.
Darragh McGee, who worked as a football coach at academies in Ghana, is a faculty member of the school for health at the University of Bath and has written a paper on child trafficking in sport. He has argued that the primary concern of the boys is to escape poverty for a better life in western Europe and that football is a secondary goal.
"They run," he said. "They get to Europe and they run. When I first started looking at football trafficking, someone said to me, 'You're not one of those people who think this is about poor African kids?' Your perceptions change."
Indeed they do. When I first met Ben, I thought he was a victim. But he refused to go home to Cameroon. "Why would I do that?" he said. "Here we live better than in Africa." Another "Lost Boy", Sulley, had been trafficked from Burkina Faso to Portugal at 16. He moved to Paris but rejected an offer of €100 per game from a club because it was not enough. Both boys had the latest smartphones and wore designer clothes.
So does that mean there are no victims? No. Inspired by football's inability to curb the movement of under-18 players – Barcelona were handed a transfer ban last year for breaching Fifa regulations about signing minors – criminals have a hook.
Jay-Jay, from Guinea, thought he was coming to London to play football at the age of 17. But the "scout", who sexually abused him, wanted to sell him to other men for sex. He is desperate to go home but cannot because the Muslim community in his village found out about the abuse and threatened to kill him.
Now 21, he is enrolled in an east London college and working in a charity shop. After escaping his captor, one of the first things he was told to do was contact Foot Solidaire. Having told Mbvoumin his story, he is still waiting for help.
The Lost Boys: Inside Football's Slave Trade, by Ed Hawkins (Bloomsbury, £18.99) Order at £15.99 inc. p&p from the Independent Bookshop
Join our commenting forum
Join thought-provoking conversations, follow other Independent readers and see their replies