Video: A boot to the face, three broken teeth and a yellow card for midfielder who showed 'impressive bravery' by diving head-first into an opponents boot
Argentinos Junior midfielder Gaspar Iniguez made the peculiar decision to use his head - literally - to try and prevent the opposition's counter attack
Jack de Menezes
Monday 23 September 2013 15:58 Comments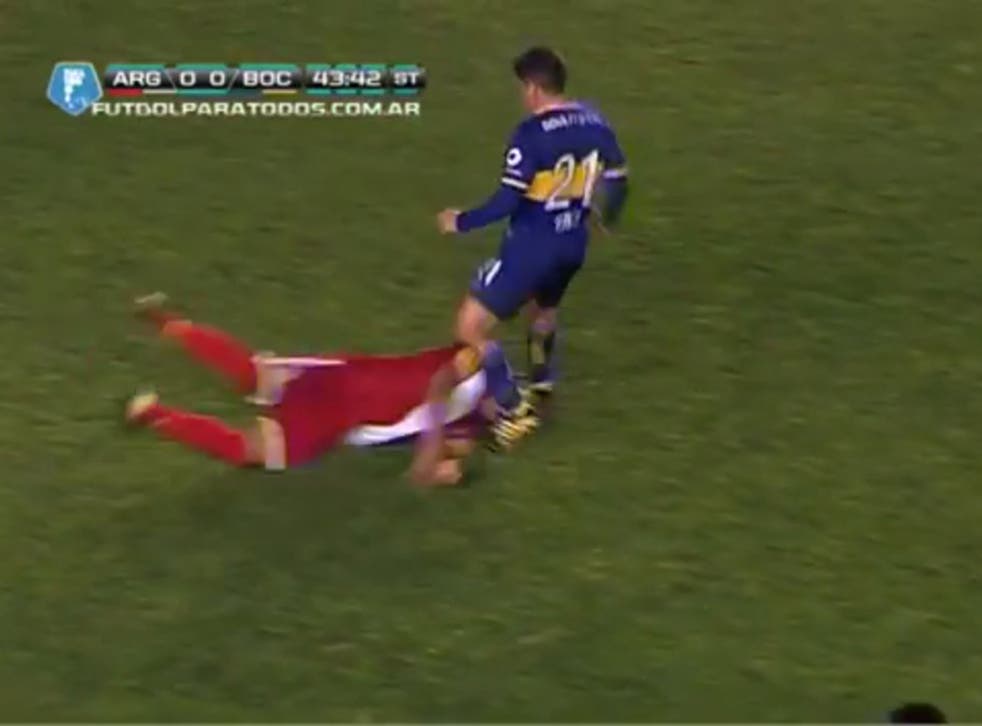 Argentinos Junior midfielder Gaspar Iniguez may have been credited by his club as demonstrating "a gesture of impressive bravery", but that didn't prevent him ending up with a boot to the face, three broken teeth and a yellow card.
In their match against Boca Juniors, Iniguez attempted to dive for a ball as Cristian Erbes rapidly closed in. But rather than clear it with his boot, as you might expect, he chose to lunge in head-first just as Erbes went to strike the ball.
Iniguez's face took the full brunt of the impact, with his head barely a few centimetres off the ground when the collision happened two minutes from the end of the Argentine "Inicial" championship fixture, which ended goalless.
"In a gesture of impressive bravery...(Iniguez) dived head first to cut out a counter-attack...He crashed into (Erbes') boot and suffered three broken teeth," the club said on Monday on their website www.argentinosjuniors.com.ar.
They also confirmed that he would be having surgery today to replace the broken teeth.
Erbes also suffered a minor leg injury in the collision according to local media, although once Iniguez eventually got back to his feet, he was rather unsympathetically shown a yellow card by the referee.
The clip triggered flashbacks of John Terry's attempts to block Zlatko Dedic's shot with a diving header as he fell to the ground as England attempted to cling on to their 1-0 lead in a 2010 World Cup Group C decider.
Terry, rather comically, was unsuccessful in his block attempt, but thankfully Glen Johnson was behind to make the last ditch clearance.
See John Terry's attempt to perfect the head-block below...
Register for free to continue reading
Registration is a free and easy way to support our truly independent journalism
By registering, you will also enjoy limited access to Premium articles, exclusive newsletters, commenting, and virtual events with our leading journalists
Already have an account? sign in
Join our new commenting forum
Join thought-provoking conversations, follow other Independent readers and see their replies