'We must deal with it': West Ham boss Sam Allardyce finally speaks out about anti-Semitic chanting
Manager was under pressure to address chanting after failure to do so in the immediate aftermath of Sunday's match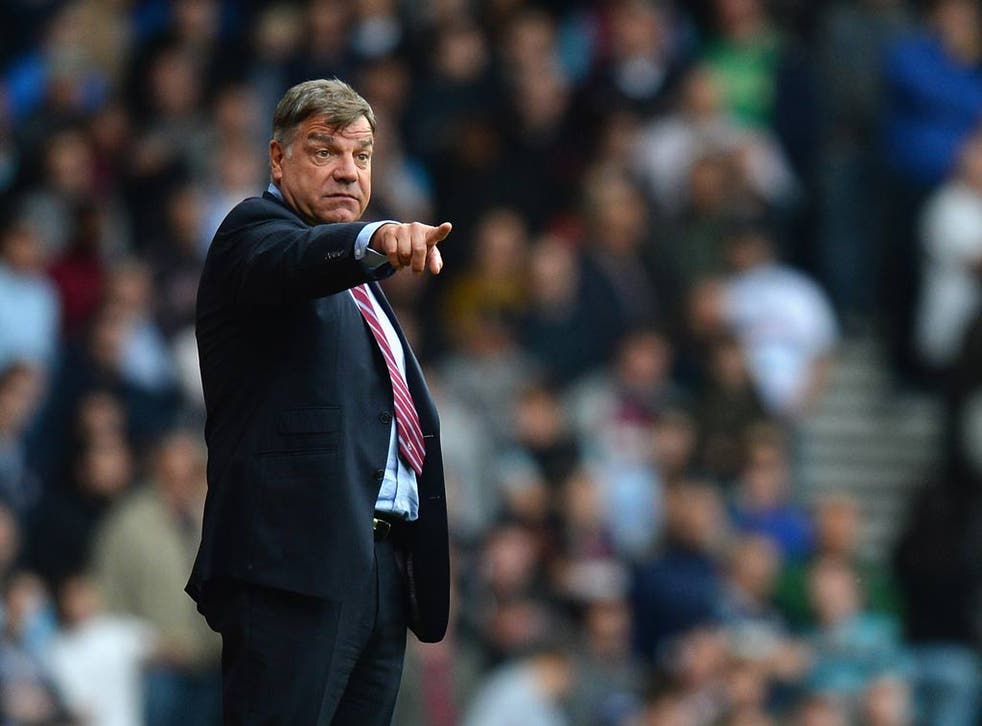 Sam Allardyce has spoken out about the anti-Semitic chanting that took place at White Hart Lane at Sunday and defended himself for not doing so earlier.
The West Ham manager was under growing pressure to condemn those that hissed and chanted about Hitler during the Premier League clash.
In the immediate aftermath, Allardyce claimed not to have heard them, saying: "If I didn't hear it, I can't condemn it. I'll wait and look at it myself and then I'll comment after I've listened to what they've said. They shouldn't be doing things like that. But it's the least of my worries at the minute."
Supporters and pundits on Twitter yesterday felt this was not good enough, and Allardyce was under pressure to make a statement today when he conducted his press conference ahead of tomorrow night's game against Manchester United at OId Trafford.
Allardyce duly did, and joined those who have called for heavy punishments for those who appeared to mock Jews being gassed during the Holocaust.
When asked if supporters found guilty of such abuse should be banned for life, the West Ham boss told today's press conference: "Yes. It's a small minority but at the end of the day a small minority can make themselves heard at football matches if they really want to and we must deal with it.
"The good thing is with security cameras and CCTV cameras, it's difficult for them to get away with it. Hopefully we can pick out those people and punish them in the right way."
West Ham have already banned one season ticket holder for life and in conjunction with Tottenham are actively seeking others who took part in the vile chants, which also included references to last week's stabbing of a Spurs fan in Rome.
West Ham co-owner David Gold has said such actions "will not be tolerated" among the club's support and the Hammers' Israeli midfielder Yossi Benayoun said he was "embarrassed" by the chanting.
Speaking further about the chants today, Allardyce said he was saddened by the behaviour of some of the fans.
"It's very, very disappointing to hear what has been said and done by a small minority of fans. No one condones that sort of behaviour," Allardyce said.
"I don't wish to hear any of that sort of chanting in the game of football anywhere in this country.
"We have to continue to do all we possibly can for it not to happen.
"If we punish the people who have done it in the right way I think we will cut it out and stop it."
Allardyce also defended himself for not speaking out sooner, reiterating that he was not aware of the chanting during the match.
"I was doing a press conference after the game and had no idea what had happened and what had been said or done," the 58-year-old said.
"I wasn't prepared and didn't want to comment having not heard what went on.
"I don't know how I was supposed to react to something I didn't know anything about.
"You are in a very difficult position. We had just been beaten 3-1 by Tottenham. I wasn't in the best mood. I am not expecting the question.
"I am expecting to talk about football and I am a football manager. I didn't want to comment on it. Now, like everyone else - I don't condone it."
The Football Association announced yesterday that they are investigating the incident.
Join our new commenting forum
Join thought-provoking conversations, follow other Independent readers and see their replies