World Cup 2014: A guide for England fans travelling to Brazil, including budget options, when to book, where to stay and match ticket information
The Three Lions are going to Brazil - and you could be too...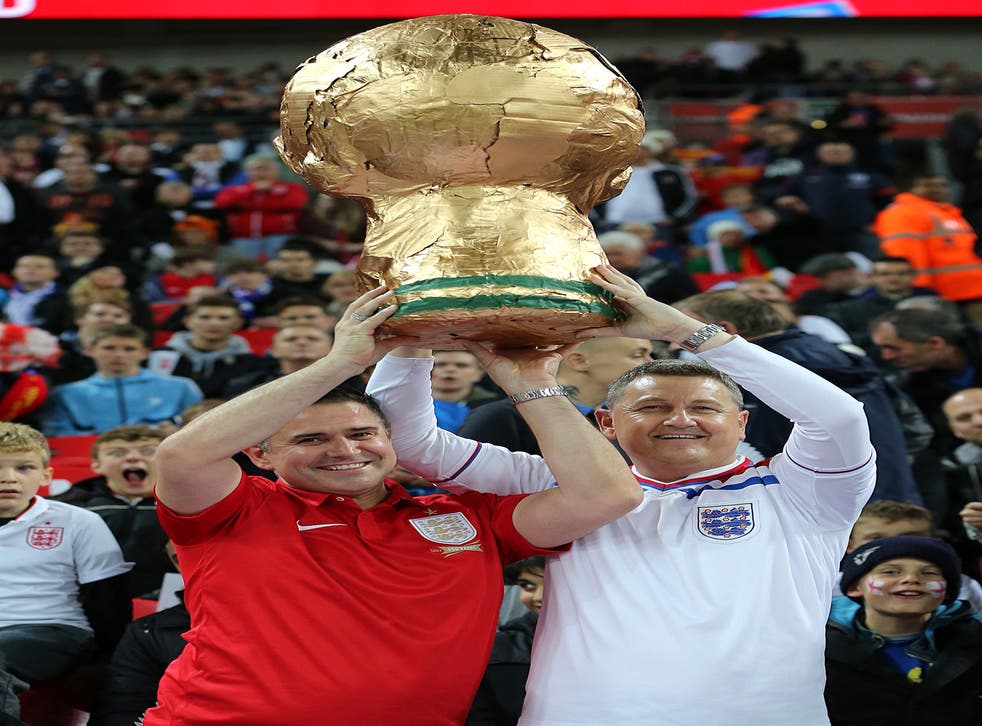 England are on their way to Brazil for the final stages of the World Cup finals – which means that thousands of fans are in a quandary. The host nation is vast, as big as the continental US. So should fans commit now to flying to, and staying in, a particular location, and risk England being drawn to play many hundreds of miles away? Or wait until the draw for the group stage takes place in December, and risk even higher prices and lower availability? Our travel guide can help you decide.
Q What if someone wakes up this morning and says "Right, I'm flying down to Rio"?
Fares for flights between the UK and Brazil immediately before the tournament starts on 12 June have soared since England qualified. The starting price for a London-Rio return is around £2,000. Of course even though Rio is the premier venue, and where England will be based, this could take you to the wrong location for the group stage matches. We won't know until the draw for the groups takes place on 6 December.
To guarantee the first three group games, Thomson Sport has a £7,000 package that includes flights from the UK, two weeks' accommodation (with breakfast) in good hotels in the three host cities, and transfers. It does NOT include tickets. The company says that just after Gerrard scored the second goal, traffic on the website went up by 400 per cent.
Q What about places to stay? Most cities seem to be completely full already.
As with the London Olympics, a large number of rooms have been set aside for Fifa, officially organised tours, media etc. It is likely that some of these will be released for sale, either shortly after the draw on 6 December or in the few months before the tournament. But rooms in Rio, where the final is played on 13 July, are certainly going to be at a premium. One specialist said rates for good hotels are currently running at £400-£1,000 per room per night, with many accepting only bookings that cover the duration of the tournament.
Q Would it be a sensible move to book now?
Yes, if you want some certainty. If you wait until 4pm on 6 December, you will see mighty spikes in hotel and flight prices to wherever England are drawn to play. But by booking now you will be taking a punt, of course, and could end up a thousand miles from where England will play.
Q In travel terms, which is the dream group - and what would the group of death be?
Group G is easily the most appealing, with the four fine cities on Brazil's north-east - Salvador, Recife, Natal and Fortaleza - plus the capital, Brasilia, and alluring Manaus in the middle of the Amazon jungle. Beaches, wildlife and architecture in a single group, with relatively easy travel between the grounds (though you'll be flying to Manaus).
Group E, in contrast, looks awful. It has three of the same cities - Salvador, Brasilia and Manaus - but also includes Curitiba, Porto Alegre and Rio. In other words, it's all over the place, with consequently high prices and logistical problems getting between the matches.
Q How easy will it be to find transport to the games within Brazil?
That depends on your tolerance for long bus journeys; while there's a big domestic airline operation, capacity will be limited and fares sky-high. But the bus is the backbone of transport in Brazil, and some of them are really luxurious, with lie-flat beds and a hostess on hand supplying refreshments. The other advantage is, if you travel by night, you won't need hotel accommodation - which of course is going to be scarce.
Q What else should I do when I'm there?
The two icons of Brazil are Rio and the Amazon. The former is going to be crazy during the tournament, while the latter will be refreshingly accessible; many "normal" tours are being cancelled during the World Cup, leaving plenty of availability. The other area that appeals is the Pantanal, close to the Bolivian border and full of enthralling wildlife. It is also reasonably accessible from Brazil's southern cities.
Q And tickets?
Good luck. Some tickets have already been sold through fifa.com/worldcup/organisation/ticketing/, and another tranche go on sale 5-28 November - of course before the draw is made. Things will get really lively on 8 December, when sales re-start. A good strategy, if you are not fussed about following England and simply want to watch some exciting football: pick a location such as Recife and try to get tickets for all four group matches - from 14 to 26 June.
Q Clearly money will buy anything, up to and including tickets to the final - but if you want a budget experience, what's the best advice?
Head for the capital, Brasilia. Air France has just announced a new non-stop flight to the city from Paris, with connections from airports across the UK. Brasilia is not the most exciting place in the world - think Crawley or Milton Keynes on steroids. But fares are much lower than to Rio, and because it's a government town there are plenty of hotel beds. Also, because few people will base themselves there, pressure on the transport links should be lower and fares cheaper.
Additional research by Amy Lewin
Register for free to continue reading
Registration is a free and easy way to support our truly independent journalism
By registering, you will also enjoy limited access to Premium articles, exclusive newsletters, commenting, and virtual events with our leading journalists
Already have an account? sign in
Register for free to continue reading
Registration is a free and easy way to support our truly independent journalism
By registering, you will also enjoy limited access to Premium articles, exclusive newsletters, commenting, and virtual events with our leading journalists
Already have an account? sign in
Join our new commenting forum
Join thought-provoking conversations, follow other Independent readers and see their replies