World mourns Eusebio, whose goals won English hearts in '66
Prolific Portuguese striker was also feted for sportsmanship best shown in defeat to Manchester United
Steve Tongue
Sunday 05 January 2014 23:53 Comments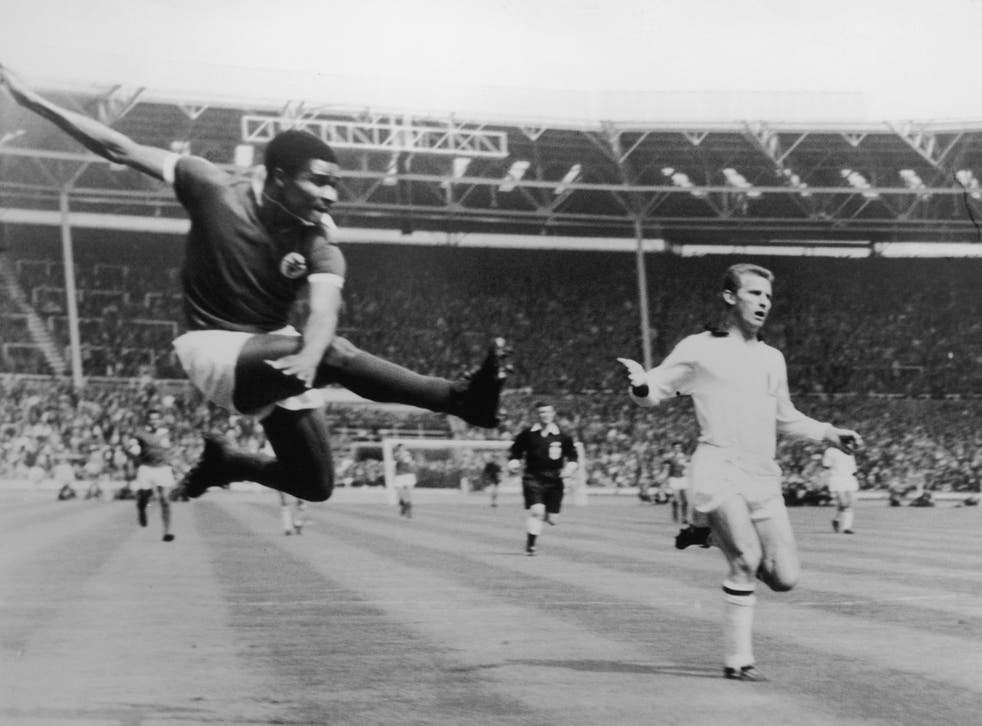 The Portuguese government has announced three days of national mourning around the funeral tomorrow of the country's greatest sporting hero, Eusebio da Silva Ferreira, who died on Sunday, shortly before what would have been his 72nd birthday. Fellow countrymen Cristiano Ronaldo, Luis Figo and Jose Mourinho led the tributes, which included many from old British adversaries, notably those of Manchester United.
Mourinho said: "For us, for you, Eusebio is one of the greatest footballers in the  history of football, especially for people from our generation and older than us. He's at this level: Eusebio, Charlton, Pele."
Ronaldo, who this season broke Eusebio's record of 41 international goals, tweeted: "Always eternal #Eusebio, rest in peace." The Uefa president, Michel Platini, said: "Football has lost one of the greatest players ever."
Eusebio had always been especially popular in England for an endearing combination of the natural talent that brought 733 goals in 745 games and the sportsmanship summed up with his instinctive congratulation to United's goalkeeper Alex Stepney for saving the shot with which Eusebio should have won the 1968 European Cup final.
"At the time I didn't really realise, because it was the heat of the moment, but that was the kind of man he was," Stepney said on Sunday. More often than not those explosive shots tended to finish in the net, usually after a thrilling, surging run past defenders not fussy in those days about how they stopped opponents.
Read more:
It was one of the few regrets of a spectacular career that so many of Eusebio's most bitter disappointments should come in England and especially at Wembley, where his Benfica side lost that final, five years after unexpectedly going down 2-1 at the same ground to Milan. In between times a pair of goals by Sir Bobby Charlton eliminated Portugal there in the 1966 World Cup semi-final. "The only stadium where I've scored but never won," Eusebio once said.
Eusebio in pictures: The life of a footballing great

Show all 10
Even in days of minimal television coverage and insular newspapers, his reputation preceded him to these shores for the 1966 World Cup, which he would finish as leading goalscorer. Aged 24, he had already played in three European Cup finals and been placed three times in the top two of the vote for European Footballer of the Year, winning in 1965.
Portugal, reaching the final stages for the first time, were based in the North-west and impressed the crowds at Old Trafford and Goodison Park in scoring three goals in every group game against Hungary, Bulgaria and the holders Brazil to top their section. That meant remaining on Merseyside for the quarter-final against North Korea, when Eusebio produced what Charlton has called "one of the best individual performances you'll ever see".
The Goodison crowd of almost 52,000 naturally sided with the Asian underdogs, who had sensationally knocked out Italy and now caused further disbelief by taking a three-goal lead in the first quarter of the game. The remaining three-quarters belonged to one man. By half-time Eusebio had retrieved two of the goals and in little more than quarter of an hour added another two before Portugal finished 5-3 winners.
The team were nevertheless weary victors and in the semi-final - which they still believe was switched to Wembley to favour England - Eusebio was shackled by Nobby Stiles. His late penalty in the 2-1 defeat was his eighth goal of the tournament and a ninth followed in the successful third-place match against the USSR; only Gerd Müller (10) has subsequently scored more.
Two years later he would be back at Wembley, having scored 42 goals in the Portuguese league season. Against United he hit the bar in the first half and set up an equaliser before unleashing the thunderous shot with only minutes to play that Stepney somehow clung on to. This time Stiles had to resort to less legitimate means of restraining him. "I felt sorry for Eusebio because Nobby Stiles was marking him and not in the way you're supposed to mark people," team-mate Paddy Crerand recalled yesterday.
That would be the last of Eusebio's four European Cup finals and a third successive defeat. His winning one, however, is widely considered to rival the 1960 final between Real Madrid and Eintracht Frankfurt as the best ever. It came in 1962, when the 20-year-old Eusebio completed his first full season with two goals as Benfica destroyed Madrid 5-3 despite a hat-trick for the Spanish side by Ferenc Puskas.
He had arrived from his native Mozambique, a Portuguese colony, a year earlier after a bitter dispute with Sporting Lisbon, the parent club of his local team, Sporting Lourenço Marques. At one stage he had to go into hiding, fearing a kidnapping. Benfica had offered his widowed mother more money and knew he would be worth it even before a hat-trick on his debut in a friendly. The following month he was introduced as a substitute against Pele's Santos, the world champions, with Benfica losing 4-0 - and scored another hat-trick, in 17 minutes.
Pele, inquiring afterwards as to the unknown youngster's identity, might in later years have feared a rival to his throne. Despite being eclipsed in 1966, however, the Brazilian had the advantage of knowing his country would always be on the world stage; Portugal never qualified again in Eusebio's time.
His scoring rate at club level bettered Pele's, averaging more than a goal per game, and helping Benfica to finish top of the Portuguese League 11 times and second three times in his 14 seasons. After that he played for a while in the US, Canada and at a lower level in Portugal, despite increasing knee problems. From the late 1970s, he remained an ambassador for Benfica and the Portuguese Football Association, which used him as a technical adviser.
Some years ago, Eusebio said that he hoped one day his funeral procession would pass the statue of him outside Benfica's Stadium of Light and make its way into the ground as "I know a lot of people will come". That wish is now assured.
The black panther: Eusebio factfile
25 Jan 1942 Born in Lourenço Marques, Mozambique.
1957-60 Played for Sporting Clube de Lourenço Marques.
1960-75 Joined Benfica for £7,500, going on to win 11 league titles and the 1962 European Cup. Part of 1968 side that lost final to Manchester United. Named 1965 European Footballer of the Year.
1975-79 Ended career with spells at minor Portuguese, American and Canadian sides.
* Scored 41 goals in 64 games for Portugal. Emotional defeat in 1966 World Cup semi-final to England at Wembley. Top scorer at tournament with nine goals.
Register for free to continue reading
Registration is a free and easy way to support our truly independent journalism
By registering, you will also enjoy limited access to Premium articles, exclusive newsletters, commenting, and virtual events with our leading journalists
Already have an account? sign in
Join our new commenting forum
Join thought-provoking conversations, follow other Independent readers and see their replies