Pep Guardiola ended 12 years of hurt thanks to masterful midfield reinvention
Three trophies for the season and now three European Cups for Guardiola – a dozen years after his second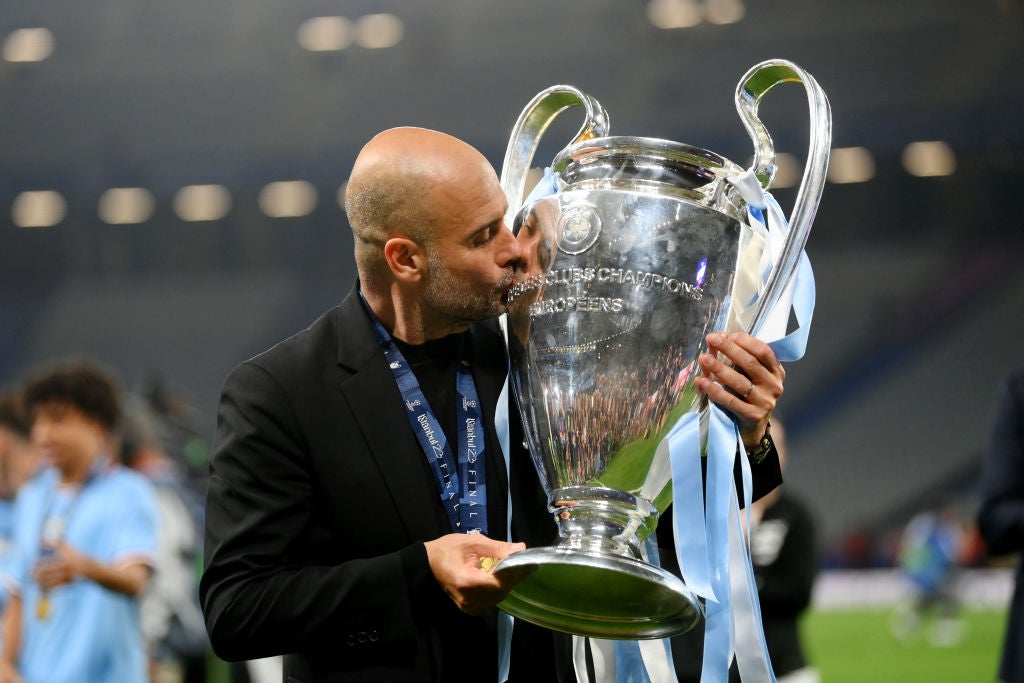 "Relax", yelled the least relaxed man in the Ataturk Stadium. Pep Guardiola has never been a byword for calm; not with his extraordinary array of melodramatic touchline gestures, some of them seemingly incomprehensible.
But then this has been a 12-year psychodrama, a study in how not to win a third Champions League under the auspices of a tortured genius.
There are times when it has seemed to take Guardiola to the bounds of sanity, his infamous overthinking producing some extraordinary decisions and some strange setbacks. It did take him to the edge of Europe.
But, a few miles from Asia, Guardiola's journey ended. A 1-0 win over Inter Milan has taken him back to the top.
After 2009 and 2011 came 2023: his third European Cup, his first without Lionel Messi, his first with Manchester City.
They have not done it the easy way. Even when City seemed to have done the most difficult part by defeating Bayern Munich and Real Madrid, even when they were such overwhelming favourites against Internazionale that their reclusive owner turned up, they forgot to play.
Guardiola was animated, annoyed, frantically telling his team to relax. Sheikh Mansour, who has attended two games over the course of a £2bn investment, could have been forgiven for wondering what he was watching. Perhaps he is particularly discerning in the way he picks and chooses his matches.
A first half defined by the lucklessness of Kevin de Bruyne, forced out of another Champions League final early, was notable for two Spanish holding midfielders: Guardiola, who while benching Kyle Walker hadn't overthought anything, picked a logical team and saw them play poorly; and Rodri, perhaps City's most consistent player over the course of the season and delivering an oddly poor performance.
Yet there was something fitting in the identity of the matchwinner. Guardiola once said he would have a team of 11 midfielders if he could. Even in a season when Erling Haaland scored 52 goals, the decisive strike came from the player who occupied Guardiola's old position.
His Champions League finals have been a tale of defensive midfielders: in 2009 and 2011, he had Sergio Busquets, fast-tracked from Barcelona's youth system because he suited Guardiola's ethos; indeed in 2009, he also had Yaya Toure playing centre-back. In 2021, however, he had no specialist, with Rodri benched alongside Fernandinho.
And in 2023, the Spaniard was the man etching his name into City history.
Perhaps Rodri had spent the first hour lulling Inter into a false sense of security. He had been uncharacteristically sluggish, misplacing some passes, mishitting others. He is the man who often sets the tone for City and he did again, just in the wrong way.
Yet when Bernardo Silva's cross struck Francesco Acerbi and came out to the edge of the box, Rodri provided the precise, curling finish that might be more associated with De Bruyne or Ilkay Gundogan. Sheikh Mansour, who saw Gareth Barry score in the only previous City game he attended, must imagine holding midfielders are a prolific breed.
And, indeed, that a defensive midfielder is a wonderful thing to be. Jack Grealish and Haaland were supposed to be Guardiola's project players, the £100m maverick and the centre-forward who joined a team defined by their false nines.
Rodri was bizarrely given the official man-of-the-match award: a more deserving winner would have been his sidekick. John Stones is Guardiola's new great reinvention: part right-back, part midfielder, capable of dropping a shoulder and strolling away opponents. He, unlike Guardiola, looked relaxed.
But perhaps, on a day when City were below their best, it came full circle for Guardiola, His side lost an underwhelming final 1-0 in 2021 and won one by the same margin two years later. It wasn't his masterpiece. There remains a case that Barcelona's demolition of Manchester United in the 2011 final is the finest performance on this stage, their dominance scarcely recognised by a 3-1 scoreline.
Then, a time so long ago that Edin Dzeko was in his mid-20s, it felt inconceivable he would wait a dozen years for his third Champions League.
But he and his old adversary Jose Mourinho had been stuck on two for over a decade while Carlo Ancelotti accelerated away from them and Zinedine Zidane came from nowhere to pass them. Mourinho will probably forever stay on two but Guardiola has a belated third. He has a hat-trick and a treble, a place alongside Sir Alex Ferguson. The prizes Manchester United won in 1999, City claimed in 2023.
Guardiola mopped his brow, the sweat a sign of his own inability to relax. There were tears in his eyes, hugs for his players, waves to his loved ones in the stand. And, at the end of it, the trophy he had called an "obsession" for City. But, still more, it has been an obsession for Pep Guardiola.
Join our commenting forum
Join thought-provoking conversations, follow other Independent readers and see their replies