The Independent's journalism is supported by our readers. When you purchase through links on our site, we may earn commission.
Aaron Ramsey interview: Wales midfielder determined to be centre of attention for Arsenal this season
Free from injuries, the Arsenal midfielder is vital to prospects of club and country. Just one thing would make life perfect, he tells Tom Sheen - leading a title challenge from the heart of the team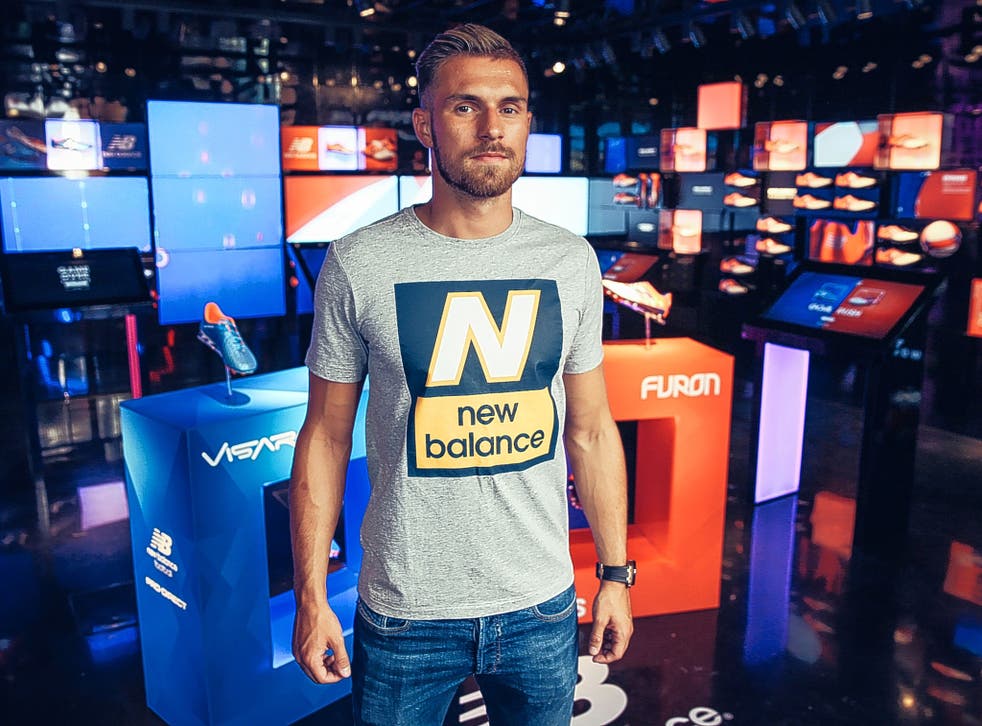 Long gone are the teenage awkwardness, the lime-green Ford Fiesta and the feeling of being star-struck the first time he walked into the Arsenal dressing room. In their place stands every bit the Premier League poster boy, with trendy swept hair, designer stubble and model-worthy looks.
But when we meet at the launch of his New Balance football boots in Carnaby Street, central London, one can still catch a glimpse of the boy from Caerphilly (population 180,000) underneath the metropolitan outer layer.
In front of a crowd of about 40 people during the Q&A part of the launch, Ramsey can hardly be called nervous, but he's not the smooth-talking media savant that some of his peers can be either. As we wander to a back room for a more personal chat he relaxes slightly. What soon emerges is the steely determination that has not only helped him rise to become one of the Premier League's best midfielders, but has helped him return from numerous setbacks and a career-threatening injury.
Ramsey is a natural athlete who was wanted by St Helens for rugby league at eight, who signed for Cardiff City within a year of first kicking a football at nine, who was ranked No 4 in pentathlon in Britain at Under-17 level and impressed Arsenal's manager, Arsène Wenger, enough at the age of 17 to sign him for £5m.
So it is not surprising the 24-year-old finds his injury record "frustrating". He has not managed to reach 30 Premier League appearances in either of the last two seasons and completed 90 minutes only seven times in the league before Christmas last year before finishing strongly. It is his determination to get to the top that shines through his words.
"It is frustrating," he says. "Breaking down and then going again. It interrupts your rhythm in the season, it then takes you a couple of games to get back into it. I just want to concentrate this year on trying to stay fit throughout, doing everything I possibly can to achieve that and, hopefully, have a successful campaign."
As part of that equation, Ramsey would also like to win back his place in central midfield. In the second half of last season Arsenal were imperious, playing the best football in the division as they grabbed on to the coat-tails of Premier League leaders Chelsea and threatened to make the title race seem interesting.
Immediately after New Year, Wenger's squad won 16 matches from a run of 18, including impressive victories at Manchester City and Manchester United and at home to Liverpool. Their only losses came in the north London derby and in the Champions League at home to Monaco – their worst performance of the season. However, throughout that spell Ramsey was asked to play out of position as a right-winger, with Wenger preferring a midfield three of Francis Coquelin, Santi Cazorla and Mesut Özil.
"That's my target now," Ramsey tells The Independent when asked if he wants to move back into the centre. "To have a good pre-season and get my place back in the middle.
"That's what I'll be looking to do. That's where I think my best position is, that's where I feel comfortable. Obviously, I did a job for the manager, which he asked me to do at the end of last season and, hopefully, I can get back in there, stay fit and healthy and have a good year."
Ramsey's injury history is well known and setbacks always seem to recur just as he is playing his best football. In the first half of 2013-14, Arsenal were top at Christmas with 39 points from 18 matches and Ramsey looked like the Player of the Year, having scored 13 goals and provided another eight assists. Then came a thigh injury at Upton Park on Boxing Day and, by the time he returned at the start of April, Arsenal were down in fourth, having won just seven of their next 14 matches.
Last season, the reverse applied: before their strong finish, Arsenal had started badly and were 15 points behind Chelsea on Boxing Day, in sixth position. The Gunners ended up third and, with the £11m addition of Petr Cech from Chelsea, Ramsey knows they are close – closer than they have been since the Invincibles last won the title 11 years ago.
"We've had two good halves recently," says Ramsey. "The season before last we started off really well – we were top until January. Then, the second half of last season, we were the best in the form table at the back end of the campaign. So it's just about trying to put those two together, trying to keep everybody fit and getting off to a good start and seeing where that takes us.
"But we have a great opportunity this year, this team is really settled now. There's a lot of quality and talent on the pitch, where we can hurt teams from all over. Hopefully, we can take that on and have a right go at trying to win the Premier League."
Ramsey believes that the arrival of a top-class goalkeeper, in Cech, could be the catalyst for even better things. "Obviously, he's a great signing: he's been there and done it and won so many things. He knows what it's all about to win and we're happy, delighted, to have someone with that experience in our team. He's going to be a huge benefit to us. Hopefully, he can pass on his experience, which can get us over the line.
"Whenever a new player comes in, or a big player who has achieved so much, you're excited because you have more of a chance at going on and winning things."
Despite many recent false dawns for Arsenal's title hopes, Ramsey remains a huge supporter of Wenger's methods. It is hardly surprising. In June 2008 it was the way the Frenchman went out of his way to talk about the plans he had for the teenager, and his potential future with Arsenal, that convinced Ramsey to choose Arsenal over two other suitors, Manchester United and Everton
"He's a great manager. He knows how to turn young footballers with talent into world-class players. He's done it so many times and I think he enjoys seeing them develop from boys into men. He is a father figure to a lot of the players, he gives youngsters opportunities to go out and express themselves for the first team. So he's been massive for my career so far and he's been big in a lot of other young players' careers as well, he's a great man-manager."
Not only are Ramsey's Arsenal in the ascendant, so are his national team. Ranked as low as No 117 in August 2011, Chris Coleman's team are top of their Euro 2016 qualifying group and, following the 1-0 win over Belgium in June, find themselves in the top 10 of the Fifa world rankings for the first time.
"We've been very solid defensively this campaign and we've capitalised when we've had chances to nick a goal," says Ramsey. "Everyone has been top class and everyone has shown a great work ethic to grind out results. Hopefully, we can go on and qualify in style. We have four games left and, hopefully, we can go on and put on a bit of a show and get the points we need.
"That's where we want to be – we want to be in France and at a major finals. We're in pot one for the World Cup seedings as well, so things are looking really good for us."
So if Wales make next summer's Euro finals in France just after Arsenal win the Premier League, with a fully fit Ramsey orchestrating things from central midfield, then the boy from Caerphilly will certainly have done good.
Aaron Ramsey was speaking at the official New Balance UK launch of the Visaro and Furon boots at LDN19 Pro-Direct. To find out more about New Balance Football go to newbalance.com/football
Register for free to continue reading
Registration is a free and easy way to support our truly independent journalism
By registering, you will also enjoy limited access to Premium articles, exclusive newsletters, commenting, and virtual events with our leading journalists
Already have an account? sign in
Register for free to continue reading
Registration is a free and easy way to support our truly independent journalism
By registering, you will also enjoy limited access to Premium articles, exclusive newsletters, commenting, and virtual events with our leading journalists
Already have an account? sign in
Join our new commenting forum
Join thought-provoking conversations, follow other Independent readers and see their replies