Ahmed Musa arrested after altercation with his wife hours after Leicester City's win over Sunderland
The Nigeria forward has been released without charge and the club will not be taking action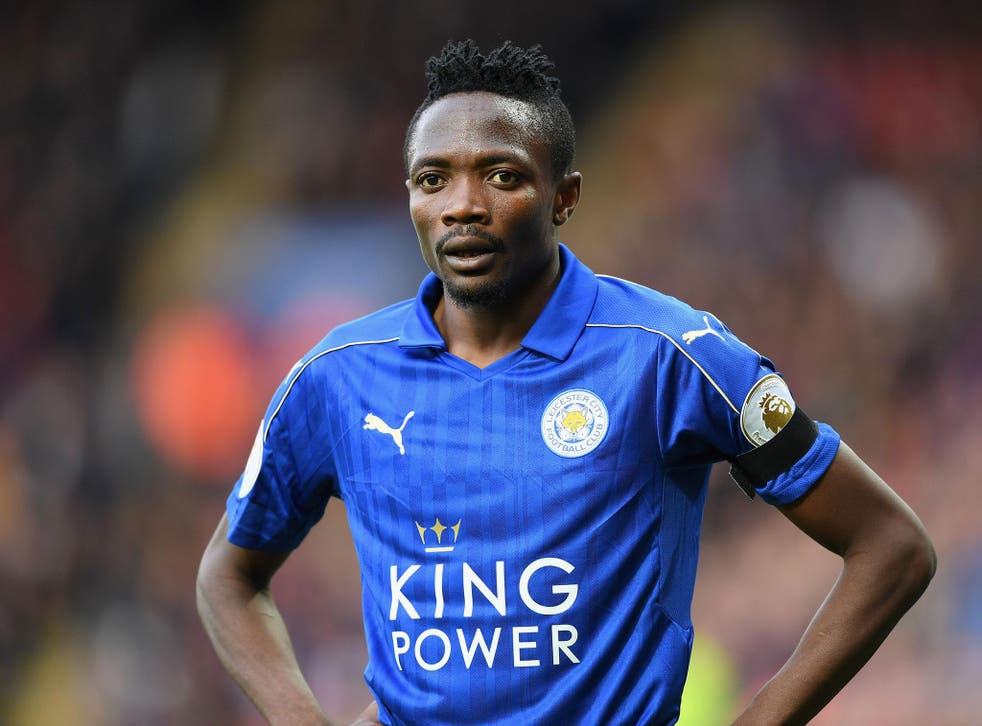 Leicester City forward Ahmed Musa has been arrested after an alleged altercation with his wife led to police being called to his home on Tuesday night, just hours after the club's 2-0 victory over Sunderland.
Musa, 24, from Nigeria, was not included in the matchday squad for Tuesday night's match, though he was not at home when police arrived at his Countesthorpe residence in Leicestershire shortly after the game at the King Power Stadium finished.
After receiving a complaint from neighbours of the Nigeria international, police spoke to members of the public that reside on the same street as the Leicester City player, before he returned home later that night.
Two plain-clothed policewoman then arrested Musa around 1am on Wednesday morning and took him for questioning, but he was released without charge.
A Leicestershire Police spokesman said: "A 24-year-old man was arrested yesterday morning at his home address near Leicester on suspicion of common assault."
Leicester said that they were aware of the investigation, but confirmed that they will not be taking action against the player after the matter was closed.
"We are aware that Ahmed Musa has today cooperated with a police inquiry relating to a disturbance in the early hours of this morning," a Leicester City spokesman said.
"'The inquiry has since been closed and no further action is to be taken.
"We see no reason for formal action internally, though Ahmed will be given the opportunity to discuss the matter with football management when the squad returns."
Leicester vs Sevilla player ratings

Show all 22
Musa's agent has denied allegations that claimed the footballer had beaten his wife, and said that the Leicester forward "couldn't harm a fly".
"A row ensued between Musa and Jamila which drew the attention of neighbours and the police were notified," Tony Harris told The Guardian.
"The police duly spoke with Musa along with a couple of witnesses in the house and have since closed the matter with no further action whatsoever as there is no case to answer. No charges were brought against Musa or his wife.
"It's normal for a couple to have a bit of a row now and again, however, Musa did not at any point hit his wife nor was he attacked by her. It was a mere domestic issue which has now been resolved and they are now talking again.
Harris added: "Everyone knows Musa is a jolly good fellow. He doesn't drink or smoke, doesn't party and has never been in trouble with the police all his life. He couldn't harm a fly."
Musa took to Instragram on Wednesday to wish his wife, Jamila, a happy birthday, and did not make reference to his arrest.
His post read: "On this special day, may you have: All the joy, your heart can hold; All the smiles, a day can bring; And all the blessings, a life can unfold. May God bestow you with His bounties and blessings! Happy Birthday,To my Queen."
Musa is Leicester's club-record signing after joining last summer from Russian Premier League side CSKA Moscow. The 60-cap Nigeria international, who earns a reported £60,000-a-week, has fallen out of favour with new Leicester manager Craig Shakespeare following his promotion after Claudio Ranieri was sacked in February.
Musa has made 30 appearances in all competitions this season, scoring four times, but the forward has not played since the 3-2 victory over West Ham on 18 March and hasn't started a Premier League match since the 3-0 defeat by Manchester United on 5 February when he was replaced at half-time.