Alan Pardew: I have lost the fans' trust at Newcastle
Speculation is mounting over the manager's future
Martin Hardy
Friday 12 September 2014 12:04 Comments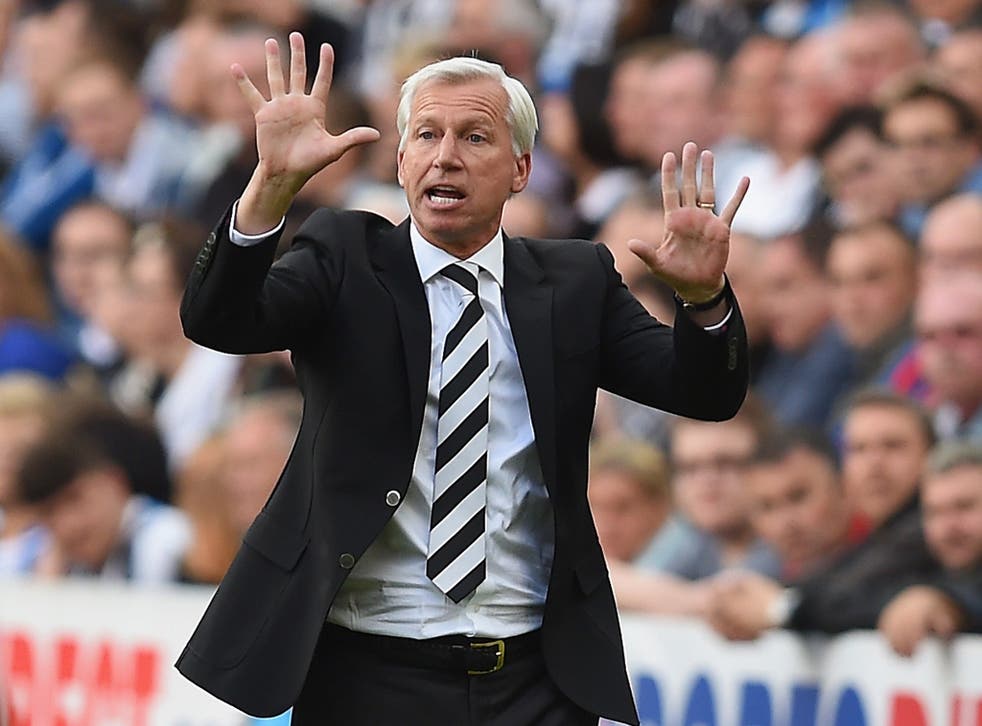 Alan Pardew has conceded he has lost the trust of the Newcastle supporters as he fights to save his position at the club.
Pardew's role at Newcastle is under fresh scrutiny. For the first time the manager has lost support inside St James' Park, as revealed in The Independent last week.
Since then a fans' poll conducted by the local newspaper banned by the club, the Evening Chronicle, revealed that 85 per cent of supporters want the 53-year-old to be sacked. A website has also been created calling for his dismissal, while the departure of Hatem Ben Arfa to Hull on a season-long loan deal has increased the volatility surrounding his position.
Newcastle face Southampton away tomorrow without a win in the league this season and with only five Premier League victories in the last 26 games. Next week they must face Hull at St James' Park, with Ben Arfa likely to be in the visitors' dugout.
Yesterday Pardew asked for time and insisted his near four-year reign as manager has improved Newcastle as a club. "Of course it's important for the fans to respect and honour what you're doing and I think maybe some of that trust was lost at the back end of last season," he said. "There could be a number of arguments why you would consider that to be my fault, and I would have to accept those if that was the opinion of the fans.
"All I can do is honour what I think I do for this football club, and that's an honest job. I have to try to put a team out that not only wants to win the game, but also does so in a manner I think works for this team.
"You can only really enhance that relationship [with the fans] by winning games, and we need to win some, simple as that," Pardew added. "The pressure that the local media, and media in general, put on me at this football club will never change. I think it will always be the same.
"Sometimes, when you're at a club for a long time, and I'm the second longest serving manager in the Premier League now, it becomes a little more difficult, especially at a club of this size. People ask, 'why haven't you won a trophy,' but we haven't won a trophy at this club since 1969.
"It's very, very difficult. I have to try to look at the bigger picture – a bigger picture than the local media and some of our fans – but I also understand there's an immediate world we live in. Immediate results are important, and I can't take my eye off that either.
"I can't think about last year because this is a totally different group, with a completely different spirit and idealism.
"I think we've got better, and we're a stronger club than when I arrived, a lot stronger. I don't know how else you can gauge it."
Pardew also stood by the decision to let Ben Arfa leave, implying the player was not fully committed to Newcastle. "I think the players we have here have a love and a passion for the club, the shirt and for the fans," he said. "They want to win for them, and that's very important in the modern game. I don't know [if he had a love and passion for the club]. I'm only talking about the players who are still here and they do. Was it a risk letting him go? Not in my opinion."
There are problems wherever Pardew looks. Rolando Aarons, their exciting 18-year-old winger, injured his hamstring in training this week. Striker Facundo Ferreyra has hurt his back. Neither will play at Southampton. Cheick Tioté played two internationals for the Ivory Coast in the last week despite not having kicked a ball for Newcastle this season.
"I'm astounded by that," said Pardew. "He hasn't played a game, not even one reserve game for us. Now I have a player who is arriving on a Friday after playing two 90 minutes, and is expected to be brilliant at Southampton. It's just not going to happen. It's unfair on him, and on the club."
Register for free to continue reading
Registration is a free and easy way to support our truly independent journalism
By registering, you will also enjoy limited access to Premium articles, exclusive newsletters, commenting, and virtual events with our leading journalists
Already have an account? sign in
Join our new commenting forum
Join thought-provoking conversations, follow other Independent readers and see their replies