Alan Pardew had Crystal Palace owners' money in the transfer window - but they never saw eye to eye
Sam Allardyce could be in his place by Boxing Day, and won't make the same mistakes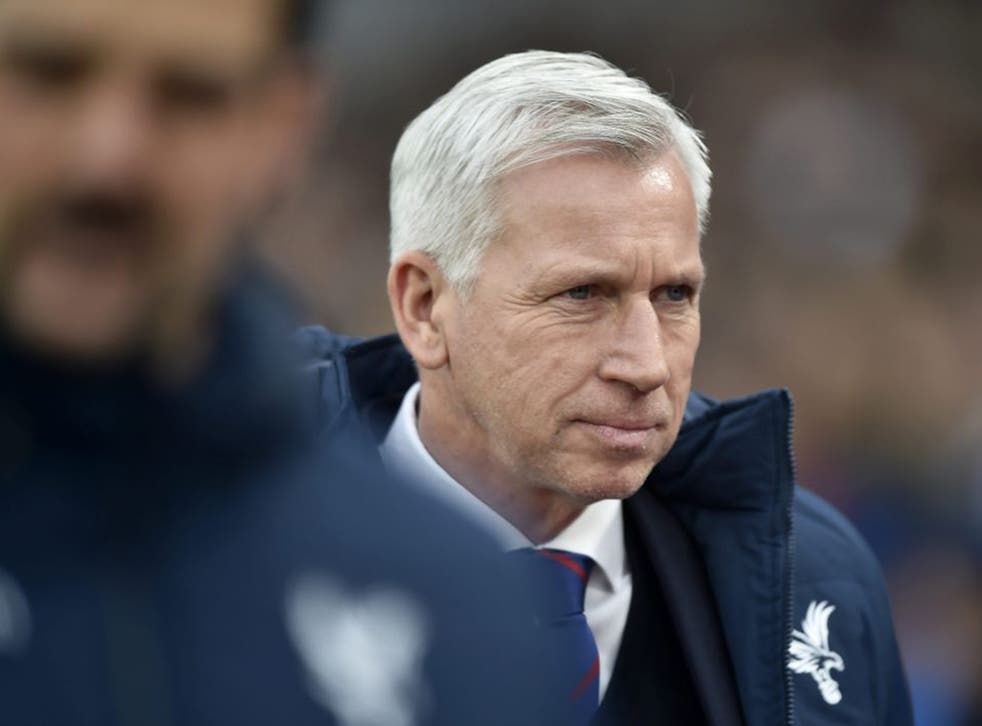 Alan Pardew went quietly after he was called to Crystal Palace's office in Soho on Thursday and told it was over. Though his departure – two weeks short of two years since the club paid Newcastle United substantial compensation to hire him – was another reminder of the brutality of football management, he could not say he was not given the money to do the job.
Despite Palace's dreadful end to the last Premier League season, continental Europe was astonished by the club's spending ambitions this summer. "Crystal Palace, l'incroyable offensive" ("Crystal Palace, the incredible offensive") read one headline in L'Equipe, in June, as the paper digested the side's plans to pay out £31m for Marseille's Belgian striker Michy Batshuayi and simultaneously move for goalkeeper Steve Mandanda.
Batshuayi went to Chelsea, yet this was not the limit of the club's ambition. Christian Benteke arrived a year after statement signing Yohan Cabaye, too, while popular mainstays such as Mile Jedinak and Yannick Bolasie left, and though the scale of the changes proved disruptive, it was felt that mid-table was the least the club's owners would be looking for.
The results were not the only problem. The manner of the defeats seemed grimly consistent. The side habitually conceded poor goals from set pieces and often seemed to fade in the latter stages of matches.
And then there was the seeming indifference to the aspect of the sport which excited the two wealthy Americans co-owners, Joshua Harris and David Blitzer, whose £50m had funded that summer spent. They put one of their key American sports analytics specialists at his disposal but that individual found Pardew actively responded to his work once every six weeks.
It is one of the unspoken rules of working for new owners that you at least pay lip service to their ideas and some rudimentary homework would have told Pardew that analytics was fundamental to Harris, in particular. He has certainly not demonstrated it to be a fool-proof method. His Philadelphia 76ers basketball team became the ultimate analytics experiment, with a young Dutchman, Sam Hinkie, making them the only NBA team to have a scouting system totally dependent on analytics staff. They became all about what you can project in terms of talent, not what you see. And they tanked. Results were almost ridiculously disastrous and Henkie was fired.
That hasn't removed Harris' convictions. Which was why, when he and Blitzer established tentative contact with Sam Allardyce in late November, resigned to the fact that Alan Pardew would not turn around Crystal Palace's decline, they were so surprised.
Who will be the next Crystal Palace manager?

Show all 10
It was around the time of the side's astonishing 5-4 defeat at Swansea, administered by two Fernando Llorente goals at the death. Allardyce – whose attention to detail in job applications is always very impressive – despatched to them a detailed dossier. It included an analysis of the squad, with reference to their propensity for conceding late goals. It detailed his own managerial achievements in numbers and outlined what would be required in January. It was the significance he attached to data, as a key management tool, which was unexpected.
It was a meeting of minds. Allardyce was one of the trailblazers for the use of Pro-Zone more than a decade ago. The Americans' conviction about the numbers has been reinforced by the success of Brighton & Hove Albion (currently second in the Championship) and RB Leipzig (second in the Bundesliga) who draw heavily on data.
Briefly, Pardew found a way to keep the wolves at the door. The strength of his relationship with the member of the Palace board who hired him, Steve Parish, helped and both men hoped the 3-0 win over Southampton would see the 55-year-old through.
It was Parish who provided the reminder of what Pardew has delivered in the past two years - guiding Palace from the relegation zone to finish in 10th place, their best ever Premier League effort, before taking the team to the FA Cup final at Wembley in 2016. But the scrambled draw at Hull City and defeats to Manchester United and Chelsea have maintained Pardew's direction of travel.
For all of Allardyce's progressive methods, there is a sense that Palace would like to make a more imaginative appointment. They were certainly interested in the Portuguese Viro Perreira in January 2015. Perreira is now with German side TSV1860 Munich and some Palace fans may prefer such an appointment.
Yet with Palace in the depths of the relegation zone at the time it felt that the then 46-year-old would have been too much of a risk. Now, as then, they need someone who helps clubs survive. Allardyce – who did for Sunderland what Pardew had managed at Newcastle - is that individual. He may be in place by Boxing Day. With a grim predictability, the football wheel turns once more.
Register for free to continue reading
Registration is a free and easy way to support our truly independent journalism
By registering, you will also enjoy limited access to Premium articles, exclusive newsletters, commenting, and virtual events with our leading journalists
Already have an account? sign in
Register for free to continue reading
Registration is a free and easy way to support our truly independent journalism
By registering, you will also enjoy limited access to Premium articles, exclusive newsletters, commenting, and virtual events with our leading journalists
Already have an account? sign in
Join our new commenting forum
Join thought-provoking conversations, follow other Independent readers and see their replies