Ancelotti sacked in Goodison corridor by ruthless Chelsea
Club keen on Porto manager Villas-Boas after Italian is dismissed for 'falling short of expectations'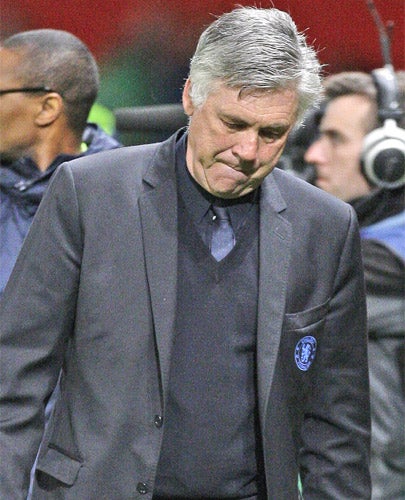 Chelsea sacked their Double-winning manager Carlo Ancelotti in a corridor at Goodison Park minutes after the club's 1-0 defeat to Everton yesterday.
It came as little surprise that Ancelotti was dismissed by the club he had led to the Premier League and the FA Cup just a year ago; his failure to maintain a sustained challenge to Manchester United, at home and in Europe, ultimately cost him his job. However, the speed of the sacking and the shabby way it was delivered were unexpected, the blow delivered not by owner Roman Abramovich but by the Chelsea chief executive, Ron Gourlay, immediately after Ancelotti had given a press conference to the media following the defeat to Everton. The Italian then joined the rest of the staff and players on a private plane for the flight back to London to say his goodbyes.
Ancelotti, 51, parted company with the players late last night at the club's training ground in Cobham, Surrey, where their cars had ben left before the trip to Merseyside. He then took some close members of staff out for a drink. He last night said: "I received the news of my sacking before the flight. I accept and I respect Chelsea's decision. I spent two fantastic years in this club. I think I did a good job. Now, I think about my future. I would prefer stay in England and in Premier League."
Earlier he had been told that results this season had not been good enough, after Chelsea finished second to Manchester United in the Premier League but trailed the champions by nine points. Chelsea also lost both legs of their Champions League quarter-final to United. A club statement said: "This season's performances have fallen short of expectations and the club feels the time is right to make this change ahead of next season's preparations."
Ancelotti, who is due to start a holiday in Italy today, will receive a pay-off of around £6m, as he has one year left to run on a three-year contract. His Italian assistants Bruno Demichelis, Luigi Lasala and Giorgio Ciaschini have also left the club and will be seeking compensation.
It is believed Chelsea will insist on a clause in compensation that will prevent him from working for any other Premier League club for 12 months.
The next move will depend in part on Guus Hiddink, who acted as caretaker manager in 2009. The Dutchman is currently employed by Turkey who have a key Euro 2012 qualifier in Belgium on 3 June 3. Hiddink is understood to be prepared to return as director of football, working with a coach underneath him and has suggested Marco van Basten, the former Holland and Ajax manager, and Frank Rijkaard, who has worked previously at Barcelona and Galatasaray.
Chelsea are also very interested in Andre Villas-Boas, the Porto coach who has won the league, cup and Europa League in his first season at the club, at the age of 33. Villas-Boas previously worked at Chelsea as a scout during the reign of Jose Mourinho. The Portuguese prodigy recently revealed he has a £13m buy-out clause in his contract, which would be well within the financial means of Abramovich.
Didier Deschamps of Marseilles is another candidate, while there is also speculation that a move for Tottenham Hotspur manager Harry Redknapp is being considered. Rafael Benitez, the former Liverpool and Internazionale manager, has made it clear to Chelsea via third parties that he would be very interested in the job, and has been playing up his understanding with their £50m striker Fernando Torres.
Whoever comes in will have a hard job replacing Ancelotti, who was widely respected in the English game. Under his leadership Chelsea won the Premier League last season and Ancelotti's free-scoring team broke the record for the most league goals in a Premier League season with 103 and followed it by beating Portsmouth 1-0 to add the FA Cup.
However, Ancelotti's failure in the Champions League, losing both legs of a last -16 tie to Internazionale, was a blot on his copybook. The seeds for this season's failure were sown last summer, when Chelsea released five senior professionals – Michael Ballack, Joe Cole, Ricardo Carvalho, Juliano Belletti and Deco. Ballack told The Independent last year that Ancelotti did not want him to leave, although publicly the manager has always said he agreed with the decision.
The main arrival was the Brazilian midfielder Ramires for £17m, even though Ancelotti would have preferred to have signed the German player Bastian Schweinsteiger.
Ancelotti's position was further undermined in November when Abramovich intervened to sack the manager's right-hand man Ray Wilkins. In addition he promoted in Wilkins' place the little known Michael Emenalo to be his eyes and ears at the training ground. Chelsea promptly went on a run of nine league games which included four defeats, four draws and one victory, which effectively knocked them out of the title race. They dropped back to being 15 points behind United and although they managed to reduce the gap to three, they were still never quite in United's class. His fate was effectively sealed when Chelsea were knocked out of the Champions League by United when they lost 2-1 at Old Trafford on 12 April.
He looked stressed and distracted when he spoke to the media yesterday following the defeat at Everton. Asked what he planned to do now, when his fate had yet to be decided, he replied: "Relax. I am now on holiday, I just don't know how long that holiday is going to last."
A fairly low-key game at Goodison, in which Everton's Seamus Coleman was sent off in the 53rd minute, was settled by Jermaine Beckford's superb individual goal with 16 minutes to go.
Join our commenting forum
Join thought-provoking conversations, follow other Independent readers and see their replies