Andre Wisdom: Fast learning Liverpool trade
Bright teenager has made rapid progress from parks football to the first team partly because of an ability to think on his feet nurtured in the tough part of Leeds where he grew up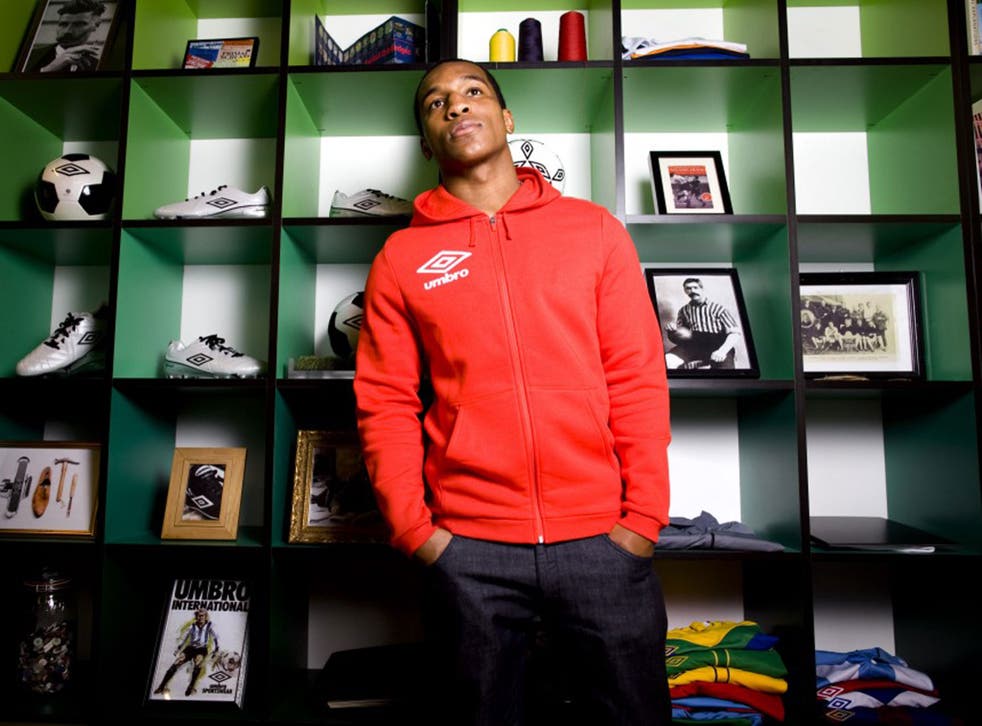 You wondered where they all were on Monday morning – those young Liverpool players who had awoken to their first experience of the manager giving it to them, both barrels, through the pages of the newspapers. "It's a great season for learning here and if they don't learn, they won't be here," Brendan Rodgers had declared for the whole world to see, ruminating on the catastrophic FA Cup defeat at Oldham, and a sense of empathy about what those words must have looked like to 19-year-old Andre Wisdom is rendered all the more acute when we meet. "I'm Andre," he says, extending a hand. He hasn't even yet reached that stage in his career when no one needs to be told.
It rapidly becomes clear, however, that the 19-year-old doesn't need empathy or sympathy, thank you very much, and that if anything he feels that Rodgers is entitled to dish out more of that kind of stick. "He could criticise us that way more often," the defender volunteers. "Yeah maybe he should say more that we need to win these type of games." Wisdom has been a topic of conversation in Liverpool and England circles for a while – and has captained the under-18s of both – but he is not one of those hot-housed young players who have spent forever in the Academy system. In the place where he has done his growing up, stick is given and taken in equal measure and the narrow margins between life making or breaking you help you appreciate fast enough how the right kind of criticism is a ticket out of here.
"Here" is the Chapeltown district of Leeds – an uncompromising place where "there are no in-betweens," according to Manchester City's Micah Richards, who also hails from the neighbourhood – with its unprepossessing back-to-backs and 10 per cent male youth unemployment. Wisdom was brought up a few streets away from Richards, whose City side he will face at the Etihad Stadium tomorrow, and like all the boys in that place belonged to the youth football scene, centred on the Prince Philip youth centre and the "Rec" fields, where Richards' father, Lincoln, is a driving force.
But Wisdom, like all the others, is also only too aware of the story of Daniel Nelson, Richards' close friend, who wandered down the wrong path and wound up taking his own life in a young offenders' institution, at the age of 18. "I heard about Daniel," Wisdom says. "It's hard when you are growing up in a place where there are a lot of distractions and negative things around you. There's poverty there and I'll say that proudly. But there are a lot of people in the area doing positive things to try and overcome that and not fall into 'the trap', as we call it…"
He mirrors Richards in so many ways, not least the kind of physique that led Rodgers to observe of him three months back that "Andre Wisdom can take on the world. He's built like a boxer", but also in his rapid progression from street footballer to the big time. Wisdom was still playing parks football at the age of 14, despite following Richards through the Leeds City Boys ranks and spending intermittent spells at Leeds United, where Richards was another one they let get away. Wisdom was 14 when Bradford City spotted him and brought him into a youth system that has also produced Tom Cleverley, Aston Villa's Fabian Delph – and was at Rafael Benitez's Liverpool within six months, learning from the Academy's Dave Shaddon, Hughie McAuley and, the much-missed Gary Ablett, who ran the reserve team who won their league for two years running.
But while contact with Richards is fairly minimal – so, too, with Aaron Lennon, another product of those streets – they share a willingness to speak their mind. Wisdom's big passion is the mixed martial arts Ultimate Fighting Championship. He would probably fancy competing if football had not taken him down this course. And though he is joking when he says that it's "a man's sport, not like all this football falling over when someone's got a bit of a kick on the shin", he looks and sounds like someone who will be a captain one day.
When he left behind his British Jamaican family in Chapeltown, including uncles who would take him to the game and "nan" who'd pay his subs, his football svengali was Rodolfo Borrell, whose low profile belies his vast significance as Academy director at Liverpool. With his exhortations to Wisdom, Conor Coady, Suso, Raheem Sterling and others to move the ball fast when they could, but to play a different, more physical way when required, Borrell was the one who "turned me from a boy to a man", Wisdom says.
Not that it made a whole world of difference when a 15-year-old Wisdom came up against a 17-year-old by the name of Jack Wilshere, whom he had only seen on YouTube, in the 2009 FA Youth Cup Final. "It's like he was in third gear and then – phew – something happened!" Wisdom recalls of the Emirates first leg where Arsenal sealed their 6-2 aggregate win. "I don't know what happened! I'd heard of him before that, but you see a few YouTube clips and think 'Is he jammy? Is he not?' He's the best player I've played against, actually." Wisdom's Arsenal opponents were all two years older than him and it was a year later that he was captaining Liverpool's under-18s, before winning the European Championship with England's under-17s. His part with Stuart Pearce's under-21s began a year before Rodgers handed him his debut – a goalscoring role in Liverpool's 5-3 Europa League win at Young Boys last September.
For Wisdom, as for all Rodgers' fledgling players, the season in which Martin Kelly's long-term injury has seen him become an integral part of the first team, has not been without its challenges. There was a difficult afternoon at Goodison Park in October, for example. But he was strong at the Emirates when he encountered Wilshere again in Wednesday's 2-2 draw. "His physicality and his attitude were his two big qualities," one of the backroom staff from the Benitez era says of Wisdom. "Of all those kids, he was the most mentally strong."
Though Benitez and his staff decided that Wisdom was a right-back, having not quite grown tall enough to continue in central defence, it has been Jamie Carragher who has deftly guided him, these past months. "I remember one game he was on the bench and I looked across and he was telling me to 'push in' and 'drop back'," Wisdom says. "Whenever he's playing he's always talking, sometimes talking when he doesn't need to – which is great for me. No one's there to hurt you or knock your confidence or anything like that. He's got a way of expressing what he has to say in the right way."
His education from Carragher appears to apply equally to the seriousness with which he regards captaincy, he and Coady having alternated in that role with Liverpool's reserves. "You just have to be a leader on the pitch and be vocal in a way that the players appreciate," Wisdom says. "You have to get your point across in the right way and try not to knock someone's confidence; command a respect in the team but not take it too much to make it arrogance."
There's a Carragher-esque studiousness, too, about his observations on other players. His interest in Barcelona's Carles Puyol is born of their comparable builds and aggression. "The physical side, the athleticism and the pace all do come into it, the defender's game, and it does help," he says. "But tactically there are a lot of players who are not as quick and strong but have still had a very good career in the game. In the youth teams the physical part can help you get away with it. But beyond that level, you need more than physical capabilities. Tactically you have to be switched on."
Borrell does not let Wisdom switch off. They speak every other day and there was a text message awaiting him after the 2-1 defeat at Old Trafford last month, pointing out that he had turned his back on a cross. "That's good. As a player you need the positives but also the things you might not want to hear."
The awfulness of Oldham – where, to be fair, Wisdom did little wrong – is still hard to explain, a week on. "We didn't start with the wrong attitude," Wisdom says. "It wasn't about their fitness. It's just on the day; 11 v 11. We didn't go on the pitch with a different attitude or think it would be a stroll in the park." His reticence to share what Rodgers said afterwards in the dressing room tells you that something was said. "It's gone. We'll be better for it," he says. But no one is labouring under the illusion that the manager's newspaper talk was some confected strategy to makes the players listen. "I think he is very open and honest with us as individuals," Wisdom says. "I think he means everything he says."
Andre Wisdom wears the new pearlised white, silver and black Speciali 4 Pro. Built for comfort and fit, the Speciali is Umbro's most iconic boot. umbro.com
My Other Life
I'm seriously into the Ultimate Fighting Championship and I like watching it on TV when I can. Me and my brother, we always used to wrestle and stuff but when I discovered that was fake I went for UFC and I love it. If you don't follow it, check out Anderson Silva. His fan base is unreal. And Jon "Bones" Jones is another one. Also Laurence Turead, who played Mr T in the A-Team, who they say is going to get involved with it. I like boxing too, but I think I'd find it a frustrating sport because having watched UFC I'd be tempted to kick someone – especially if I was losing a fight – or I'd have to use my hands like the UFC fighters. Serious sport!
Join our new commenting forum
Join thought-provoking conversations, follow other Independent readers and see their replies