Andy Carroll fitness: West Ham striker told to ignore Euro 2016 and work on fitness record
Slaven Bilic wants forward to focus on club rather than country
Miguel Delaney
Sunday 03 January 2016 23:59 Comments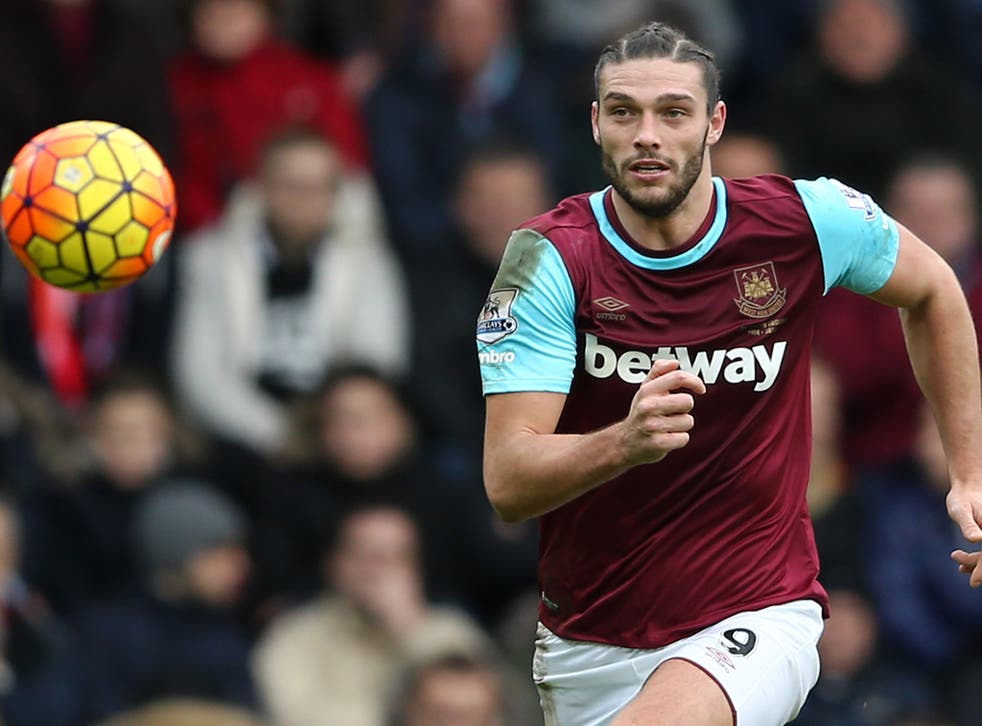 Slaven Bilic has said he now expects Andy Carroll to change his "history" and look after his fitness properly to become the player he should be. However, he warned England that they cannot think seriously about winning a competition if they keep getting excited by any player who scores two goals.
Carroll headed the second goal in West Ham's impressive 2-0 win over Liverpool on Saturday. It was the first time in two and a half years that he has scored in successive games and led to talk about whether he can make England's Euro 2016 squad.
The former Liverpool striker scored at Euro 2012 but a series of injury problems means that it remains his last international goal and he has not received a single cap since 2012.
Bilic said he expected Carroll to use that as a target, but there was a mild rebuke for the player as the manager hinted he had to change his off-pitch approach and first concentrate properly on keeping fit to earn an extended run in the side.
"He looks really good to me, he didn't drop for one single minute in today's game," Bilic said. "He was running, he was doing everything, he was tracking back, he was keeping two centre-halves busy when needed.
"He is good and fit and it's all about him now. Is he going to maintain and progress and look after himself and train hard and rest, or is he going to go the other way? He has a history in that and I'm not his dad, I can't demand things from him, but I'm expecting that, to be fair.
"To talk about the Euros is wrong for him," Bilic insisted. "If England is a serious national team and you're trying to win the Euros then you can't talk about the national team when the player has scored two goals.
"He's got all the quality. To ask me, 'does he have quality?' then, yes, but he has to show it on a longer scale and now it's there. He's got a chance, that's why I'm asking.
"It [Euro 2016] would push me, definitely, and I hope that he's going to do everything because when he's like this he's hard to play against."
A former central defender, Bilic said he would have loved the challenge of competing against Carroll and compared him to his old Everton team-mate, Duncan Ferguson.
"Would I stop him? I don't know but I would love to because I like those sort of challenges. There are very few guys in the league like him. There are guys who are more pacy running behind but he's like English tackles and duels. He's like the Duncan Ferguson of my time."
Liverpool manager Jürgen Klopp, meanwhile, revealed that his team have been investigating their repeated poor starts in matches.
Michail Antonio's early header on Saturday was the fourth time since the German took over that Liverpool have conceded inside the first 10 minutes of a match.
"It's something we have spoken about three times and it is not good. But we are in a situation where we need to start playing football again. West Ham played the first ball to Andy Carroll very easily. But under pressure we tried to play those first balls either on the half-volley or to players' chests. What were they doing? You cannot control balls like this and that's what the situation was."
West Ham 2 Liverpool 0 player ratings

Show all 22
Klopp was most angry with the lack of intensity from his team, and when asked how a manager regularly elicits that response, he puffed out his cheeks.
"It's my responsibility. I can't change a lot," Klopp said. "I can't explain. You want a few sentences, I would need to write a book."
Register for free to continue reading
Registration is a free and easy way to support our truly independent journalism
By registering, you will also enjoy limited access to Premium articles, exclusive newsletters, commenting, and virtual events with our leading journalists
Already have an account? sign in
Register for free to continue reading
Registration is a free and easy way to support our truly independent journalism
By registering, you will also enjoy limited access to Premium articles, exclusive newsletters, commenting, and virtual events with our leading journalists
Already have an account? sign in
Join our new commenting forum
Join thought-provoking conversations, follow other Independent readers and see their replies