Angel Di Maria: Manchester United winger to wear iconic No 7 shirt
The Argentina international has been presented to the press following his £57.9m move
Simon Rice
Friday 29 August 2014 10:57 Comments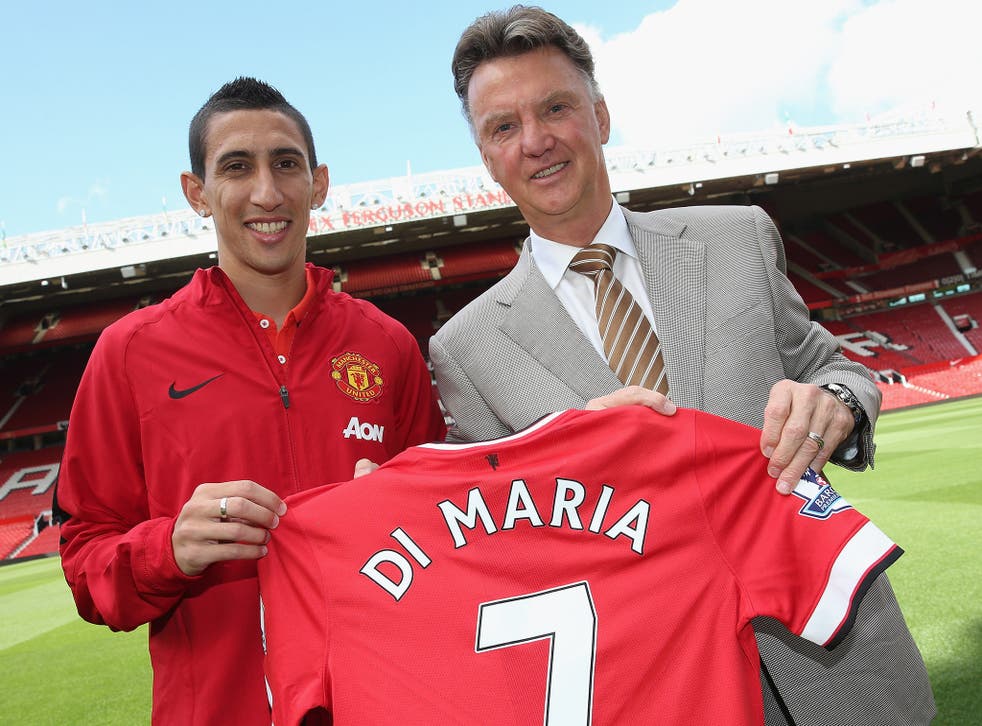 Angel Di Maria has been handed the iconic number 7 shirt at Manchester United - and quickly turned his attention to "working for a miracle".
The Argentina international was signed from Real Madrid earlier this week for a record British transfer fee sum of £59.7m.
However, the lift the winger was supposed to provide was quickly squandered when just hours after his arrival Manchester United lost 4-0 to League One side MK Dons - one of the most embarrassing defeats in the club's history.
Di Maria was presented to the press this afternoon as Manchester United look to again focus on one of the few positives aspects at Old Trafford.
Just before his appearance, it was revealed that he will wear the number 7 shirt - the number previously worn by the likes of Cristiano Ronaldo, David Beckham, George Best and Eric Cantona. Antonio Valencia was the most recent player to wear it, however ditched the number after he grew superstitious about it after a dip in form. Valencia insisted it had nothing to do with the expectations that go with it.
"I am aware of its importance," said Di Maria. "Cristiano Ronaldo spoke to me at Real Madrid and explained. I hope I can live up to it."
Di Maria, despite earlier this week admitting he didn't want to leave Real Madrid, claimed that joining Manchester United had fulfilled a life long dream.
"United is a great club and has already won many trophies. It was my boyhood dream to play for United. I come here to help raise their game help them to be great again and to win many trophies with them."
Seemingly aware of the task ahead, the 26-year-old added: "I wanted to come here to help the team to get into the Champions League and I think that I can help. I am very pleased that the manager chose me to come to Manchester United. We have to work for a miracle."
Louis van Gaal, who was sat alongside Di Maria, was keen to talk up the quality of the new arrival.
"I am very pleased that we can have such a class player in our squad but you have many class players," said the Dutchman, who is yet to win a game as manager of Manchester United.
"For me it is also important that he is a team player and that is what I am liking in Di Maria - not only class, and that he can accelerate the game for us, but that he can also play in the interests of the team.
"That is why we have chosen this player and I hope he shall give us good results, but we cannot expect after two days' training sessions that he is the miracle what I already read (about).
"No, you have to work for the miracle and he knows that."
Questions have been asked of Van Gaal's tactics, notably his 3-5-2 formation, and consequently where Di Maria would fit into that.
Van Gaal said: "I only buy players that can improve our philosophy so I have spoken already about his way of playing in the interests of the team.
"He can accelerate our play and our style of play but he fits in our philosophy.
"But what he can do more than fit in our philosophy, is I can change the system for him and maybe I shall do that in the future, like I have already done against Swansea City.
"He played at Real Madrid not only as a wide wing player but also in midfield so that is also a reason why we are convinced he shall succeed."
Manchester United's next game is away against Burnley on Saturday.
Register for free to continue reading
Registration is a free and easy way to support our truly independent journalism
By registering, you will also enjoy limited access to Premium articles, exclusive newsletters, commenting, and virtual events with our leading journalists
Already have an account? sign in
Join our new commenting forum
Join thought-provoking conversations, follow other Independent readers and see their replies