Angel Rangel interview: 'We helped to change football culture but the Swansea City way is not in place any more'
Exclusive interview: More than 10 years after arriving in Swansea, Rangel still loves the city, the people and the club, but regrets that the Spanish identity — the Swansea City way — has been lost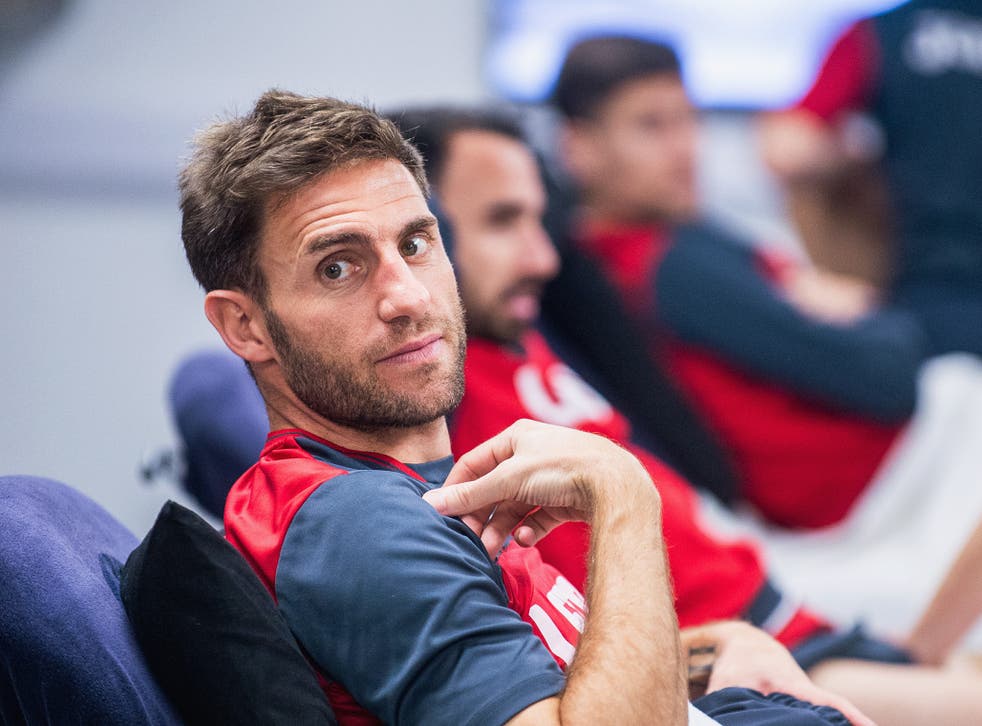 Roberto Martinez, who started it all off, has long gone, as have Andrea Orlandi and Gorka Pintado. Jordi Lopez, Jordi Gomez, Albert Serran, Alejandro Pozuelo, Jose Canas and Chico Flores have all left. Michu has retired, Pablo Hernandez plays for Leeds United and Guillem Bauza is a medical geneticist. This summer Fernando Llorente was sold to Tottenham Hotspur and Jordi Amat loaned to Real Betis.
Angel Rangel is the last man standing. Not quite the last Spaniard at Swansea City – they also signed Roque Mesa this summer – but certainly the last link with their great progressive Spanish experiment. He was there at the start, arriving from Terrassa in the summer of 2007 when Swansea were still in League One. He was there for the giddy up-swing, both promotion seasons under Martinez and then Brendan Rodgers. He was there for the glorious peak under Michael Laudrup, the League Cup triumph, the Europa League adventure, and the time when Swansea could claim to be one of the best footballing teams in the country.
And Rangel is still there now, in his 11th season at the club. That makes him their longest-serving player given Leon Britton's half-season at Sheffield United in 2010. It was never his plan to stay here this long, he only wanted to try English football for a few years, to "open a door in his career", earn some money and then return to Spain. But real life intervened: he fell in love, started a family, settled down and even built himself a house in Swansea. Now he has a Welsh wife, Welsh children, Welsh friends and distinct Welsh lilt to his Spanish accent.
His story is a triumph of openness, on his part and on the part of the community and the club he joined as a curious 24-year-old. Now at 35 he has just been appointed club captain by Paul Clement although he has only played two minutes in the Premier League this season. He does not have a contract for next year, so this could well be his final season at the club. If he goes, there will be almost no links left with Swansea City's greatest ever era.
Those years at the start of this decade feel increasingly distant now, much to Rangel's obvious regret. He speaks with real insight and pride, and in immaculate English, about his role in one of the most far-sighted projects in modern British football, as Swansea used a foreign manager, foreign players and foreign ideas to launch them on their way up through the leagues. And when Rangel eventually retires he is even interested in scouting, to help Swansea find the next generation of Spanish players, to help bring back 'the Swansea way'.
That is how it all started, after all. Roberto Martinez was a 33-year-old manager with a vision who had just been given the Swansea City job. On 12 May 2007 he attended a Segunda B match – the Spanish third tier – between Terrassa and Benidorm. His target was Jorge Molina, the Benidorm striker. But the player who most impressed him in the 3-3 draw was Rangel, Terrassa's 24-year-old right back. Rangel was trying to get up into the second tier but could not find a way there. He was balancing his football with training to be an accountant, helping out with the books in the convenience shop his mother Pepi still runs in Tarragona. Then he got a phone call that changed his life.
"I had a call from a guy called Roberto Martinez. He told me he was a Spanish manager in English football, for a team called Swansea City I did not know much about." Martinez explained what he was trying to do and Rangel was instantly sold. "I had nothing to lose. I thought I was going to go there, learn English and have the chance to play in a different division. So let's go and try."
The one wrinkle was that Terrassa demanded €15,000 for a player with only one year left on his contract. Swansea would only offer €5,000 and with no other solution, Rangel made up the €10,000 gap himself.
League One was a very different place, and Rangel started with eye-opening trips to Oldham Athletic and Walsall. What every Spanish player has ever found in English football – "more open, more physical, the ball more often is at the ends of the pitch" – is amplified down in the third tier. It took imagination, bravery and belief for Swansea to play like they did. "We were the only team in League One who tried to play the European way, not the British way. And we succeeded." Swansea won the league by 10 points and Rangel was voted the best right-back in the division.
It was not just about winning for Swansea or even about winning well. It was about proving a point, doing what no-one thought could be done. Rangel still remembers the doubts when Swansea got up into the Championship and added three more Spaniards to their squad. "Mick McCarthy was saying you can't play tippy-tappy football in the Championship, you're going to get hammered, blah blah blah," Rangel laughs. "But we actually did outplay a lot of teams."
Martinez left in 2009 but was replaced by Paulo Sousa, and then by Brendan Rodgers, who Rangel rates as "more complete" than Martinez because of his attention to detail, including to the opposition. But the principles were the same: "Always play from the back, try to play the ball on the floor." And in Rodgers' first season at the Liberty Stadium, it worked. Swansea finished third and beat Reading 4-2 in the play-off final at Wembley on 30 May 2011.
That is still the happiest single day of Rangel's playing career and he recalls it with a touch of amazement. Swansea have been in the Premier League for seven years now but it never felt likely before then. "Life-changing for myself, for my family, for the club itself and for the city," Rangel says, linking the four. "If we did not win that game, I probably wouldn't even be in Swansea, god knows. But the fact that we got promoted, was totally life-changing in every single way. All the good football we played for four years, which Roberto started and Brendan took over, it paid off."
It barely registers now when a team tries to get out of the Championship with a foreign manager, players or ideas. Watford and Huddersfield Town have done it. Sheffield Wednesday nearly did it. Wolves, who remind Rangel of his own Swansea side, are doing it emphatically this season. But would any of that have been possible without Swansea first marking the way?
"I feel proud that we did something that nobody thought we could do. We overcame a very difficult style of football, in a country where the culture was long-ball and physicality. To do that, you needed a European manager first, and European players, mixed with British players because they're the ones who know the league here. We had a great mixture here. When teams saw we could get to the Premier League, they started to change, and the culture started changing."
The apotheosis of all this came under Michael Laudrup. "The most inspiring thing during that time was that we never talked about other teams, it was all about ourselves, how to play football offensively. His team-meetings would be 15 minutes before the game on a board. Say a few things, go and play and enjoy."
Winning the League Cup at Wembley in February 2013 is what this team will always be remembered for. But for Rangel the peak came three months before in a 3-1 demolition of West Bromwich Albion, five years ago last month. He remembers all the details. "In 20 minutes we were 3-0 up, and that was the best 45 minutes we have played in Swansea shirts."
The problem with a peak is that things are never that good again. Swansea have been on the decline for years, changing managers, players, slipping down the league and losing the identity that made them so successful. Rangel is captain and does not want to be critical, generously calling it a "transition time" for the club. But for a player with such a clear sense of how the game should be played, he regrets that the football he loves is "fading away". "That is my way, and I think now I miss it a bit," he says with some sadness. "You can see that Swansea don't do it now. We always talk about it, some of the players who have been here a long time. That's the way we succeeded. Why are we changing it? That's my only question. I know we have different players now, different managers. But the philosophy of the club could still be in place. And it's not."
Back when Rangel first arrived in Swansea he was just another itinerant young footballer, living near the marina, going out for dinner and playing PlayStation with Orlandi, Bauza and Doris de Vries. But his life changed one day in House of Fraser in Cardiff. He went with a friend to buy a jumper, and the assistant, Nicky, tried to sell him a store card. He eventually left with her number. "We got married on 7 July 2012. Two days before Laudrup got appointed. That's how I remember."
The Rangels have three children and have built their own house in Swansea, where they plan to live for "the next 20 or 30 years". He is now known all over the city, from the Spanish restaurant we go to, to the waterfront café dominated by Christmas partiers. This place has taken Rangel in, so much so that he says that he "feels Welsh" now. So of course he wants to give something back.
That is why Rangel and his wife take such an active role doing charity work in Swansea, especially in the run-up to Christmas. As well as taking food to homeless shelters they have gone Christmas shopping for under-privileged families: buying, wrapping and delivering presents for those who cannot afford them. This Christmas Rangel will be doing the same thing, arranging for all of his Swansea team-mates to buy and deliver presents to local families. "The town and the club have given me a lot, so I just want to give something back. The only way to do it is like that. I have given all of my football, up until now. I want to do as much as I can."
This is his home now but a small part of him is still back in Catalonia, in the small sea-side village of Sant Carles de la Rapita where he grew up. Not least because of the recent turmoil in the region which affects him greatly. "Don't get me started" he says, sounding more Welsh than ever. "It was very upsetting to see how the Spanish government dealt with the independentism, with people trying to vote, nothing else. They weren't being aggressive, they just were putting envelopes inside the ballots. And how the Spanish police reacted to that, beating people up, it was very upsetting to see. I think it was very, very unfair."
Pep Guardiola has always been a hero of Rangel's, from when he played for Barcelona in the 1990s, and he still is now for wearing his yellow ribbon for Catalan political prisoners. "I think Pep's right," Rangel says. "Probably all the Catalan people think like him. The same as [Gerard] Pique. They are very influential. Hopefully it will help people to understand that we are in 2017, and what was done on 1 October, was like from the 1930s. We should be a more stable country. Unfortunately the ones running it are still [from] the same era as Franco, the dictator, and that's very wrong."
Rangel talks politics with the same forthright honesty as when he talks football. He could go into the media but he discusses what sort of manager he would be it is very easy to see him on a training field or in a dug-out. "I would rather have players with no name yet, that are chasing a dream and that want to become big players, so you know they are going to listen to you." Just like Rangel was, over 10 years ago, listening to Martinez, at the start of a journey that is still continuing, if only just.
Join our new commenting forum
Join thought-provoking conversations, follow other Independent readers and see their replies