Antonio Conte's grumbling isn't fooling anyone - Chelsea are back in form and have a kind Christmas schedule
Conte may have repeatedly moaned about his club's congested fixture list, but Chelsea are hitting their stride and will be difficult to beat over this winter period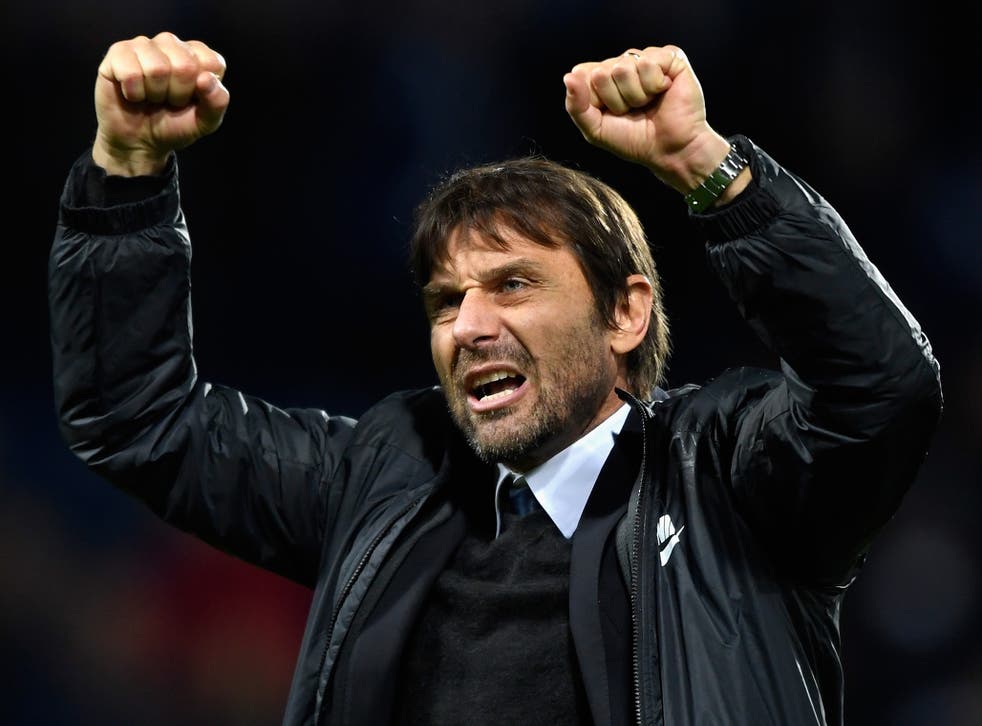 There was no mid-flight film and whisky miniature for Antonio Conte on Wednesday night. Instead, as his players dozed around him, the Chelsea manager spent the five-and-a-half hour overnight flight from Baku to London working on a plan to win away at Anfield.
His coaching staff received advanced notice that they too were in for a sleepless night after the comfortable 4-0 win over Qarabag. "We have to work during the flight to prepare for the game against Liverpool," Conte instructed at his post-match press conference, before once again taking aim at the Premier League over Chelsea's congested fixture list.
"To have only one day to rest and prepare for such a big game is not easy," he said. "I think also it's not right. The English league is very tough. There are six top teams who try to fight for the title. To create, for the second time in only one and a half months, problems for one team is not right. Someone has to help us to underline this strange situation."
Frustration with the club's upcoming run of fixtures has become a well-worn theme for Conte over the past few days, with the Italian also using his conference after the West Brom game – another 4-0 win – to criticise the Premier League. "We are doing our job and it's important to do it in the best way," he remarked. "We want also a bit of respect for our job."
He has a right to grumble. Chelsea eventually touched back down in London shortly after 4am on Thursday morning – which gives them less than two days to prepare for their match against Liverpool. It's a huge fixture: Chelsea risk falling a surely insurmountable 12-points behind league leaders Manchester City if they lose, while Spurs could also leapfrog them into third.
But Conte's decidedly Jose Mourinho-esque grumbling has the unfortunate effect of obfuscating just how well Chelsea have managed their tricky November fixtures, especially considering they ended the month of October with a 3-0 thrashing at the hands of Roma, a result which looked set to consign them to second-place in Champions League Group C.
Since that hammering – which heaped more pressure onto Conte's shoulders after a slow start to the Premier League and the surprise exit of technical director Michael Emenalo – Chelsea have done a fine job of steadying the ship.
2017 Ballon d'Or nominees

Show all 31
After a decidedly scratchy 4-2 win against Watford, the club have been flawless in the Premier League, beating Bournemouth and United by a single goal and hammering West Brom 4-0. Meanwhile Wednesday's win over Qarabag was an especially fine result considering Roma slipped up to Atletico Madrid on the same night.
With one match remaining, at home to Atletico, Chelsea now lead Roma by two points and have a good opportunity to top the group, which would see them play an unseeded team in the last 16.
Chelsea also have a good chance of ending Liverpool's three-match winning run in the Premier League, despite their less than ideal preparation for the match. Liverpool have been poor against their top-six rivals – beating Arsenal but drawing 0-0 with United and losing 5-0 to City and 4-1 to Spurs – and head into the match after collapsing against Sevilla, somehow turning a 3-0 lead into a 3-3 draw.
And then there's the fact that compared to their rivals, Chelsea have a comparatively kind Christmas schedule. Their New Year's Day fixture against Arsenal has been pushed back to January 3, which means a leisurely 273 hours separate the start of their first festive fixture to the last. Of the 20 Premier League clubs, only Arsenal have it better.
Things get a little bit more complicated in January, when Conte will have to balance the demands of the Champions League Round of 16 stage with a potential two-legged EFL semi-final, as well as the club's Premier League commitments. But Chelsea's squad is deep enough to cope.
Before all that, however, is the trip to Liverpool. And, for all Conte's moaning, Chelsea have an excellent chance of extending their unbeaten run and keeping up the pressure on the two Manchester clubs. Don't let the repeated press conference sighs deceive you: after an uncertain start Conte has steadied Chelsea and there is nothing to stop them maintaining this run through the winter months.
Register for free to continue reading
Registration is a free and easy way to support our truly independent journalism
By registering, you will also enjoy limited access to Premium articles, exclusive newsletters, commenting, and virtual events with our leading journalists
Already have an account? sign in
Register for free to continue reading
Registration is a free and easy way to support our truly independent journalism
By registering, you will also enjoy limited access to Premium articles, exclusive newsletters, commenting, and virtual events with our leading journalists
Already have an account? sign in
Join our new commenting forum
Join thought-provoking conversations, follow other Independent readers and see their replies