Antonio Conte admits Chelsea 'lost composure' after Gary Cahill's early red card in shock loss to Burnley
Chelsea suffered a first-half collapse to go 3-0 down to Burnley, after Cahill had been sent off in the 14th minute for a reckless lunge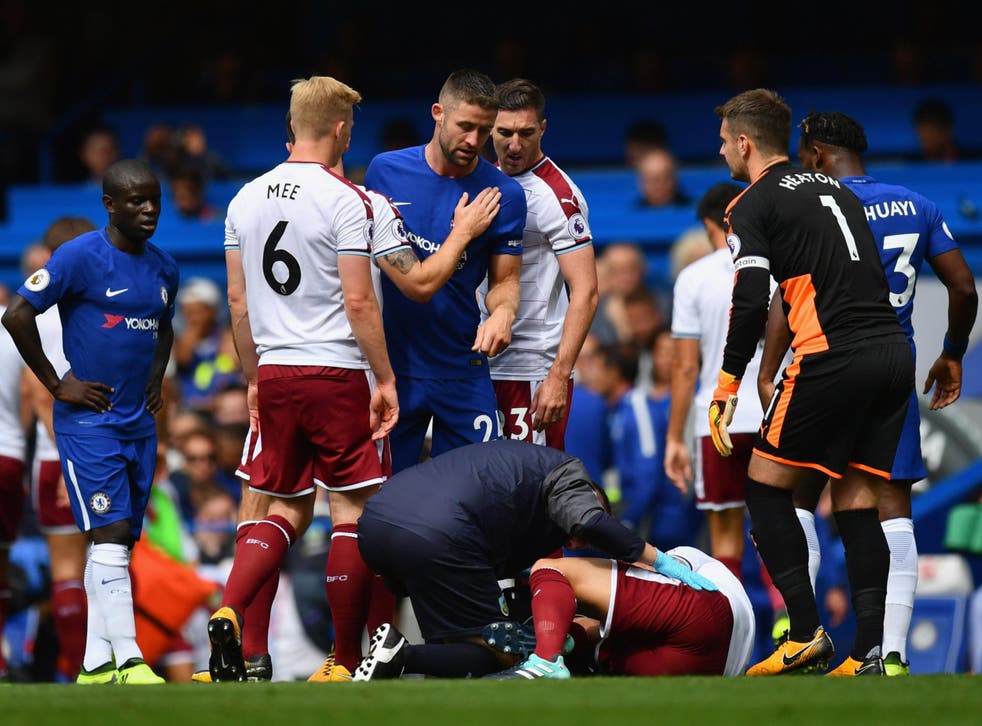 Antonio Conte has admitted that Chelsea "lost composure" after the key moment of Gary Cahill's red card in their sensational opening-weekend 3-2 defeat to Burnley, but played down any idea of a crisis, as he insisted he trusts the players to get themselves out of this situation.
The Italian's greatly depleted team became just the second defending Premier League champions to lose their first game of the season, as they suffered a first-half collapse to go 3-0 down after Cahill had been sent off in the 14th minute for a reckless lunge, with Cesc Fabregas later receiving a second yellow card too.
"For sure it was a key moment, because after this red card we lost our composure and we conceded three goals and I think we have to improve a lot on this aspect."
While accepting that his players had been affected by the situation, Conte pointed to how they have now received red cards in each of their last three games - including the FA Cup final and Community Shield against Arsenal - but stopped short of blaming his players for ill-discipline.
"I think we must have the right experience to face this type of situation, above all in the last three official games we have ended twice with ten men against Arsenal, and today with nine. Me, I have to start to study a new formation with ten or nine players. When it happens with regularity you have to be worried."
Conte played down any sense of crisis or fear of a meltdown similar to 2015-16, insisting Chelsea would "find a solution".
"I am not worried because we have to trust in our work and today there were three injured players, Pedro, Hazard, Bakayoko, one player missed for a ban in Moses. In the next game I don't know if Pedro is able to recover from his injury, but for sure we will have two players out for a ban, Cahill and Fabregas. We will find the right solution, we will find the right solution.
The Chelsea manager strongly rejected the idea that his starting XI - that included a 20-year-old Jeremie Boga with a still unfit Alvaro Morata on the bench - was a "message" to the board about transfers, stressing he would never risk a result like that.
"Why? Why this question? You were not satisfied with my starting XI? No. You don't know me very well and you can see in our pre-season and in every friendly games I have always played the best formation and it happened the same also today.
"Because through my choices I put the best players that we have with this moment. I repeat, I don't like this type of habit to send a message, why I have to send a message? Why? Why? I want to win today and I wanted to win, I wanted to win not send a message. Why? Why?"
Register for free to continue reading
Registration is a free and easy way to support our truly independent journalism
By registering, you will also enjoy limited access to Premium articles, exclusive newsletters, commenting, and virtual events with our leading journalists
Already have an account? sign in
Register for free to continue reading
Registration is a free and easy way to support our truly independent journalism
By registering, you will also enjoy limited access to Premium articles, exclusive newsletters, commenting, and virtual events with our leading journalists
Already have an account? sign in
Join our new commenting forum
Join thought-provoking conversations, follow other Independent readers and see their replies