Antonio Conte saw reinventing David Luiz and overcoming Chelsea criticism as 'great challenge'
The Brazilian was sold by Jose Mourinho - who's Manchester United side he faces on Sunday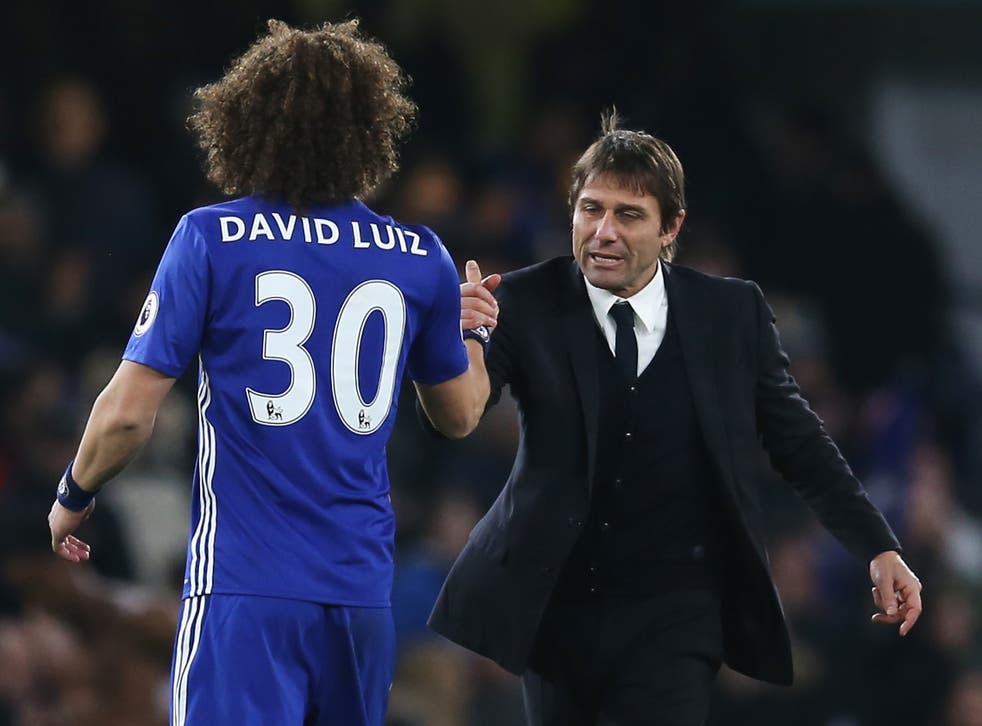 Antonio Conte has revealed he saw it as a "great challenge" to both David Luiz and himself as a manager to rectify the amount of negative coverage the Chelsea defender's August signing received, as he urged the player to become one of the best defenders in the world.
Conte insisted he was sure that the 29-year-old would be a success when he returned to Stamford Bridge from Paris Saint-Germain, but was struck by how much criticism there was of the move.
Luiz on Sunday faces the man who sold him, as Chelsea go to Jose Mourinho's Manchester United, having been one of the key players in what looks set to be a title-winning campaign. Conte praised him as "crucial" to that, while also recognising his concentration, something considered suspect about the Brazilian's game in the past.
Chelsea vs Manchester United: Five memorable matches

Show all 5
"David arrived in England and I heard a lot of bad things about him when he arrived, and why was he coming back in Chelsea because, in the past, he had performed bad and he was 'not a defender'," Conte explained.
"This was a great challenge for him, but also for me. Because I think when you have great ability for your players, and you can work to try and improve some situations, it's great. You can see that David, for sure, is a really strong defender.
"I like, always, to repeat to him that it's very important to have the right concentration. His role is a crucial role for us, and I think he has performed very well. But I want him to perform very well for the rest of the season.
Manchester United v Chelsea: Premier League match preview
"I read in the newspapers, a lot of bad considerations, saying we had spent a lot of money on him and, in the past, he hadn't been very good as a defender. For this reason, he had played as a midfielder. I heard a lot of these things. But when we decided to buy him, to take him back, we were sure. We were sure we were taking a really good player and put him again as one of the best defenders in Europe and, I hope, in the world."
Their work together has been about more than putting Luiz back in central defence, but also honing how he plays in the middle of the three, a role Conte considers "fantastic for him".
"I think this position is perfect for David to play as a central player in three defenders. This is the best position for him because he has good technique, he's strong, he can start our possession and the personality to do this. And he also has two really good defenders at his side, in Gary [Cahill] and Azpi [Cesar Azpilicueta] or [Kurt] Zouma or [Nathan] Ake or John [Terry]. This position is fantastic for him. He's performing very well. But I repeat: I like always to push him because the season hasn't finished yet. For us, it's very important for us to keep the right concentration until the end."
Conte similarly praised Marcos Alonso's evolution, especially since he was another signing questioned, and who wasn't initially picked at the start of the season.
"His contribution... it's great. But Marcos, I think, is one of the players who has grown this season. He grew this season. He took a lot of confidence. He's working a lot to improve. His attitude and work-rate is great. Don't forget that, when Alonso arrived at Chelsea, he wasn't playing. Then he started to play and deserved to start every game."
Asked about the Chelsea players nominated for the PFA awards, N'Golo Kante and Eden Hazard, Conte naturally refused to be drawn on who he thinks deserves it most but did say he felt defenders deserve more recognition with such prizes. He cited this as one why reason why his old international teammate Paolo Maldini never won the Ballon D'Or.
"It's more difficult for the defenders, no? For this reason, Paolo Maldini never won the player of the year award, the best player in the world award. For this reason. The defenders are a bit penalised."
Register for free to continue reading
Registration is a free and easy way to support our truly independent journalism
By registering, you will also enjoy limited access to Premium articles, exclusive newsletters, commenting, and virtual events with our leading journalists
Already have an account? sign in
Register for free to continue reading
Registration is a free and easy way to support our truly independent journalism
By registering, you will also enjoy limited access to Premium articles, exclusive newsletters, commenting, and virtual events with our leading journalists
Already have an account? sign in
Join our new commenting forum
Join thought-provoking conversations, follow other Independent readers and see their replies