Antonio Conte vs Jose Mourinho: the history of a budding rivalry ahead of Chelsea vs Manchester United
Ahead of Manchester United's trip to Chelsea on Sunday, a look back at a short but spicy relationship between two of the Premier League's biggest names
Thursday 02 November 2017 15:49 Comments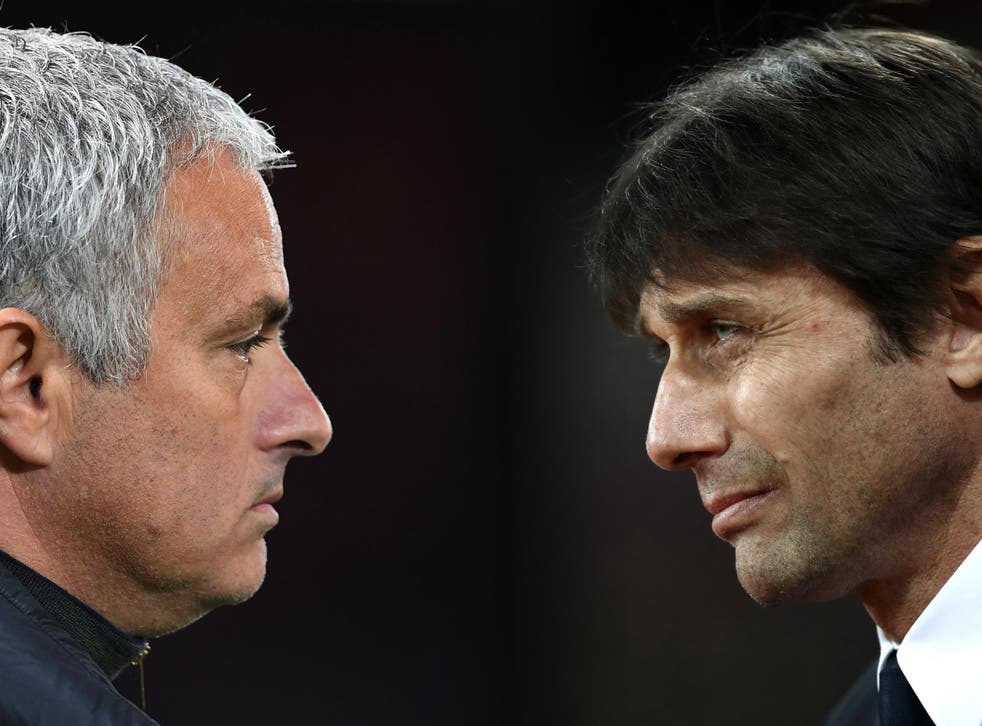 Antonio Conte and Jose Mourinho will be in opposing dugouts once more this weekend, two faces that form one of the Premier League's newest rivalries.
Maybe it's the simmering, residual resentment felt by Mourinho towards his former club but the Special One doesn't seem to have much time for the man who, to all intents and purposes, replaced him at Stamford Bridge.
Indeed, you would never hear it from the Portuguese himself but it can't have felt pleasant watching the blue ribbons be attached to the trophy for a squad he feels he built.
And ahead of this weekend's reunion, PA Sport has compiled a quick reminder of their recent clashes.
October 2016
The first meeting between Mourinho and Conte ended in embarrassment for the former as Chelsea won 4-0.
The Italian's touchline antics appeared to irk the Portuguese as he said something in Conte's ear after the final whistle. Reports in the Italian media suggested Mourinho told Conte: "You don't celebrate like that at 4-0, you can do it at 1-0, otherwise it's humiliating for us".
Neither boss divulged what was said but Conte told Sky Italia: "I've been a player too and I know how to behave."
March 2017
Five months on and of the two managers chasing a league title in their first season, it was Conte whose team were riding highest.
Mourinho had an explanation for that.
Speaking about their absence from European competitions, he said: "The reality is that he's got in his hands a situation where they have time to work, time to rest, time to relax, time to disconnect, time to travel, time to have holidays, time to go to America and enjoy America for a couple of days. They have time for all of these things, so they are in a position of privilege, but I don't want to say that they don't deserve credit for it."
March 2017
Another Stamford Bridge encounter, another spiky exchange between the two, who had to be separated after Marcos Alonso was fouled.
Ander Herrera was sent off for two yellow cards picked up in tackles made on Eden Hazard, and Blues boss Conte was livid with what he perceived to be a deliberate ploy against the Belgian: "A tactic to play and go to kick an opponent? It's not football for me," he said.
April 2017
Conte aimed another dig in the direction of Mourinho and Manchester City manager Pep Guardiola as his team closed on their title triumph.
"This season it's very important to understand that it's not always about who spends more money who wins," he said.
"This season isn't the only season both Manchester clubs have spent a lot of money. Look at the past. It's right for them to do this, to reinforce their teams, if they think this is the right way to win the title. (But) every single club decides their own strategy."
July 2017
Chelsea entered the new campaign knowing the last time they tried to defend their title, under Mourinho, it ended in disastrous fashion as they finished 10th having axed the Portuguese in December when they were just one point above the relegation zone.
It was not lost on Conte, who said in quotes published on espn.co.uk: "We know the difficulty of the next season and for sure we want to avoid the Mourinho season with Chelsea. Two years ago the team ended the league in 10th place and we want to try to avoid this."
July 2017
When those comments were put to Mourinho at a press conference in Norway after his team had beaten Valerenga 3-0, he responded with a curious turn of phrase. "I could answer in many different ways," he said. "But I'm not going to lose my hair to speak about Antonio Conte." The Italian had a visibly receding hairline towards the end of his playing career but now boasts flowing locks.
October 2017
Mourinho got under Conte's skin earlier this month when he made a remark about his rivals bemoaning their lengthy injury lists. Without specifically stating who he was referring to, the United boss said: "Other managers, they cry, they cry, they cry when some player is injured. I don't cry." Conte was rubbed up the wrong way, and hit back by saying: "A lot of time Mourinho has to see what happens at Chelsea. A lot of time, also last season. I think he has to think about his team and stop... to look at himself, not the others."
Register for free to continue reading
Registration is a free and easy way to support our truly independent journalism
By registering, you will also enjoy limited access to Premium articles, exclusive newsletters, commenting, and virtual events with our leading journalists
Already have an account? sign in
Join our new commenting forum
Join thought-provoking conversations, follow other Independent readers and see their replies