The Independent's journalism is supported by our readers. When you purchase through links on our site, we may earn commission.
Antonio Conte profile: What can Chelsea expect from their new manager?
The Italian has been compared to Jose Mourinho... is that fair? Adam Digby, author of 'Juventus: A History in Black and White', on the current Italy boss
Adam Digby
Thursday 17 March 2016 09:30 Comments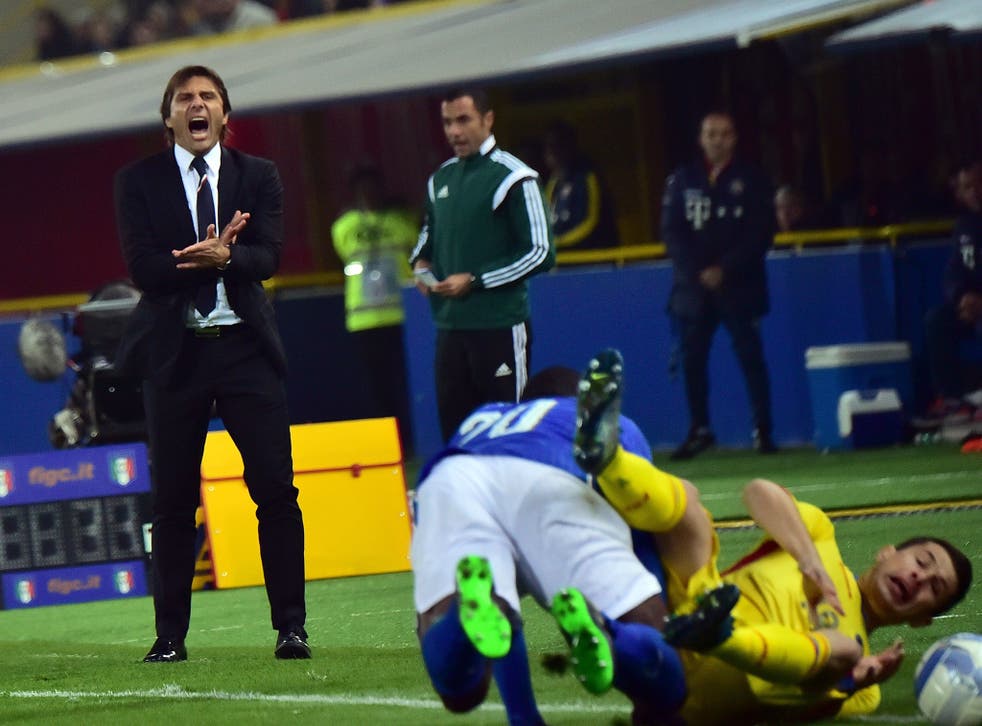 This week saw the Italian FA finally admit that Antonio Conte would be leaving his post as boss of the national team, president Carlo Tavecchio thanking the coach for the "commitment and sacrifice" he has shown during his Azzurri tenure. The man himself has insisted he remains fully focused on the European Championships, while the likes of Roberto Donadoni, Fabio Capello and Leicester City's Claudio Ranieri have been touted as potential replacements when the tournament ends in July.
However, while debate over a successor rages on the peninsula, Conte's next destination is of far more interest and it appears he may soon be landing in England. The 46-year-old has long been linked with the Chelsea job, and has admitted to missing the day-to-day grind of club management at various intervals during his time in the international arena.
Indeed, Tavecchio said on Monday that Conte "misses the smell of the grass", and his admiration for the Premier League is also well known, with the Stamford Bridge outfit perhaps providing the perfect place for his approach to the game.
11 facts about Antonio Conte

Show all 11
Much like Jose Mourinho, he is obsessive over details and micro-manages every aspect of his side's preparation while aggressively defending his players against any perceived external criticism.
He has also – in another trait shared with the Portuguese – shown himself to have little time for those who do not adhere to his strict tactical instructions, vociferously lambasting Miloš Krasić for a momentary lapse during one of his first matches in charge of Juventus. It is an attitude born out of his own roots as a hardworking midfielder, a player whose incredible drive and desire to maximise his limited potential saw him rise from lowly Lecce to become captain of the perennial Serie A champions.
Playing over 400 games for the Bianconeri, Conte retired in 2004 having won no fewer than fifteen major honours, including five titles and the Champions League, and quickly embarked on a career on the side-lines. Less than twelve months after hanging up his boots he was the assistant coach of Siena, before subsequently taking charge of second tier minnows Arezzo. In December 2007 he moved on to Bari, leading them to the Serie B title just 18 months later. After leaving for Atalanta before the following campaign got underway he lasted just 14 top flight games before being sacked due to poor results.
Rebuilding his reputation at Siena, he would again successfully steer a team into Serie A before moving on to his beloved Juventus in the summer of 2011. The Bianconeri had slumped to two consecutive seventh-place finishes, but were desperate to make an impact as they opened their new stadium that same year.
With very little experience of the coaching demands at one of European football's truly giant clubs, it was initially unclear how he would fare, particularly given that prior to returning to Turin he had almost exclusively used an adventurous 4-2-4 formation.
Like those early teams, Conte's Juventus still pressed high up the pitch and looked to hit opponents in transition but the opportunity to use that wing-based system never arose, as Juventus signed midfielders Andrea Pirlo and Arturo Vidal over the following weeks.
Initially, Chilean Vidal had problems grasping the tactical minutiae so synonymous with Italian football, and observers at the club's pre-season training camp would see Conte take the Chilean by the arm and physically lead him through drills to ensure he understood what was expected of him. The two men would then help the Old Lady re-establish herself as the nation's premier side, winning three consecutive league titles and returning to Europe after a two-year absence.
They marched through his first season undefeated and set a new record for points in his third, with Conte's tactics evolving over the early weeks of his tenure into a 4-3-3 formation which allowed Vidal and Claudio Marchisio to flank Pirlo and protect the brilliant playmaker. Later he adopted the 3-5-2 which became so central to their success, a shift which made logical sense and brought the best from his squad, but the coach became wedded to the framework even when its flaws were ruthlessly exposed by foreign opponents.
Reaching the quarter-finals of the Champions League in 2012-13, his debut season in the competition, should have been regarded as a major accomplishment, but the manner in which Bayern Munich dismantled Conte's team seemingly removed the lustre from it. The Bavarian giants ran out 4-0 winners on aggregate, and a reluctance to rotate his team despite a huge lead over their domestic rivals also cost the Old Lady a place in the 2014 Europa League final, where they lost out to Benfica.
Ruthless, devoted to winning and unable to accept failure, his stint with the Bianconeri was over far sooner than anyone expected, quitting on the second day of pre-season training. He cited fatigue, but also bemoaned the financial constraints which Juventus operated under as reasons for walking away from the club. "You cannot eat at a €100 restaurant with just €10 in your pocket, can you?" he asked in a recorded statement, seemingly unhappy with the transfer strategy that management had mapped out for him.
Seeing his replacement Max Allegri lift a Serie A-Coppa Italia double while reaching the Champions League final last season made that opinion appear misplaced, but Conte had also moved on as he took charge of Italy following their disastrous showing at the 2014 World Cup.
He led the Azzurri comfortably to Euro 2016 qualification, finishing top of their group and remaining unbeaten, often utilising the three-man backline that had brought him such success at Juventus. Leaning heavily on the Juventus defensive trio of Andrea Barzagli, Leonardo Bonucci and Giorgio Chiellini, Paris Saint-Germain's Marco Verratti offered a perfect replacement for the retired Pirlo and again that system made perfect sense.
However, in much the same way Mourinho ignored the likes of Juan Cuadrado, Andre Schurrle, Kevin De Bruyne and others, Conte has been criticised for his reluctance to call up attacking talents like Napoli forward Lorenzo Insigne and Domenico Berardi of Sassuolo, who have shone domestically.
With the likes of Eden Hazard, Oscar, Pedro and Willian already ensconced at Stamford Bridge that cannot continue, and it is unlikely that the Italian would attempt to subvert the squad into his 3-5-2 framework. Instead, the 4-3-3 he originally intended to use at Juventus – and has often utilised with Italy – is likely to once again become the default setting, and the success he had in quickly rebuilding the Bianconeri will also undoubtedly be an experience to draw upon.
Chelsea sit mid-table in the Premier League as a whole raft of top coaches are lining up to compete with one another next season, with names such as Pep Guardiola and Jürgen Klopp providing an added air of intrigue. Just as he did in Turin, Conte will need to galvanise his players and integrate any new signings quickly, with a tense battle for not just the title but also the coveted top four places set to ensue.
He will certainly not be able complain about a lack of spending power with the vast wealth of Roman Abramovich behind him, as Antonio Conte and Chelsea would clearly able to eat at any restaurant they choose.
--
This article was originally published on 17 March.
Adam Digby's 'Juventus: A History in Black and White' is on sale here
Register for free to continue reading
Registration is a free and easy way to support our truly independent journalism
By registering, you will also enjoy limited access to Premium articles, exclusive newsletters, commenting, and virtual events with our leading journalists
Already have an account? sign in
Join our new commenting forum
Join thought-provoking conversations, follow other Independent readers and see their replies