Arsenal 2 Blackburn Rovers 0: Senderos and Adebayor strike to leave Arsenal in the driving seat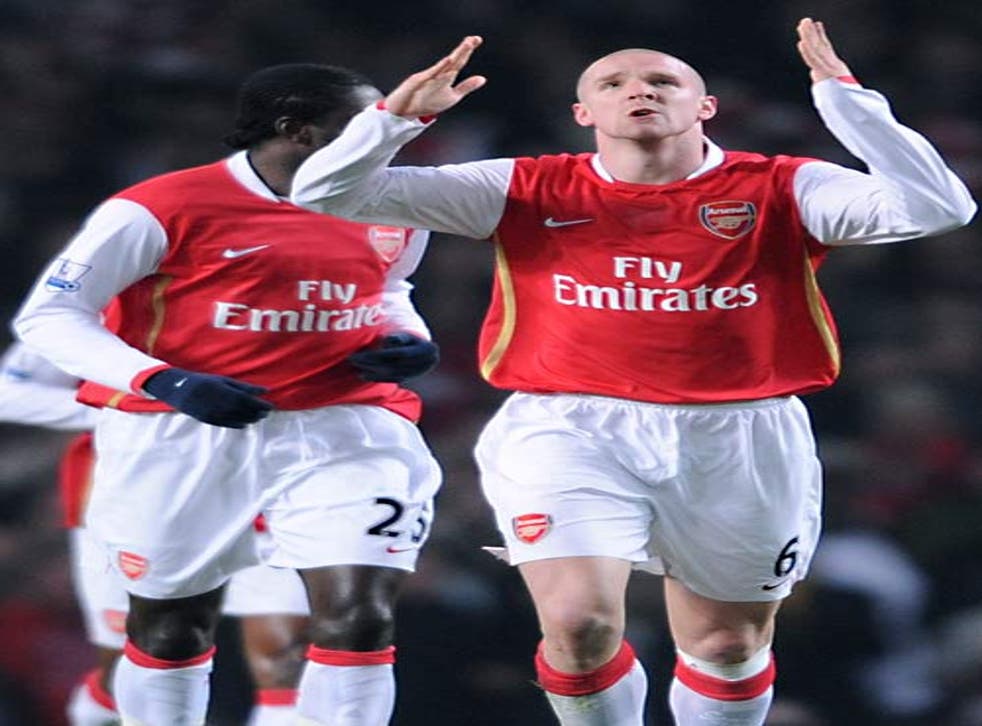 It may only be five points, but those in pursuit of Arsenal are now obliged to mind the gap. Arsène Wenger's team extended their lead in the title race last night with a victory that turned Manchester United's Sunday from hell into an equally miserable Monday for Sir Alex Ferguson. After the weekend when the rest of the best wobbled, Arsenal's nerve held.
The question that the Emirates asked itself last night was whether this win and Arsenal's new five-point lead over United could prove definitive in Wenger's quest for his fourth Premier League title. History is certainly on their side. Four years ago almost to the day Arsenal took a five-point lead over United with a 2-0 victory over Southampton and never looked back to win the Premier League title in 2004 – although that is not the only parallel with last night.
Back in that game in February 2004, Thierry Henry notched his 18th and 19th league goals of that season; last night Emmanuel Adebayor scored his 19th of the season to take himself level on Premier League goals with Cristiano Ronaldo. It is the race within the race in a compelling season and at the moment the Arsenal striker is demonstrating the kind of form that makes him a difficult proposition to deny. He has scored in nine consecutive games and is within two of Ian Wright's club record of a goal in 11 straight matches.
Ferguson, who will give a press conference in South Africa today, may have hoped that he could count on one of his friends in the north for a shock result last night but despite a tidy performance from Mark Hughes' side it was never going to be easy when they conceded Philippe Senderos's header in the fourth minute. But for the brilliant Brad Friedel it threatened to be a lot worse for Blackburn.
Wenger would not go as far as declaring that this was now Arsenal's title to lose but he said that his team were coping with the pressure. "We've handled it very well every time we've had our backs to the wall," he said. "Last week we played first [of the leading three] at Manchester City and we won. This week we played last and we won."
There were times when Adebayor and Alexander Hleb were struck with the old Arsenal affliction of trying to walk the ball into the net but eventually it was the quality of those two that counted above all. Arsenal's Togo striker was marshalled just about as well as could be expected by a combination of Andre Ooijer and Zurab Khizanishvili who were dogged but not quite good enough. Adebayor finally broke through in injury time at the end of the game from Hleb's pass.
"It's not a coincidence that strikers who play here score goals because everybody goes forward," Wenger said. "The team feeds you when we go forward. As a striker here you get quite good food. We always had the belief from the first day, but there's still a long way to go. As soon as you're not at your best at the top, you can drop points. We have seen that over the weekend. We have still 12 games to go, we are in a good position and we believe we can do it. But we're not fools, it's far from over."
In central defence there is an injury and availability crisis of sorts at Arsenal with Wenger resisting the temptation last night to rush Kolo Touré back after African Nations Cup duty. There was no Johann Djourou or Alex Song and Senderos had been a serious doubt after he picked up a medial ligament injury playing for Switzerland against England last week.
Nevertheless when there are games to be had at centre-back in Touré's absence, Senderos seems unwilling to give up the fight. Four minutes gone and a familiar shaven head in the Blackburn area connected perfectly with a Cesc Fabregas corner to give Arsenal the lead. A goal down to the least likely penalty area predator in an Arsenal team full of them, Blackburn could have allowed themselves to fall apart but are much more resilient than that.
This Arsenal team was not entirely well balanced. Three central midfielders – Mathieu Flamini, Gil-berto Silva and Fabregas crammed into the midfield with the Spaniard forced out right and not enjoying one of his best nights. As the first half came to an end it was the excellent Tugay who was pulling the strings. A flick from David Bentley created Blackburn's best chance – he played in Brett Emerton whose ball from the right brushed Benni McCarthy's head and just eluded Roque Santa Cruz.
"2-0 was a bit harsh on us," was Hughes' verdict and although it was hard to agree there was no doubt that Blackburn did their bit. They survived an early assault in the second half when Hleb rattled a shot against the foot of Friedel's right post and then the Blackburn goalkeeper was obliged to make an excellent save from Adebayor.
Then, in the closing stages there were three fabulous saves from Friedel, denying Adebayor twice and Hleb to keep Blackburn in the game right until the 92nd minute when it was time for Adebayor to wrap it up at long last.
Goals: Fabregas (4) 1-0, Adebayor (90) 2-0.
Arsenal (4-4-2): Lehmann; Sagna, Gallas, Senderos, Clichy; Fabregas, Flamini, Gilberto, Hleb; Eduardo, Adebayor. Substitutes not used: Fabianski (gk), Bendtner, Traore, J Hoyte, Gilbert.
Blackburn (4-1-4-1): Friedel; Emerton, Ooijer (Rigters, 81), Khizanishvili, Warnock; Tugay (Mokoena, 77); Bentley, McCarthy (Roberts, 77) Reid, Berner; Santa Cruz. Substitutes not used: Kane, Brown (gk).
Referee:: S Bennett (Kent).
Booked: Arsenal: Fabregas.
Man of the match: Hleb.
Attendance: 60,049.
Title race Next five League fixtures for the top three
* Arsenal
23 Feb: Birmingham (a)
1 Mar: Aston Villa (h)
9 Mar: Wigan (a)
15 Mar: Middlesbro (h)
22 Mar: Chelsea (a)
Manchester United
23 Feb: Newcastle (a)
1 Mar: Fulham (a)
9 Mar: Bolton (h)
15 Mar: Derby (a)
22 Mar: Liverpool (h)
* Chelsea
1 Mar: West Ham (a)
8 Mar: Derby (h)
15 Mar: Sunderland (a)
19 Mar: Tottenham (a)
22 Mar: Arsenal (h)
Join our new commenting forum
Join thought-provoking conversations, follow other Independent readers and see their replies