Ivan Gazidis believes Arsenal are 'the most over-performing team in the Premier League'
The statement was made at what was a bad-tempered and often chaotic annual general meeting at the Emirates on Wednesday morning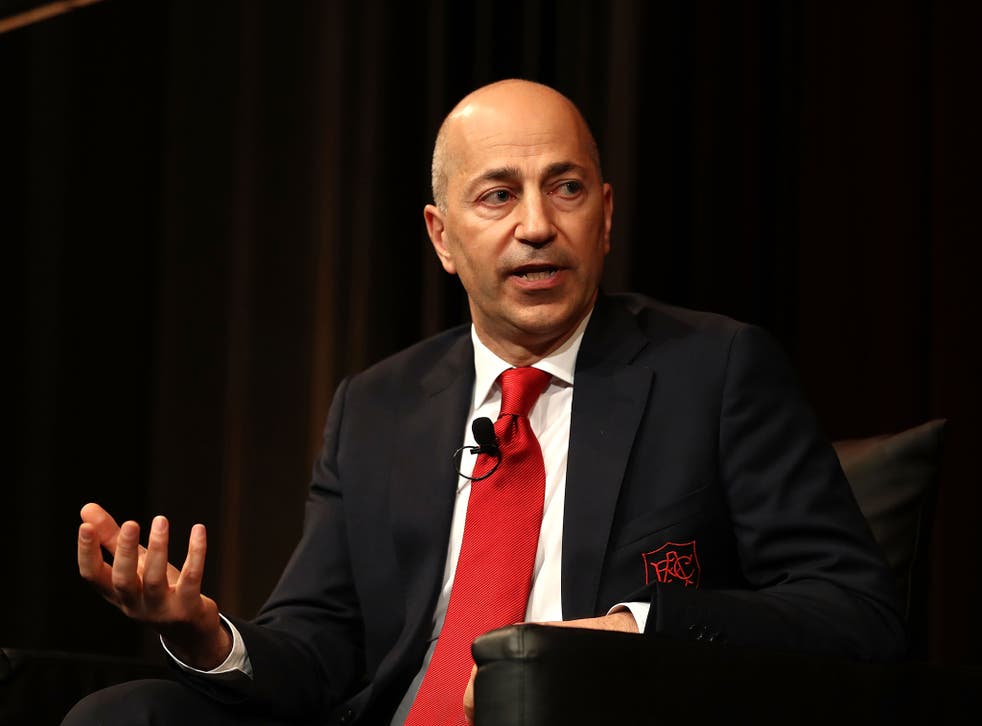 Arsenal chief executive Ivan Gazidis claims they are "the most consistently over-performing team" among the big Premier League clubs over the last few years, when league position and points are put against expenditure.
The statement was made at what was a bad-tempered and often chaotic annual general meeting at the Emirates on Wednesday morning, where the floor for the first time ever voted down a resolution, forcing poll votes for the re-elections of Sir Chips Keswick and Josh Kroenke to Arsenal's board.
With club secretary David Miles warning that proxies including Stan Kroenke's 67% amounted to 97% of the shareholding voting in favour of the resolutions, they were still passed – meaning Sir Chips Keswick and Josh Kroenke will stay on the board – but that only fed the feeling of dissent and anger on the day. The board were repeatedly accused of failing to answer questions.
When a pre-submitted question was raised on transfer policy, Gazidis made his claim. He also accused the media of "inflaming" the debate about the club's performance and work in the market.
"Every football club has successes and failures in the transfer market and every club would like to do better – we certainly want to do better," Gazidis said. "Every fan also has their assessment of our players and rightly so. The news media, again, understandably and rightly, make their equally subjective opinions and of course opinions are rife these days on social media. On top of this, we deal with a massive amount of inaccurate or incomplete information.
"There are many agendas at play and many stories during a transfer window only a fraction of which are accurate but which play their part in inflaming emotions, as we can hear in the room today and driving opinions and narratives. In that environment, it becomes very difficult to see clearly through the noise. Fortunately, there is one very accurate and objective way to assess how well and how consistently clubs perform in this area [transfers] over time.
"This method is accurate enough to be the industry standard way to analyse the efficiency of spending of football clubs. It is very simply to compare team performance by a series of objective metrics, usually league position or points, against expenditure on transfers.
"No club has a perfect record every year under this scrutiny but Arsenal has probably been, of the big clubs certainly, the most consistently over-performing team over time. That is, despite the criticism we get and the emotion here in the room, and despite some very loud subjective narratives and a great deal of inaccurate information ... in fact, on an objective basis, we perform very well and have over a long period of time.
"However, I agree completely that we have to find ways to perform better. We want to compete at the top of the most competitive league in the world and that's why we are making investments and giving deep thought to how we can and will improve further in this area."
Gazidis also claimed that the club's stronger financial situation meant that they didn't have to take the same decision as they did with Robin van Persie in the summer of 2012 and sell a player in the last year of his contract, pointing to how they kept Alexis Sanchez and Mesut Ozil.
"Probably, the most vocal criticism we've ever had at an annual general meeting was after we had transferred Robin Van Persie in the last year of his contract. That was one of the most difficult decisions we've ever had to make. We were told then that we were financially motivated and not focused on football. This summer, with stronger underlying financials, we've taken a different tack. The decisions on Alexis and Mesut Ozil are certainly not decisions that fit the narrative that we put money first.
"But we have taken that approach to give the club the best possible chance to compete for trophies this season. Again, there is a simple and accepted and objective way to measure performance, on the totality of decisions that a club makes and Arsenal do very well over time.
"It's quite possible that in retrospect, people may say that some of the decisions we have made his summer prove to be wrong or foolhardy. We need to be humble, continue to learn and continue to evolve our thinking and our approach but it's also absolutely clear that the decisions we've made don't fit the narrative from some that we are financially motivated. Strong inflation again in the transfer market has had a correlating effect on players salary demands.
"Of course, our focus here is on Arsenal but many clubs are facing challenges in their contract renewal discussions. That's a challenge that we have to and we will rise to."
Register for free to continue reading
Registration is a free and easy way to support our truly independent journalism
By registering, you will also enjoy limited access to Premium articles, exclusive newsletters, commenting, and virtual events with our leading journalists
Already have an account? sign in
Register for free to continue reading
Registration is a free and easy way to support our truly independent journalism
By registering, you will also enjoy limited access to Premium articles, exclusive newsletters, commenting, and virtual events with our leading journalists
Already have an account? sign in
Join our new commenting forum
Join thought-provoking conversations, follow other Independent readers and see their replies