Arsenal stars were united in their backing of Arsene Wenger, so is it such a surprise he signed a new contract?
As the Frenchman signs a new two-year deal, we look back at what his players have said this season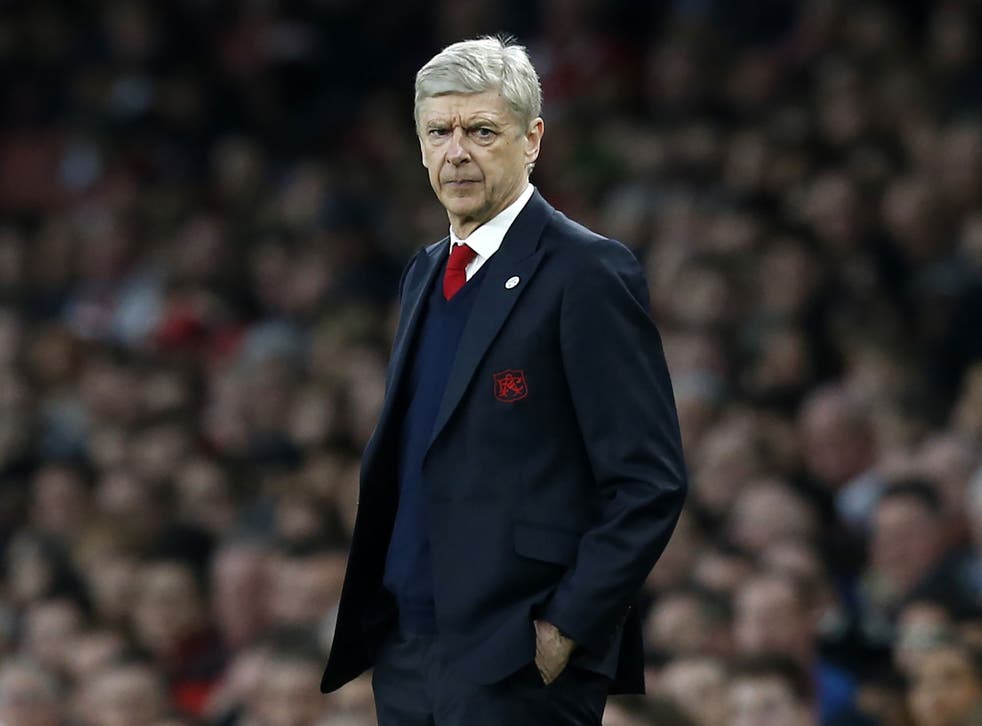 Arsene Wenger may have lost the backing of Arsenal Fan TV, Piers Morgan and those who fly banners over the Emirates, but he has maintained support in the two places where it matters most: in the boardroom and the dressing room.
The Frenchman finally signed a new two-year contract this week after one of the longest-running managerial sagas in the Premier League.
While many were expecting – perhaps hoping – that Wenger's 21-year reign would come to an end after his most disappointing season in charge, Arsenal's majority owner made clear that the club still trusts him to deliver success.
Arsene Wenger's worst Arsenal defeats

Show all 8
"Our ambition is to win the Premier League and other major trophies in Europe," Stan Kroenke said on Wednesday. "Arsene is the best person to help us make that happen. He has a fantastic track record and has our full backing."
There has been sustained pressure from fans to sack Wenger this season, and had he lost the trust of his players then Arsenal's board could have been tempted to part ways.
But looking back at quotes from the Arsenal squad over the course of the season, there has been little but public backing for the manager throughout.
"He's been a great servant to Arsenal and great manager for me and the players," Aaron Ramsey said at Wenger's lowest ebb in March.
"We have let him down at times. It is unfair some of the things that have been said. People are entitled to their opinion but he has been great for me personally."
Hector Bellerin took a similar stance: "The loyalty to this person is worth more than money, it's something very important to me. That he's there carries a lot of weight for me."
Olivier Giroud said: "We want to see Arsene Wenger continue, to continue the adventure, because we support him."
Mesut Ozil said in January: "I am very, very happy at Arsenal and have let the club know that I would be ready to sign a new contract. The fans want that I stay and now it is just down to the club.
"The club knows that I am here most of all because of Arsène Wenger. He is the one who signed me and he is the one whose trust I have. The club also knows that I want to be clear what the manager is going to [do in the future]."
Speaking to the club's website Laurent Koscielny said: "You may say that we haven't won the title for a long time but he has not just built players, he's built men too.
"Every player who has played for Arsenal has grown here and has become a man. It's a big number (of players). For me and the others, it's a good opportunity to be with him and learn from him. He's passionate about football. He loves football and he loves to watch his team play well with the ball.
"Along with a lot of people, he's helped this club grow with a new stadium, a new training ground, and he built the platform for us to compete for the Premier League and Champions League every year."
Theo Walcott, in true Wenger style, claimed not to know what was happening with the manager's contract, but said: "We just want to try to focus on the football. The manager is focused on us. You can see how passionate he is with us from the way he talks to us in the meetings.
"He will take this on himself but us players need to look at ourselves. The manager has been taking a lot of flak in recent weeks and us players have been accepting it, but we can't.
"We need to take the pressure off the manager and that will happen by performances. Who knows what the manager will do? Players just want to play football for this club and do well for the manager."
Lucas Perez said: "It's normal that after the defeat to Bayern there were criticisms.
"At the moment he does not transmit to us the idea that he is going to leave, but we do not know what's going on in his mind.
"He is very excited about this season. He is calm. He has been here for a long time and has a lot of experience. He will know what is best for the club and for him."
Nacho Monreal told Spanish radio: "An Arsenal without Wenger? It's complicated, isn't it? It's complicated to imagine it, because he's been the manager for more than 20 years, and the truth is I can't imagine it, but only time will tell.
Arsenal summer transfer targets

Show all 6
"At the end of the day, he's someone who's been at the club for 20 years. He's the boss. He holds the most weight in the dressing room, at board level, and he controls pretty much everything, but he's very approachable.
"We'll give everything until the end. If he decides to renew, then of course we'll be behind him, we trust him."
Shkodran Mustafi said: "Sometimes you don't know how good a coach is if you're not training him with day in, day out. Him being the boss of Arsenal was important in the fact that I knew he's been here a long time and there's a structure.
"Playing for Valencia and Sampdoria every 12 months I had a new coach and that's difficult because every time, new coach, different idea, different kind of football.
"Coming here with a coach who's been here 20 years I knew I could come here, fit in and be part of it which makes everything much easier to play. I hope he's not leaving but he has to make that decision and we will see."
Petr Cech said: "After more than 20 years, he has the right to decide that. As players, we need to focus on ourselves, on our performances. If we win five matches, the situation will change.
"It's not just the coach who is responsible, but the players as well. We still have time to recover, but it's running out quick. We need to win straight away, the team has the experience to turn this situation around."
There is one man, however, who has been less than vocal in his support for Wenger: Alexis Sanchez.
The Chilean forward has been the most visibly frustrated of all the Arsenal players this season, at times casting a gloomy shadow over the entire club.
In an interview with Copa90 in March, he revered Wenger as a "football professor" but hinted at his disappointment at the recent lack of silverware.
"What brought me here to Arsenal was that it's a big club," he said. "It's time we made history at this club."
If Wenger is to maintain the support of his two most important backers then that statement is one he will have to live up to.
Join our new commenting forum
Join thought-provoking conversations, follow other Independent readers and see their replies