Arsenal bounce back from recent discord to breeze past Bournemouth
Arsenal 3 AFC Bournemouth 0: After back-to-back defeats, Arsene Wenger's side returned to winning ways with a straight forward victory over the Cherries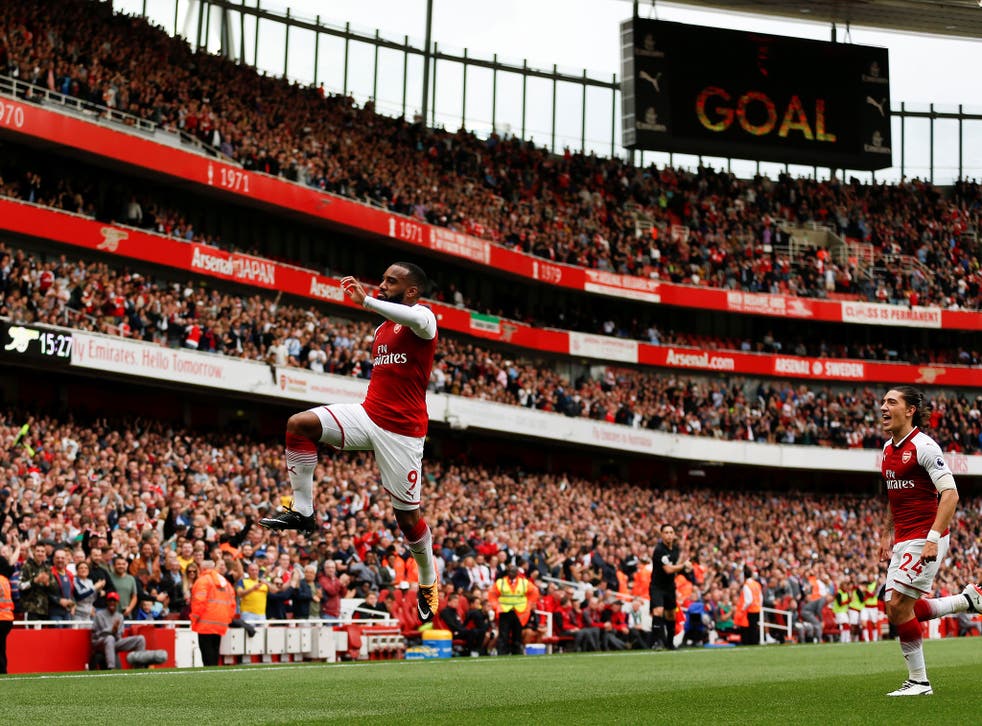 This was Arsenal's only traditional Saturday 3pm kick-off at home in the opening 11 weeks of the season, and it was just like the good old days at the Emirates. The threat of crisis that looms constantly over the club was abated, for a week at least, as the Gunners brushed aside a Bournemouth side that is suddenly finding life in the elite hard.
With their nerves calmed by a sixth-minute header from Danny Welbeck Arsenal produced some trademark sparkling inter-passing as they eased to victory with further goals from Alexandre Lacazette and Welbeck again.
However, few here will be lulled into believing in a golden future just yet, not with Sunday's visit to Stamford Bridge fast approaching. A header against the post by Jermain Defoe highlighted defensive weaknesses stronger opponents will punish. If Arsenal avoid ignominy at Chelsea then, perhaps, the internal tensions will ease.
Since the giddy euphoria of the season-opening 4-3 win over Leicester City the Gunners endured chastening defeats at Stoke and Liverpool. Arsene Wenger said in his programme notes that the 4-0 drubbing in the latter prompted him to question everything, but added he still believed in his players and, whilst not 'in denial', it was one match of 38. Nevertheless, he was as aware as anyone that the fans are also questioning his methods, and with less belief in their continuing efficacy. Arsenal thus needed a good start.
Welbeck provided it. After a quiet opening Aaron Ramsey and Sead Kolasinac combined on the left enabling the Bosnian to run away from Harry Arter before delivering a cross Welbeck, twisting backwards, steered inside the near post off his shoulder. That settled both the players and crowd and Arsenal took a control they rarely relinquished.
Wenger had made three changes from the XI embarrassed at Liverpool: Out went Rob Holding, the transferred Alex Oxlade-Chamberlain, and Alexis Sanchez, though that was mostly a reflection of his midweek international commitments in South America rather than his fitness or near-exit to Manchester City. Two new signings mystifyingly omitted on Merseyside, Lacazette and Kolasinac, were recalled along with Shkodran Mustafi, the latter having seemed surplus to requirements before the transfer window closed.
Eddie Howe had opted to match Arsenal's 4-3-3, pushing up Ryan Fraser and Joshua KIng either side of Jermain Defoe. Pointless after three matches the Cherries needed a result as badly as their hosts. However, the formation did not work and Howe later switched to a back four.
The post-international break match is usually a good time to play a team such as Arsenal, with their phalanx of well-travelled players but the Gunners looked sharp. Their pressing was notably more urgent than at Anfield and Bournemouth, themselves a good passing side, struggled to make headway.
With Asmir Begovic making an agile save from a Mesut Ozil free-kick and Granit Xhaka putting a good opening over Arsenal's second seemed a matter of time. It duly arrived in the 27th-minute. Ozil, recklessly allowed time to pass, rolled a ball towards Lacazette, Nathan Ake tried to nick it but could only divert the ball to Welbeck. He fed the now-unmarked Lacazette, who converted coolly.
Shortly after the break Bournemouth had a last chance to get back into the game. Defoe, still to score since returning to the south coast, stole unnoticed onto a Simon Francis cross but headed against the post. Two minutes later Dan Gosling was robbed in midfield by Lacazette, Ramsey fed Welbeck, who scored his third of the season.
There could easily have been more as Arsenal turned on the style. Welbeck went close to a hat-trick with a delicate chip, Ake blocked Francis Coquelin's shot, Begovic denied Olivier Giroud. But it was not all joy. Coquelin seemed to pull a hamstring, leaving Arsenal to play out the last 10 minutes with 10 men. And Sanchez was given a decidedly mixed reception when he came off the bench with as many boos as cheers. However, a brilliant reverse pass to Giroud soon showed the benefit of his reluctant retention.
When the ball punctured in the first-half it seemed an appropriate simile for two sides whose pre-season optimism has deflated. Arsenal have now pumped some life back into their campaign, but Bournemouth remain worryingly flat.
Register for free to continue reading
Registration is a free and easy way to support our truly independent journalism
By registering, you will also enjoy limited access to Premium articles, exclusive newsletters, commenting, and virtual events with our leading journalists
Already have an account? sign in
Register for free to continue reading
Registration is a free and easy way to support our truly independent journalism
By registering, you will also enjoy limited access to Premium articles, exclusive newsletters, commenting, and virtual events with our leading journalists
Already have an account? sign in
Join our new commenting forum
Join thought-provoking conversations, follow other Independent readers and see their replies