Arsenal's Hector Bellerin snatches draw in thrilling finale against Chelsea to deny Marcos Alonso's winning moment
Arsenal 2 Chelsea 2: The right wingback slammed in a half-volley from just inside the box at the end of a helter-skelter second half full of incident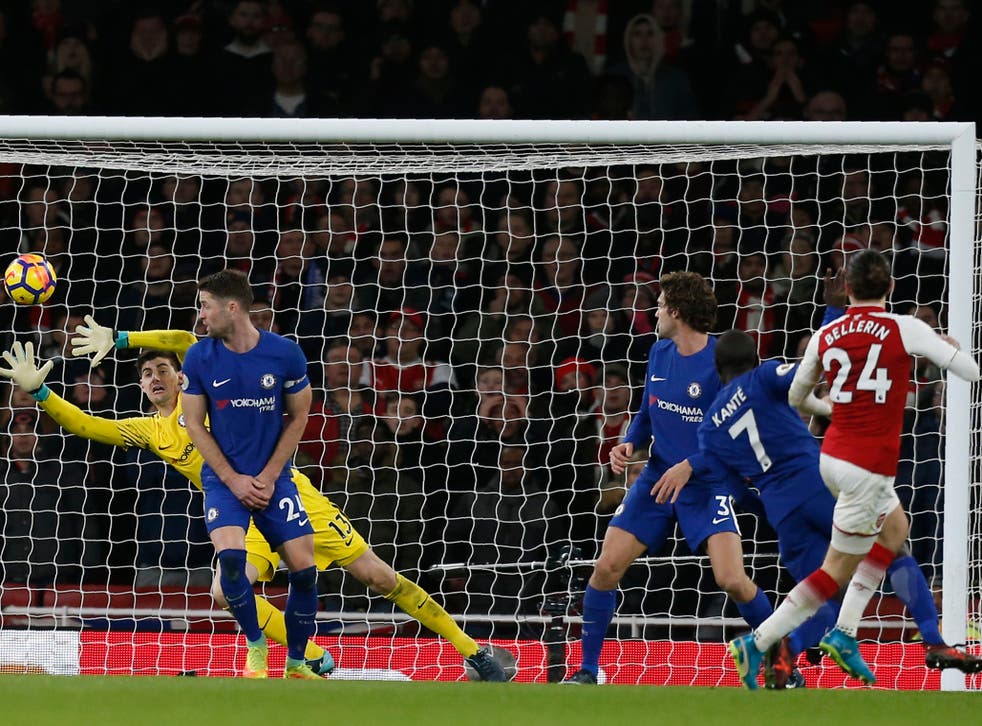 It was another ludicrously entertaining if imperfect top-six match at the Emirates that somehow, but somewhat fairly, ended up perfectly balanced at Arsenal 2-2 Chelsea.
One of the key figures appropriately characterised this. Hector Bellerin was responsible for the foul that brought Eden Hazard's penalty and a distinctive change in momentum, but then scored the sensational last-minute equaliser. It further summed up the game that many might dispute the penalty, not least an irate Arsene Wenger. Then again, given the already booked Jack Wilshere appeared to dive just before his goal, Antonio Conte might well have a response. And this was the thing. Both Arsenal and Chelsea could complain about refereeing errors, both could complain about their team's errors, but no one could really complain about the final result.
The watching audience meanwhile couldn't complain about an ending like that, as Marcos Alonso's 86th-minute strike was cancelled out by Bellerin, and Davide Zappacosta even hit the bar after that. If the game finished so supremely, though, Alvaro Morata did not. The match won't do much for his confidence, and the final result won't do much for either side's season beyond Arsenal just about keeping pace in the race for the top four but it will do a lot for the Premier League's marketing – even if they weren't here selling perfection.
This was an epic yet error-strewn match to go with Manchester United's trip here as well as Liverpool's, but thereby not one that went with the recent history of this London rivalry.
This is a fixture that, perhaps more than any in the Premier League, has followed distinctive patterns over long periods of time. There was over a decade of almost singular Arsenal dominance between 1993 and 2004, before over a decade of almost singular Chelsea dominance between 2004 and 2016, with both of those spells characterised by a control and calculation that comes from just knowing how to beat the other side. There was none of that here, just colour and chaos.
Arsenal vs Chelsea player ratings

Show all 22
It was as if both sides realised how vulnerable the other was after the Christmas period, with that first signalled by – well – a clear lack of signalling between Shkodran Mustafi and Calum Chambers in the centre of the Arsenal defence on 15 minutes. That allowed Morata a clear run at goal, except he just produced something seen much more recently. As happened twice against Stoke City on Saturday, he showed this remaining and frustrating lack of ruthlessness in his game, badly squandering a one-on-one. It was also a signal of what was to come.
In the meantime, more action kept coming. Thibaut Courtois brilliantly turned an Alexis Sanchez onto the post only for it to also hit the other, before getting down low to save from Alex Lacazette as Cesc Fabregas then shot too high.
The way Hazard set up that chance did reflect that there was maybe a greater vulnerability to Arsenal's makeshift centre-half pairing, and the constant concern for them throughout the game was when – rather than whether – the playmakers excellence would expose them. He should really have done so just after half-time, but a low and slightly lax shot was diverted by Petr Cech.
Errors were hardly confined to Arsenal's defence, or Chelsea. There was then the decision from referee Taylor, too, as he missed a dive from Wilshere when the midfielder was on a booking.
It was to be instantly influential. On 65 minutes, after yet another attacking move was disrupted, a defensive touch from N'Golo Kante didn't have enough on it and fell to – inevitably – Wilshere. He lashed the ball past Courtois to make it 1-0.
Within moments, however, Wenger was shouting about the ref himself. Hazard naturally had the ball in the box, Hector Bellerin went in on him, and the Belgian went down. A penalty was given and Hazard himself naturally took the opportunity to make it 1-1.
It wasn't just the opportunity for an equaliser, but an opportunity to eke out proper control of the game. That was how affected Arsenal were, how emboldened Chelsea were. Morata had two more chances to score and missed, before Alonso showed him how it was done. Ainsley Maitland-Niles was also done – but his team weren't.
Bellerin made it 2-2, in a match that still had too much to come.
As to what it says about what is to come from either side? There was Morata's misses, Wenger's complaints, character from both and errors from both, but sometimes there's not much that can be read it into it. Sometimes there's no extra meaning. Sometimes it's just chaos. That was this, albeit in beautifully entertaining fashion.
Join our new commenting forum
Join thought-provoking conversations, follow other Independent readers and see their replies