Arsenal injury woes haunt Wenger, Pochettino shows how far Chelsea have fallen, can Jamie Vardy be celebrated?
Seven things we learnt from this weekend's Premier League action: De Bruyne gets Manchester City firing, the Premier League that no one wants to win, Sunderland survival could be Allardyce's greatest achievement yet and McClaren gets the wrong reaction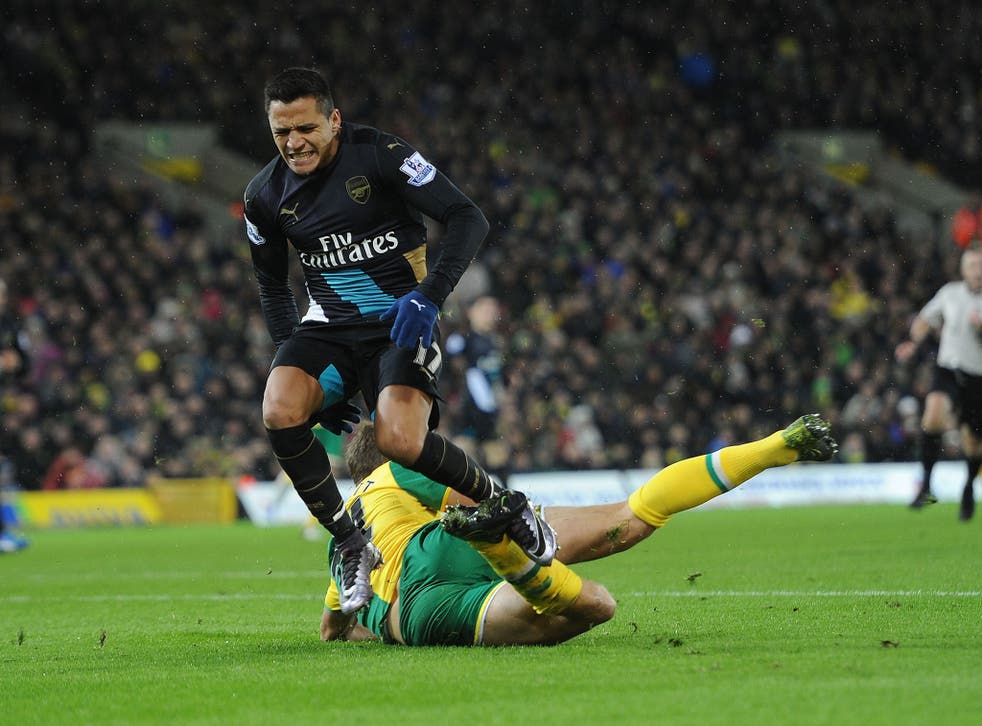 Arsenal's constant injuries need explain – it's gone beyond bad luck
Arsene Wenger regularly bemoans Arsenal's injury concerns, so regularly in fact, that he should probably take a much closer look at the root of the problem. No sooner had the manager welcomed back Aaron Ramsey and Alex Oxlade-Chamberlain on Sunday for the 1-1 draw with Norwich, than he saw Laurent Koscielny, Santi Cazorla and, perhaps most importantly, Alexis Sanchez all suffer injuries.
Wenger knew Sanchez had a hamstring issue before the game, he said so himself in his press conference on Thursday morning, but the Chilean was passed fit and for an hour things looked to be paying off. Then it happened, Sanchez immediately clasped the back of his leg and went down in agony.
While the loss of Sanchez could be crucial to Arsenal's season, the Gunners' injury problems are nothing new. Every year they are struck down by injuries to key players, with the likes of Robin van Persie, Ramsey, Theo Walcott and Jack Wilshere picking up serious knock at key times of the year. Whether the medical team are not doing their job correctly or Wenger is overusing players by not rotating, it is not known. But one thing is for sure, Arsenal need to find out why their squad is so fragile.
They will not win the Premier League again until they solve it.
Norwich vs Arsenal player ratings

Show all 22
Pochettino's 'small team' analysis sums up how far Chelsea have fallen
Tottenham's record against Chelsea in the Premier League is not a great one – one victory in five years will show you that – but Mauricio Pochettino's statement after Sunday's 0-0 draw shows that the gap between the two sides is dramatically reducing. Pochettino claimed that facing Chelsea in their current state felt like playing a "small team".
Don't let the Spurs manager's comment confuse you. His statement is not a criticism of Chelsea, but more a reflection of his own players' mind-set. Spurs have not lost since the opening day of the season, and the form their showing right now suggests they cannot be ruled out of the top-four picture. While the title could be beyond them this season, they look nicely poised to build a strong platform by the end of the campaign.
Vardy's reprieve pays off for Leicester, but the damage is already done
No one at the start of the season believed Leicester striker Jamie Vardy would be the man to break Ruud van Nistelrooy's consecutive goalscoring record, but the Leicester City striker did exactly that when he put the ball through David De Gea's legs during the 1-1 draw with Manchester United on Saturday.
However, come the start of the season, Vardy's future at the King Power Stadium was in doubt after CCTV footage from a casino showed the striker racially abusing a man of Asian descent. The response to Vardy's record breaking goal on Saturday was a mixed one, with some praising the 28-year-old while others recalled that people should not be celebrating the actions of someone tarnished with such a reputation.
While Vardy has apologised and completed an educational cause, some will argue that the damage is already done.
Manchester City's De Bruyne looks twice the player he ever was at Chelsea
Kevin De Bruyne masterminded Manchester City's 3-1 victory over Southampton on Saturday in a timely return to form for the champions-elect. Back-to-back defeats by Liverpool and Juventus raised concerns over City's season as they fell off the top of the Premier League, but the win combined with Leicester's draw with Manchester United sends Manuel Pellegrini's side back to the top on goal difference.
De Bruyne put in his best appearance to date in the win, scoring the first before laying on further goals for Fabian Delph and Aleksandar Kolarov. If the Belgium international continues to build on his strong start at the Etihad, Chelsea could well be kicking themselves harder than they initially thought when they let him leave after just nine appearances.
Does anyone actually want to win the Premier League this season?
Every time the opportunity arises for someone to take the Premier League by the horns and try to lead the way, they fall short. City slipped up against Liverpool, while Arsenal would have been three points clear had they beaten both West Bromwich Albion and Norwich – two sides that their fans would have expected to have been a walk in the park.
Neither Manchester United nor Leicester could take control as they played out a draw this weekend, and the lethargic pace at the top of the table is allowing Tottenham and Liverpool to catch up and put themselves in contention. If one of the top five or six can put together a strong run of form over the festive period, they could well go all the way.
If Allardyce saves Sunderland it could be his greatest achievement yet
Back-to-back wins are a rarity at Sunderland. The Black Cats only managed to win consecutive matches twice last season, but in Sam Allardyce they at least have a manager with considerable Premier League experience that can extract the best out of the current players available.
Saturday's 2-0 win over Stoke was helped considerably by the red card shown to Ryan Shawcross, but Sunderland needed to ensure they took advantage and got the three points in the bag – even with Jermain Defoe forced off early on. Now, Sunderland can at least take some momentum into a gruelling run of fixtures that sees them face Arsenal, Chelsea, Manchester City and Liverpool in their next five matches.
McClaren gets the wrong response from players – so how long will he last?
Steve McClaren confirmed he was in a training ground row with his players last week in a bid to try and provoke a response from them in their ailing season. The product was a 5-1 demolition at the hands of Crystal Palace, a result that once again left former manager Alan Pardew with a smile on his face.
McClaren still has the backing of the Newcastle board, but there must already be mutterings of change at St James' Park given the manner of how they have started this season. The Magpies sit second-bottom, have just two wins are conceding on average more than two goals a game. Unless McClaren can turn things around by Christmas, it could be a forgettable festive period for McClaren.
Join our new commenting forum
Join thought-provoking conversations, follow other Independent readers and see their replies