Olivier Giroud ready to step into Alexandre Lacazette's shoes as a 'small cog' in Arsenal's 'big machine'
Arsenal will be without Lacazette for this weekend's clash with Manchester United and Giroud has said he's ready to deliver for the north Londoners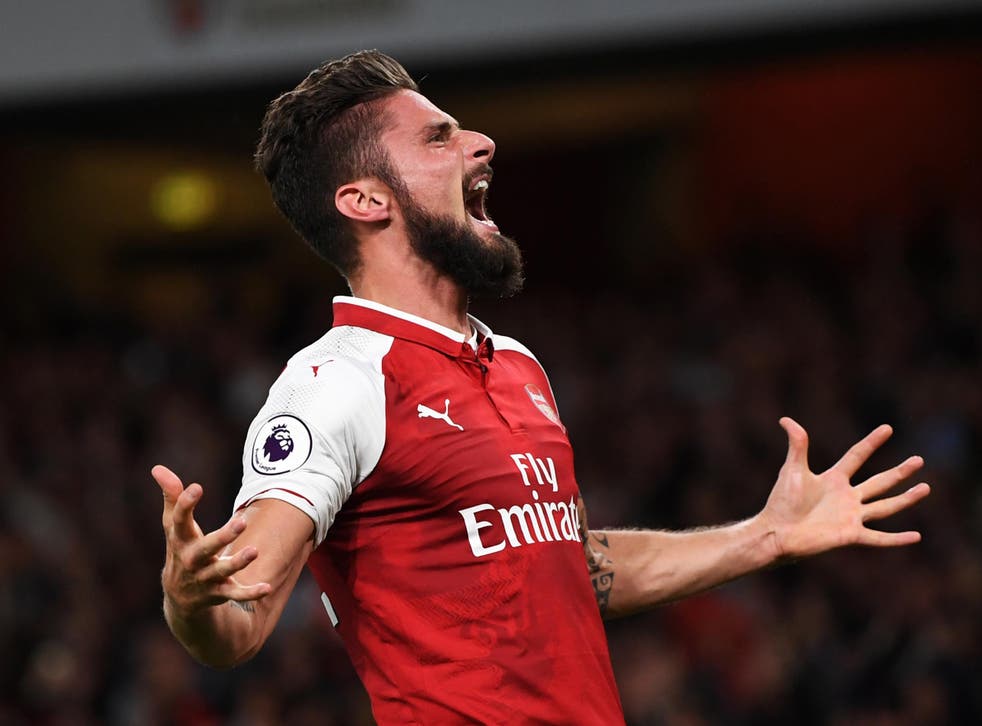 Olivier Giroud is ready to step into Alexandre Lacazette's shoes against Manchester United on Saturday and be a "small cog" in Arsenal's "big machine" again.
The new £50m signing from Lyon was taken off at half-time in Arsenal's 5-0 rout of Huddersfield Town on Wednesday night with a groin problem, which Arsene Wenger confirmed would force him out of Saturday's big game at the Emirates. That gives Wenger a decision to make, largely between Giroud and Danny Welbeck to replace him, and Giroud is in pole position having played 45 minutes on Wednesday, scoring Arsenal's second and fifth goals.
It would be Giroud's first start in the Premier League this season, but the French veteran has been keeping himself sharp in the Europa League playing with other fringe players like Francis Coquelin, Theo Walcott and Jack Wilshere. Wenger said afterwards he had plenty of options to replace Lacazette if needed.
"We have offensive weapons," the Arsenal manager said. "We have [Danny] Welbeck, we have Giroud, we have Wilshere who all came on. They are all offensive players. I will see what I do for Saturday but ideally you wanted Lacazette there."
Giroud admitted he does not know if he will play, but said he was prepared to step in if called. "He has different options," Giroud said, "but I will get ready like all the other players." He said that having become the B-team striker this season, he is itching for a return to the big time. "Because we are competitors, we want to play every single game to help the team win," Giroud said. "We want to be on the pitch, we are all competitors, so that is it."
Like Wilshere, Giroud would love to be playing more often in the Premier League, but Arsenal have won five of their last six in that competition, meaning that serious rotation is unlikely for a while. Arsenal are arguably in their best form for years, especially across their front three. "At the moment the Premier League team is doing well," Giroud admitted. "We have the chance to have two good teams because we have got a good squad and everyone tries to step up, and give his best for the team."
Giroud feels a strong sense of responsibility and hopes that if called upon he can do his bit for the unit as a whole. "We are enjoying playing together in Europe and obviously we all want to play in the Premier League as well," Giroud said. "So when the boss wants to put us on the pitch, we try to give our best, and bring our small cog to the big machine."

Join our new commenting forum
Join thought-provoking conversations, follow other Independent readers and see their replies