Arsenal strike late to secure ugly win against Leicester and keep slim hopes of top-four finish alive
Arsenal 1 Leicester City 0: Robert Huth's own goal proved to be the difference and handed the home side another important win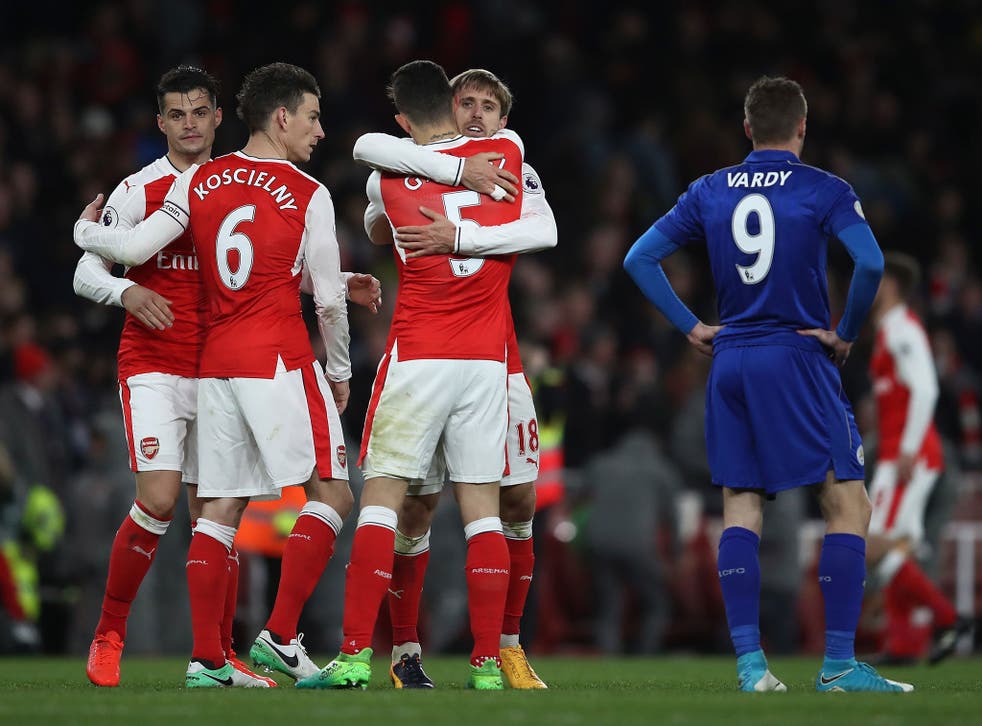 After Arsenal's last league match, Arsene Wenger admitted that they would need a 100 per cent record between then and the end of the season to retain any realistic hopes of a top-four finish and with it, the bounty of Champions League football. After this scrappy, unconvincing win over Leicester City, such a run remains a possibility, but the chances of it coming to pass seem only more remote.
The top-four race may not run yet, given the tendency of Arsenal's rivals to drop points at will, but then Wenger's side share the same affliction. If not for a Robert Huth own goal, which cruelly beat Kasper Schmeichel in the closing stages here, then the Emirates would have lamented another two points dropped. Instead, they took all three despite an uninspiring display.
These two sides are, for now, the Premier League's reigning champions and runners-up, yet they went into this game 15th and 7th respectively. That comparison is a reminder of Leicester's remarkable overachievement last year and how badly Arsenal have disappointed in the current campaign.
Both, though, had recent cause for optimism. Arsenal's upcoming FA Cup final appearance is thanks, in part, to a new three-man defence and the system was retained for this return to league action, but two of Arsenal's best performers in Sunday's semi-final, Rob Holding and Alex Oxlade-Chamberlain, were dropped out of the starting line-up.
Craig Shakespeare, meanwhile, has Leicester doing what they do best again. That much was evident from the first five minutes here, when two banks of royal blue happily ceded possession, content to pick off their hosts when possible.
The first chance fell to Jamie Vardy, at the Emirates for the first time since declining an offer to join Arsenal last summer. The England international fired a snap shot wide of Petr Cech's near post after a careless Alexis Sanchez backheel had allowed the lively Marc Albrighton in behind.
It was an early warning, but it did little to rouse Arsenal or a sparsely populated Emirates. Francis Coquelin called Kasper Schmeichel into action with a shot from range but when Granit Xhaka, his midfield partner, tried the same a few minutes later, he found only a few empty Clock End seats.
The telling opportunities were at the other end where, shortly after the 20-minute mark, Riyad Mahrez was unlucky not put Leicester ahead. The Algerian, newly-dethroned as the PFA's Player of the Year, perfectly judged the bouncing ball to catch it sweetly on the half-volley. Cech, however, had both palms behind the effort and turned it over the bar.
Leicester were comfortable by now. They had bedded in, confident that Arsenal's sterile passing would do little to worry them. That was the case for much of the rest of the half, right until 30 seconds before the whistle when, borne out of frustration, Sanchez let a shot rip from the edge of the box. Its devilish arc took it over Schmeichel's hand and down onto the top of the crossbar. It was the closest Arsenal had come.
Buoyed by that late moment of adventure, Wenger's side reemerged with intent and began to be more incisive in the final third. A cute check inside by Bellerin allowed him to slip a through ball to Sanchez, who was unmarked in the area. The Chilean initially had all the time he needed to score, but a heavy touch cost him vital nanoseconds and Robert Huth was soon on hand to block with a brilliant saving tackle.
Arsenal were now dominant and in control, if frustratingly still at deadlock. The hosts began to rack up the efforts but each of them seemed to be blocked or deflected by the bodies in front of them. What they needed was for one such body to falter, for one such deflection to fall their way, and eventually, just as the Emirates' number of empty seats began to grow exponentially, one did.
After another corner was beaten away by the Leicester backline, Nacho Monreal caught a bouncing ball on the half-volley, connecting more in hope than in purpose. The shot would have gone wide if not for the chest of Huth, who had, until that point, been successfully blocking all that was thrown at him. The defender's touch altered the ball's course and suddenly, out of very little, Arsenal had their goal.
A quiet game then came alive and the last few minutes proved frantic. First Mesut Ozil had a goal ruled out for offside after converting from close in. At the other end, Christian Fuchs and Sanchez had something of a contretemps after the Arsenal forward failed to retreat for one of the full-back's long throw-ins. Even after being instructed to fall back by Mike Jones, the match referee, Sanchez stood directly in front of Fuchs, inviting the full-back to throw the ball directly at him from point blank range.
It hit Sanchez on the shoulder. He paused, then went down holding his face. A 22-man tiff followed and eventually, there was a yellow card for Sanchez, either for simulation or the initial encroachment. The Emirates was incensed, but in the grand scheme of things it mattered little. A few minutes later, Arsenal secured maximum points to go within four of fourth. They are still in this race, but they probably cannot afford to be this fortunate again.
Arsenal: Cech, Gabriel, Koscielny, Monreal, Bellerin, Coquelin, Xhaka, Gibbs, Ozil, Sanchez, Walcott.
Substitutes: Martinez, Ramsey, Elneny, Oxlade-Chamberlain, Iwobi, Welbeck, Giroud.
Leicester City: Schmeichel, Simpson, Benalouane, Huth, Fuchs, Mahrez, Ndidi, Drinkwater, Albrighton, Ulloa, Vardy.
Substitutes: Zieler, Chilwell, Musa, King, Amartey, Okazaki, Gray.
Referee: M Jones (Cheshire)
Join our new commenting forum
Join thought-provoking conversations, follow other Independent readers and see their replies