Arsenal may have only gained one point against Liverpool, but Unai Emery's men proved a bigger one
Alexandre Lacazette's exceptional equaliser showed a mettle which has deserted the Gunners in recent years
Jack Pitt-Brooke
Emirates Stadium
Saturday 03 November 2018 20:40 Comments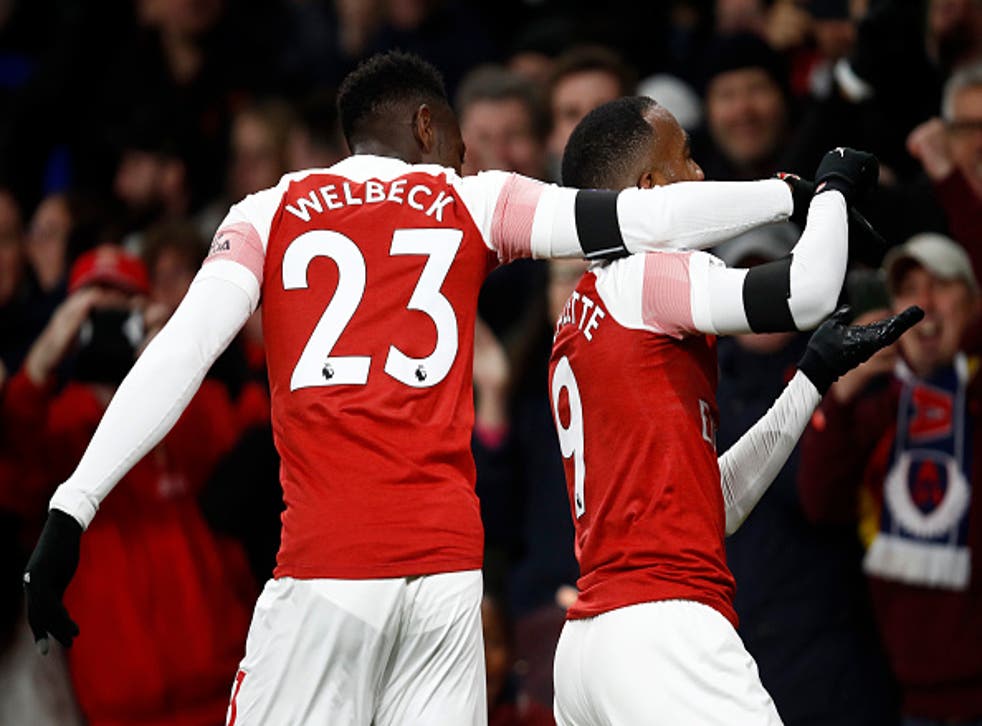 Who says football is all about winning? Arsenal are coming off the back of a run of 11 straight victories, that ended last weekend. And while this game with Liverpool was a draw, it may give them as much satisfaction, and as much hope, as any of their recent wins.
They showed a side of their game that few expected here, up against the best side they have played since the opening day. They played in a way that is unfamiliar for an Arsenal team, and they thoroughly deserved their hard-fought point.
Arsenal vs Liverpool player ratings

Show all 22
There has to be much to enjoy during Arsenal's recent run but nothing quite like this. This was a different sort of test: an opponent stronger than them, aiming for the title, capable of cutting through Arsenal's gaps with little invitation. Battering Fulham, Brentford, Qarabag, Vorskla Poltava and West Ham was fun, but this was very different. They had to be quicker, stronger, sharper and hungrier than ever before, just to stay alive.
Remember this fixture last season, just before Christmas. It was more eventful than this match, ending in a festive 3-3 draw. But the difference between Arsene Wenger's team and Unai Emery's, just 10 months on, are there for all to see. Arsenal played in a typically open and inviting way, a style that became more damaging to themselves than to opponents in recent years. Wenger was happy to play a 4-2-3-1 with Granit Xhaka and Jack Wilshere holding, even in the knowledge that none of their attacking team-mates would ever give them any help.
Sure enough, Liverpool looked like scoring with every attack that day. They quickly went 2-0 up and in truth they should have been miles out of sight with some better finishing. It was only thanks to the intervention of Simon Mignolet that Arsenal got back into that game, as they scored three goals in six minutes. So even a game where Arsenal had been torn apart time after time after time, they still managed to draw 3-3. It should have been a bad defeat, like the 4-0 at Anfield at the start of last season.
But this Arsenal is different. Although this was ultimately another draw, they showed an overall commitment to their game plan and to each other that has eluded Arsenal teams in recent years. They played with organisation, discipline and focus and – unlike last season – did not allow Liverpool to slice through them at every opportunity.
That might sound like faint praise, or low expectations, or grasping for any positive but it is progress. Remember how poor Arsenal used to be in these games. How they never had a plan, how the players never made it hard for the opposition and how once they were behind they all fell apart. The first priority of any team is to be difficult to be beat and this might be the first time in years that could be said of this one.
This whole team performance was a testament to the values of hard work that Emery has instilled since he arrived here. Sometimes it is easy to make the game out of individuals but Arsenal only had two post-Wenger signings on the pitch here: Bernd Leno who was poor and Lucas Torreira who was outstanding. The rest of this team was all Wenger era players and they produced a type of performance that they never did under the manager who signed them.
It used to be commonplace to say that Arsenal could not play Pierre-Emerick Aubameyang and Alexandre Lacazette together, or Mesut Ozil and Henrikh Mkhitaryan, and still hope to be competitive, organised and tight at the back. But here Emery disproved that. For the first time he started all four of his top attackers in that narrow 4-4-2 he has come to prefer. And it worked against the most exciting counter-attacking teams in the country.
Even with Ozil and Mkhitaryan in those tucked in no10 roles Arsenal still managed to exert more pressure on Liverpool's midfield than you would ever have expected in the past. Liverpool could never get going, and even when they tried to break they were blocked off. Torreira and Xhaka won nearly every challenge in midfield, stymying those fast breaks down the middle that Liverpool have so much success with it. It was a world away from the sight last year of Xhaka and Wilshere desperately scrambling around as orange shirts swarmed all over them.
The most telling part was after Leno's mistake gifted Liverpool the lead. How often in recent years have we seen an Arsenal side give in as soon as things went against them? But there they stuck to it, made attacking changes, and were rewarded with the equaliser. By staying in the game they had done more than many expected them to do. They only took one point from this, but they proved one too.
Register for free to continue reading
Registration is a free and easy way to support our truly independent journalism
By registering, you will also enjoy limited access to Premium articles, exclusive newsletters, commenting, and virtual events with our leading journalists
Already have an account? sign in
Join our new commenting forum
Join thought-provoking conversations, follow other Independent readers and see their replies