Arsenal, Manchester United and Manchester City fight to avoid European 'disaster' in top-four battle
West Ham could nip in and leave two massive clubs out of next season's Champions League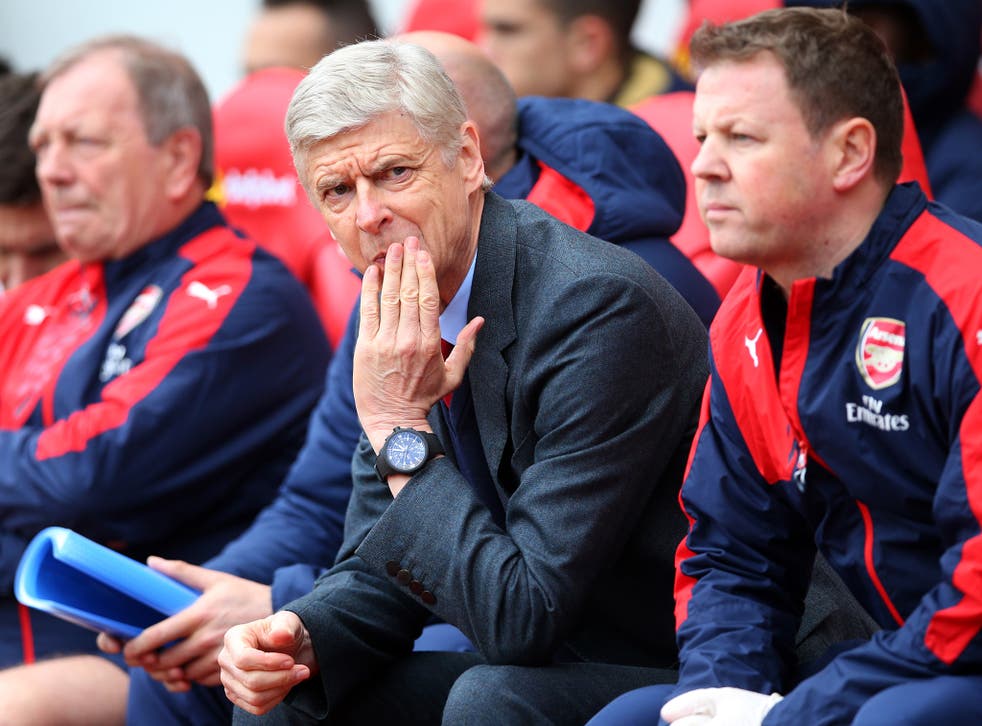 In Roy Keane's eyes, it is a race that really should be dignified by the term "battle", especially for clubs of the stature of Manchester United, Arsenal and Manchester City.
But while first-time champions Leicester City prepare to douse the King Power Stadium with title-winning champagne on Saturday, three of English football's superpowers, with 18 Premier League titles between them, find themselves scrapping it out for the "honour" of finishing fourth.
With West Ham United also firmly in the hunt for Champions League qualification, the final week of the Premier League season may yet boil down to which two clubs are able to claim third and fourth position, and the passport to join Europe's elite.
Two years ago, the former United captain Keane mocked Arsenal's players and accused them of needing a "reality check" following their exuberant celebrations – too many selfies for the Irishman's liking – after securing fourth position.
Yet with Arsenal and City still uncertain of finishing in the top four, and with one of United or West Ham able to climb into the Champions League positions over the final week of the campaign, the race for fourth is intensifying and, just days after taking City to the brink of the Champions League final, Manuel Pellegrini admits there is only one word to describe a failure to finish in the top four.
"If you are not in the top four and in the Champions League the next year, to demonstrate you are one of the best teams in England, then for me, it's a disaster," Pellegrini said. "It would be a disaster of a season, that's why I always said last year, when we didn't win any titles, that it was not a disaster [because City finished second].
"It was not a good season, no, it was not a good season, but a disaster is when you are not involved in the next season's Champions League. That is a disaster for all the big teams."
So at least one of the Premier League's blue-chip clubs is facing the "disaster" of missing out on the Champions League over the next eight days. Chelsea are already out of the running following the worst-ever defence of a Premier League title, while five-time European champions Liverpool will also be on the outside, looking in, if they fail to qualify by defeating Sevilla in the Europa League final in Basel later this month.
United took their medicine last season, missing out on Europe altogether, after being steered on to the rocks by David Moyes and that failure cost the club in the region of £50m in lost earnings. Another campaign without the Champions League will do little to boost United's prestige and leave them worrying about a sizeable cut in their £75m-a-year Adidas kit manufacturing deal if they miss out again in 12 month's time.
But a win for Louis van Gaal's team at Norwich on Saturday, combined with City failing to beat Arsenal at the Etihad on Sunday, would put United back in control of their Champions League destiny and set up a potential top-four decider against West Ham at Upton Park on Tuesday.
For Van Gaal, whose future as manager at Old Trafford remains in the balance, United no longer have any margin for error. "I cannot afford it [to lose] and Manchester United cannot afford it," Van Gaal said. "But in sport, you can win and lose. It's hard to accept, but it is the truth. Every game, we have to win. The pressure is high for everybody, but also for Norwich because they have to win also, otherwise they can say goodbye to the Premier League. It is always difficult to fight against a team who fights to maintain their place in the Premier League - that is always very difficult. But that is no excuse; we have to cope with that."
United's form against the clubs at the wrong end of the table is why they are now running out of time to finish in the top four. Van Gaal's team have lost five games against clubs currently in the bottom eight this season, and were held twice by Newcastle, with Norwich claiming a rare away victory at Old Trafford last December.
Conversely, City's Achilles heel has been their form against the current top eight, with one victory and nine defeats from 13 games so far this season. Both United and City must break their miserable sequences against Norwich and Arsenal respectively, but while Arsene Wenger's team head to Manchester having won their last three encounters with City, their own shortcomings – too many draws and defeats against the likes of Chelsea (twice), United, West Ham and Southampton – have killed their title hopes and left them still requiring two more points to be sure of Champions League qualification.
With relegated Aston Villa due at the Emirates on the final day, Arsenal should cross the line without too much difficulty, but Wenger admits that finishing fourth, rather than third, generates its own problems in the shape of a qualifying round in August. "Our target, if possible, is still to get ahead of Tottenham," Wenger said. "We will fight until the end to get the chance to get in front of them. It's not over. Let's see what happens until the end of the season.
"But we want to be directly in the Champions League next year, everyone fights to be in there. When you do it, everyone says it's normal, but the teams who are not in, then you realise how big it is. No one wants to be in the Europa League until the semi-final maybe. You want to be in the Champions League. But this summer, there is a European Championship and a Copa America and we would need to get our players back.
"The European Championship finishes on July 10, so if you think you have to give the players at least three or four weeks holiday who go to the end, that means they only come back in August."
No Premier League club has failed to negotiate the Champions League qualifying round since Everton lost to Villarreal in 2005, but Wenger insists that it remains a formidable hurdle due to its timing. "We experienced that a few times," he said. "It creates pressure in pre-season because you can play against teams who are more difficult. You are not necessarily ready and sometimes you play teams who have already played four or five games in their championship."
For West Ham, the outsiders in the race for fourth, opening the Olympic Stadium with Champions League football would be an unexpected bonus. Slaven Bilic's team must win all three remaining games, at home to Swansea and United and away at Stoke, and hope for City to slip up in order to secure qualification. But for now, Swansea is the priority.
"At the moment, we just have one game, and that is Swansea," Bilic said. "That must be our Champions League final. Manchester United will take care of itself, as will the last game of the season at Stoke. But no way are we taking our eye off the ball, absolutely no way."
If City beat Arsenal on Sunday, the race for the top four will be as good as over unless Villa stun Arsenal on the final day.
But having left Manchester Airport at 4.30am on Thursday morning following their return from Madrid, there remains the danger that Pellegrini and his players are sleepwalking to the "disaster" of welcoming Pep Guardiola with a route-map for the Europa League.
Join our new commenting forum
Join thought-provoking conversations, follow other Independent readers and see their replies