Arsenal news: The Alexis Sanchez experiment has finally 'clicked' - and Arsene Wenger couldn't be happier
Sanchez is thriving in his new-found position as the spearhead to Arsenal's attack. With a total of 13 goals to his name this season, alongside seven assists, the forward is in irresistible form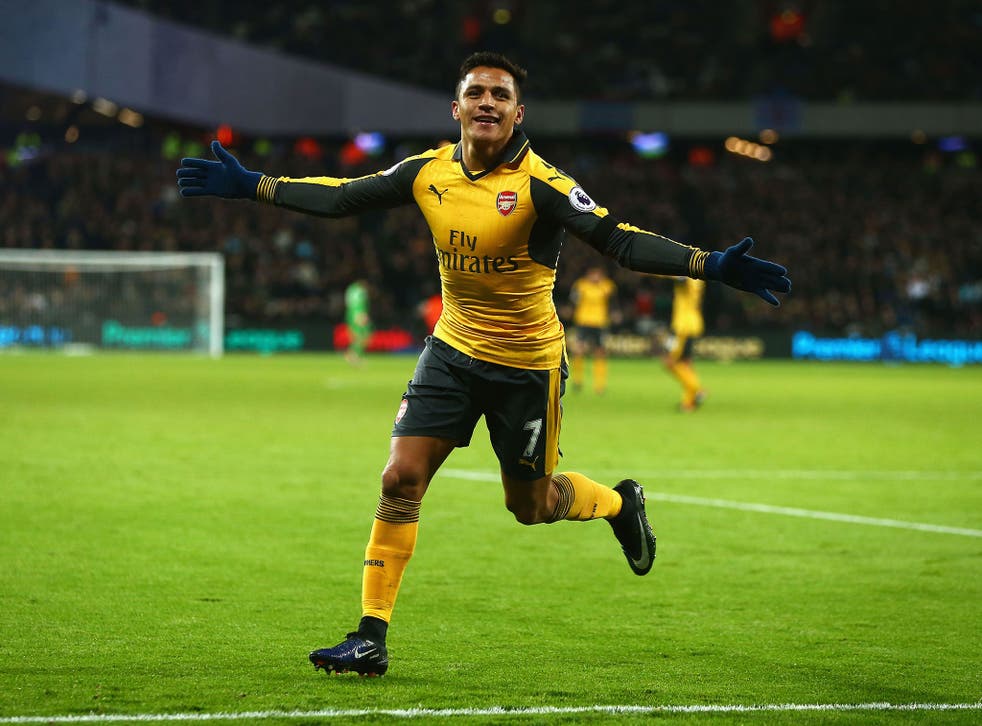 The shift from winger to centre-forward is a well-trodden path at Arsenal. Following Thierry Henry's arrival at the club in August 1999, the then-winger was quickly pushed inwards under Arsene Wenger's instruction. The new kid on the block may have needed some persuasion, as Wenger admitted to on Friday, but Henry soon obliged. The rest, they say, is history. Racking up a total of 175 goals, Henry established himself as the club's all-time top goal-scorer.
While Alexis Sanchez certainly has some way to go to emulate Henry's feats, the Chilean is slowly starting to draw a number of parallels with the icon.
Like Henry, Sanchez has similarly been pushed in off the wing and entrusted with the responsibility of leading Arsenal's front line. And like Henry, Sanchez is now thriving in the position. With a total of 13 goals to his name this season, alongside seven assists, the forward is in irresistible form.
Not that the transformation has been easy. It's required a degree of trial and error, as Wenger confessed in his pre-match post conference ahead of his side's game against Stoke.
"You see the guy who plays wide can score goals that he can in the centre score even more goals," he said. "I saw always in Sanchez and I must honestly say I thought many times when I played him last year or two years ago I was wrong.
"Because the few experiences I attempted with him through the middle were not convincing and I remember even in one game [Everton, 2014] I changed it at half time.
"This year it clicked very early in the season."
Indeed. Sanchez has gone from strength to strength this term, firing the Gunners to impressive victories on both the domestic and European stage. The player has already bagged three braces this season and most recently hit a hat-trick at the London Stadium to help condemn West Ham to a humiliating 5-1 defeat.
With 11 domestic goals under his belt, Sanchez currently stands as the Premier League's top goal-scorer alongside Diego Costa. Sergio Aguero sits on 10, Jermain Defoe on eight. Out-and-out centre-forwards by trade, but it's the winger-turned-striker who tops the pile.
Arsene Wenger comments on Ozil and Sanchez
And although Sanchez's metamorphosis may not have been straight-forward, Wenger admits the player has happily embraced the challenge.
"Sanchez was happy out wide because in his head he was a wide player. Today it would be more difficult maybe for him to, but when I do it I must say honestly it was not a problem. He accepted very well," he said.
"He has developed very well as a centre forward because I think he has found a good mixture between being coming off and going in behind and he has more freedom as well and he takes advantage of his short technique in the middle much more."
When asked at which point it all 'clicked' for the 27-year-old, Wenger suggested: "At the start of the season when he came back and he took advantage of the fact Giroud was not here and not ready so I could give him more games.
"Sometimes when you have too many people [strikers] you cannot last long an experience that is not immediately conclusive because you are under pressure. It doesn't work one or two games and you have a top player on the bench you're tempted very early to change it."
How different Arsenal's season could have been had Wenger succumbed to such temptations. Having been handed a second bite at the apple by his manager, Sanchez is now proving to be the difference for the Gunners.
Join our new commenting forum
Join thought-provoking conversations, follow other Independent readers and see their replies