Five reasons why Arsenal can win the Premier League this season
Arsenal's 2-1 victory over Manchester City has seen them surge ahead as Premier League title favourites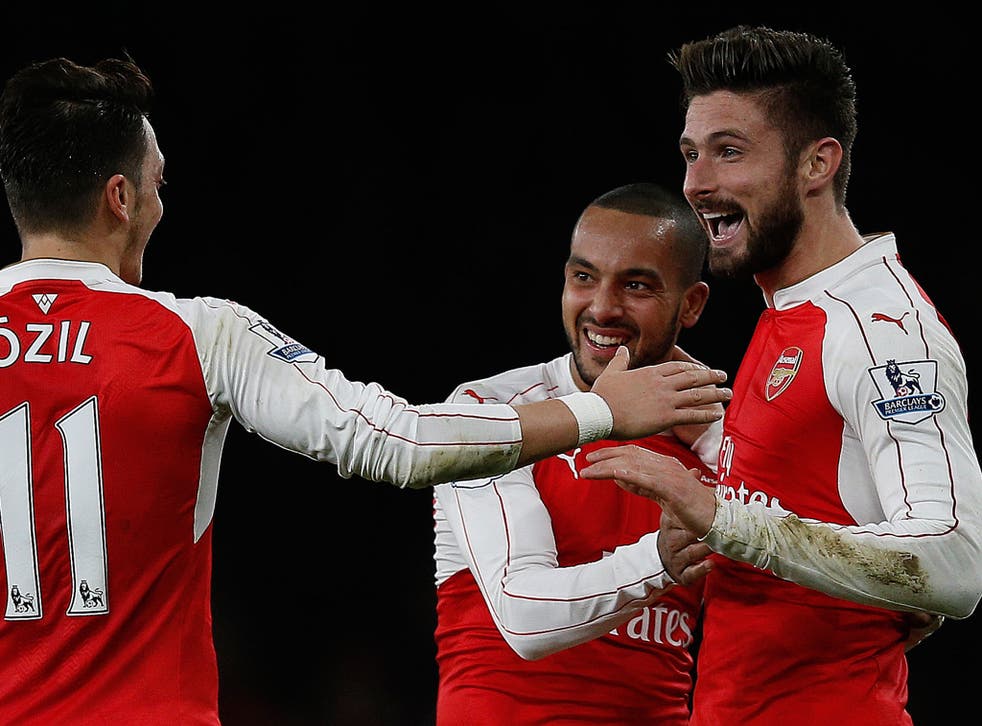 Arsenal's defence is performing better than ever
It's not often that Arsenal can boast the best defensive in the Premier League, but something appears to have clicked this season and it might just be the confidence Petr Cech gives the four defenders in front of him. Cech has proven a wonderful addition to the Arsenal team already this season, but credit must go to the two full-backs in Hector Bellerin and Nacho Monreal.
Calum Chambers looked to be Arsenal's long-term right-back option, but Bellerin has taken to the first-team like a duck to water, and at just 20 years old he looks to be the man that Arsene Wenger can build his defence around. Monreal has also improved significantly this season, so much so that Wenger is reluctant to take the Spaniard off and instead deploys Kieran Gibbs in front of him in order to see out games when the Gunners are winning.
They've coped with a terrible injury crisis
With Arsenal staring Champions League elimination in the face and their Premier League title challenge being threatened to be derailed by a wave of injuries, it looked as though it would be the same old story at the Emirates this season. However, the likes of Joel Campbell and Mathieu Flamini came into the side and delivered, and fans can now look forward to a Champions League last-16 clash – albeit against Barcelona – and they now have a four-point gap over City and sit two points off leaders Leicester.
With Theo Walcott, Aaron Ramsey and Alex Oxlade-Chamberlain back from injury, and Alexis Sanchez and Jack Wilshere due to return in the new year, things are looking up for Arsenal and if they can now maintain the fitness of their key players, they can be expected to push on through the second half of the season.
Arsenal vs Manchester City player ratings

Show all 22
Theo Walcott and Aaron Ramsey look refreshed
There were serious frowns at the Emirates when Walcott and Ramsey picked up injuries earlier in the campaign, but they have returned with vigour and both have found their goalscoring form upon their return to kick-start the Gunners into life. Walcott's goal against Manchester City last night was a particular highlight to watch as he curled the ball from outside of the box beyond the reach of Joe Hart, and while Ramsey missed a chance to bury City and put the game beyond doubt, he put in an energetic and commanding performance in the middle.
Ramsey's has already proven in the past that he can be Arsenal's best player when fully fit, mixing goals and assists in equal measure as he did in the 2013/14 season, while Walcott is showing a welcome versatility to play anywhere across the front-three to aid Olivier Giroud. Both will be key to Arsenal in 2016 and, providing they stay fit, could prove to be the difference in the title race.
Olivier Giroud is intent on proving his critics wrong
Each time he gets written off as an "average striker" Olivier Giroud responds in the only way he sees fit – by finding the back of the net. The French striker has embarked on a fantastic run of form since coming back into the side that has seen him net 14 goals in his last 16 appearances for club and country, and he found the back of the net again to score the crucial winner against City just seconds before half-time with a neat finish between Hart's legs.
With Giroud showing form that removes any doubt over who the No 1 striker is at Arsenal, Wenger can cross off one problem from is list in that he does have a goalscoring forward among his ranks. He could still do with a second striker to provide competition and cover, but at least for now Giroud is proving all his critics wrong and, more importantly, proving Wenger right.
The Premier League is at its weakest in its history
While Arsenal appear to be the new Premier League title favourites, it must be said that the competition around them isn't quite what it used to be. At this point last season, leaders Chelsea has 42 points, four more than current pace-setters Leicester. Gone are the days of the champions finishing the season with 90-plus points, such as Manchester United did in 2008/09 and Chelsea in 2004/05 and 2005/06.
Should Arsenal go on to win the title, they will not care one bit about this stat. But it's worth remembering if – as expected – the Premier League champions this season end up with the lowest ever points total, it would have been very hard for Arsenal not to win the title given Chelsea, Manchester United and Liverpool's struggles this season.
Join our new commenting forum
Join thought-provoking conversations, follow other Independent readers and see their replies