Gary Neville in war of words with 'embarrassing' Arsenal fans after criticising ArsenalFanTV
Neville defended Arsene Wenger following Arsenal's 3-1 defeat by Chelsea and called fans who were calling for him to be sacked 'embarrassing'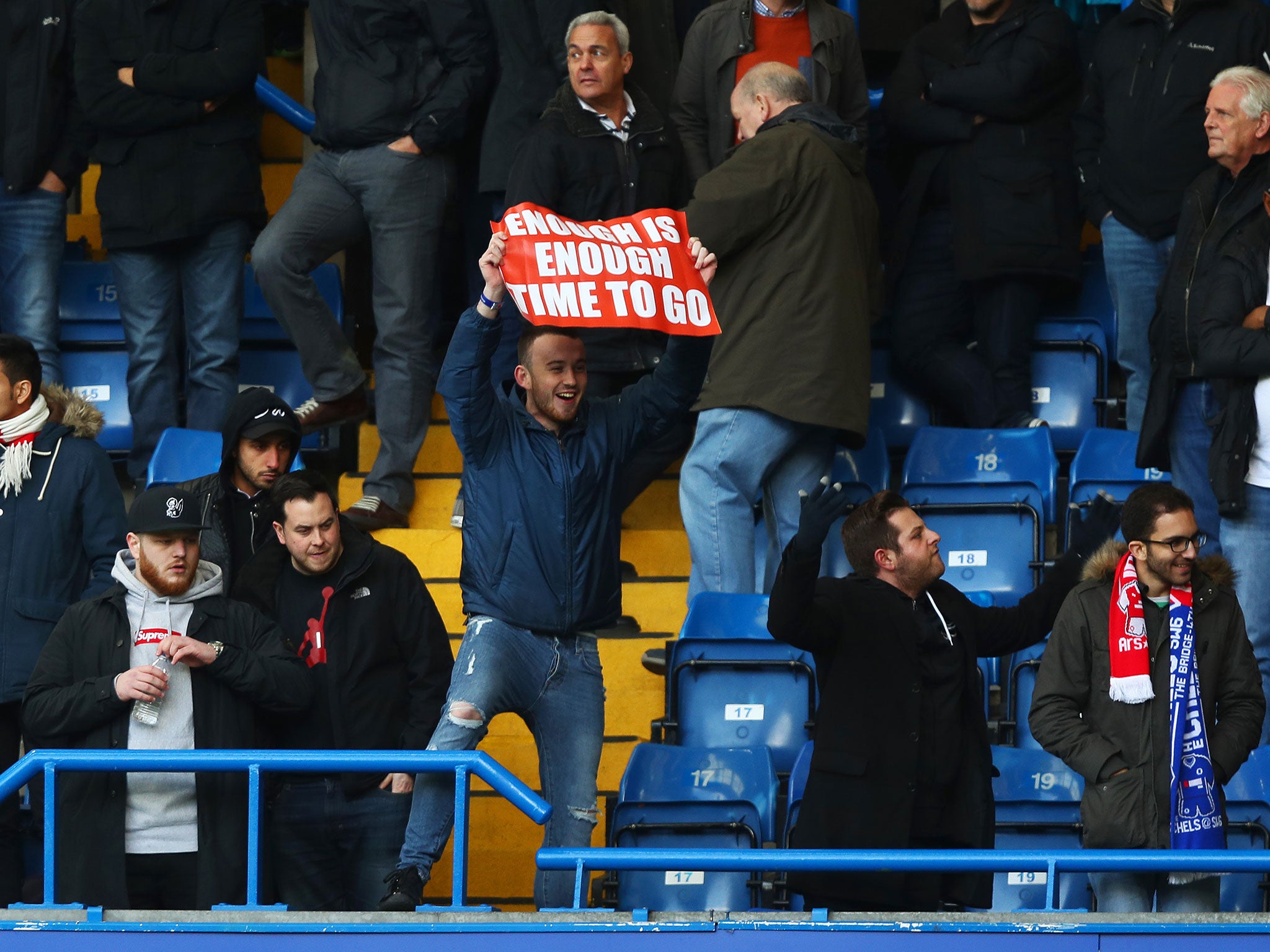 Gary Neville launched a fierce verbal attack on the "embarrassing" Arsenal fans who repeatedly call for Arsène Wenger to be sacked by the club, and took aim at ArsenalFanTV in what has developed into a war of words.
Neville was at Stamford Bridge on Saturday afternoon to witness Arsenal's lacklustre 3-1 defeat by Premier League leaders Chelsea. Having been expected to make much of the running in the title race this season, Arsenal currently trail the Blues by 12 points and look more in danger of dropping out of the top four than they do getting back into the title frame with 14 matches remaining.
Criticism of Wenger has been fierce in the fallout from the defeat, and it wasn't helped by the manager's admission last week that the club have offered Wenger a two-year contract extension that he is currently mulling over. The Frenchman says he will go with his "gut decision" when he chooses to stay or not, but the growing discontent with his managerial reign will not be helping the matter.
Neville came out in defence of Wenger though, and having spent his entire professional career on the opposite side to Wenger with the famed Manchester United vs Arsenal rivalry, he now feels the Arsenal manager is being unfairly treated.
"Arsène Wenger's biggest challenge is that he's been there such a long time and there's always that sort of grass is greener," Neville said on Sky Sports after United's 3-0 victory over Leicester.
"If Arsène Wenger was Jürgen Klopp and he was currently above Manchester City, above Liverpool, above Manchester United that have spent nearly £150-200million between them we'd be saying he's doing a great job.
"At the start of the season, forget Arsène Wenger's the manager, and Arsenal are there, you could argue the profile of the players would change if a new manager comes in, they could end up in eighth or seventh could Arsenal. With their budget, they potentially could.
"If Arsène Wenger was Jürgen Klopp now, we'd be saying he's doing a good job, because he's 18 months in.
"Actually, is Arsène Wenger not just doing a great job full stop? And I have to question that."
Chelsea vs Arsenal player ratings
Show all 22
Neville's frustration with Arsenal fans boiled over as he grew increasingly agitated the more he spoke about them, and his comments led Jamie Carragher to agree with him, although former Arsenal forward Niall Quinn did not see eye-to-eye with Neville.
However, Neville turned his attentions to the well-known ArsenalFanTV, with the former Manchester United defender labelling the fans who give post-match interviews on the Youtube platform "embarrassing".
"I walked out the Chelsea ground yesterday and there was a couple of these Arsenal fan TV camera things everywhere and to be honest it was embarrassing listening to it and watching it," Neville continued.
"I was watching Chelsea fans take the mickey out of them which was a bit funny and I was watching Arsenal fans slating and slanging into him [Wenger] and I thought to myself, he doesn't deserve that, that's one thing he doesn't deserve - he's done an unbelievable job.

"And if he announced his retirement at the end of the season tomorrow, everybody would come in with tributes and say he's amazing. In eight months' time, 10 months' time they might be saying I wish he was still here.
"We hate managers being sacked. I feel very uncomfortable sitting here supporting the theory that the grass is greener.
"We all lord Jurgen Klopp, Antonio Conte, Pep Guardiola for their philosophies, 'oh they're brilliant'.
"Arsene Wenger's got the most brilliant philosophy over this last 15 years, he's stuck to his guns, he's never changed because of you and I.
"What's happened is we've all become bored of the guy because he's been there so long."
It didn't take long for ArsenalFanTV's Robbie Lyle to hit back, in which he told Neville that he should get in touch with "real, ordinary fans", rather than sit in the Sky Sports studio and criticise fans, while he also accused Neville of a lack of respect.
Watch the video response below...
Neville soon engaged in a Twitter spat with the ArsenalFanTV twitter account, as well as long-time Wenger critic Piers Morgan.
Join our commenting forum
Join thought-provoking conversations, follow other Independent readers and see their replies