Pierre-Emerick Aubameyang is Arsenal's other reason to be optimistic
The club record signing can be the leading man for the post-Wenger Arsenal
Mark Critchley
Northern Football Correspondent Comments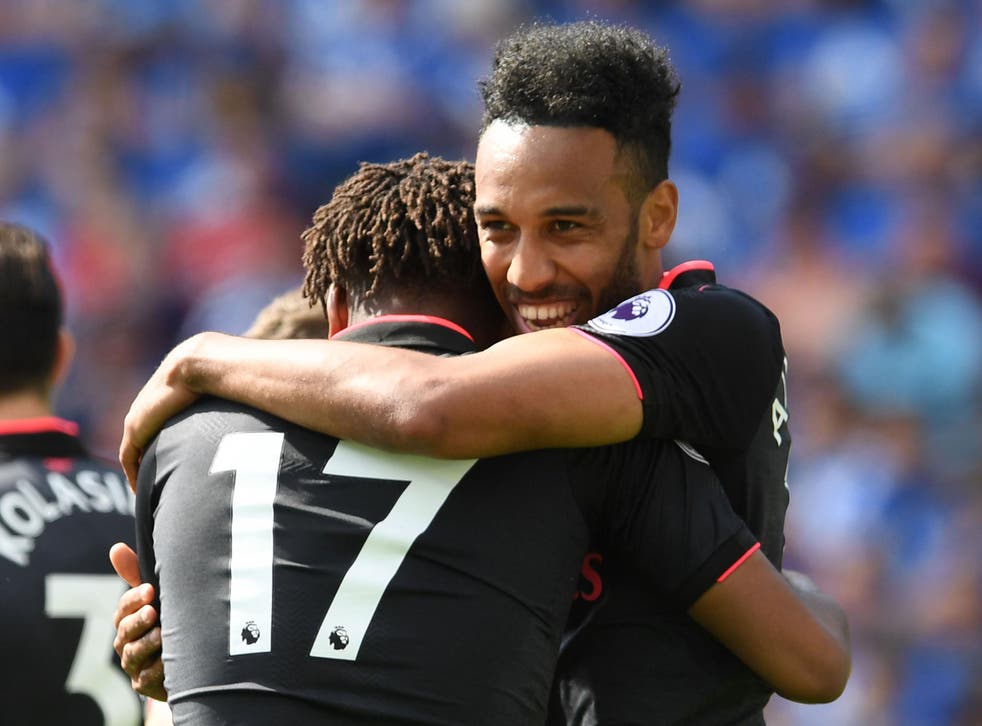 It was the final goal of Arsène Wenger's 22-year tenure and fittingly, a very Arsène Wenger goal. The ball was circulated around the defence, played short into midfield, slipped neatly between three nimble pairs of feet then delivered to within yards of the goalline – practically passed into the back of the net.
The player waiting at the far post to apply the final touch to Wenger's final goal was his final signing. By opening the scoring in Sunday's 1-0 win at Huddersfield Town, Pierre-Emerick Aubameyang became the quickest player to reach double figures in Arsenal's history, having arrived from Borussia Dortmund in the winter.
He ends his first Premier League campaign one goal short of Alvaro Morata's debut tally and with the same number of assists as Eden Hazard. His first game was in February. Alexis Sanchez left Arsenal for Manchester United around the same time of course, and since then, Aubameyang has outscored him by seven.
Merci Arsene: Wenger's last home game with Arsenal

Show all 13
If the manager's sad but sensible departure is one reason for excitement in north London, then the prospect of Aubameyang playing a full season in Arsenal colours should be another.
Aubameyang knew upon arrival that he would have little more than a year of working with Wenger. In the end, it was just four months. "This is the life," he said after the victory in Huddersfield. "This is football and sometimes you never know. I was happy to play for him. I learned a lot.
"It was important for us because it was the last game of the boss," he added on the victory, Arsenal's first on the road this calendar year. "It was important we won this game for him. We gave him a big round of applause. We had talked a lot already and we wrote on a book for him. It was special I scored the goal and I'm very happy."
Aubameyang's healthy record of 10 goals in 14 Arsenal appearances now hides the initial difficulties he had adapting to English football. A goal on his debut in the 5-1 win over Everton was followed by three blanks, the most costly of which came in the EFL Cup final defeat to Manchester City, when the Gabonese spurned an early chance for the lead.
"At the beginning it was really hard because physically I don't think I was ready because I didn't play in January, the whole month," Aubameyang said of those early weeks in England. "It was not easy, but after a lot of work I found my form again and I've scored some goals – thanks to my team-mates of course, because we work hard for that."
And perhaps the most encouraging thing for Arsenal supporters at the end of a long and difficult season is that their new-found sense of optimism appears to be shared by an increasingly-confident squad of players, who should be just as energised by the club's rebirth.
"In the last few weeks we have played well," Aubameyang added confidently. "We have a lot of young players and for sure it's good for the [new] manager. It looks good for the future and I'm sure next season is going to be a good one for us."
If Aubameyang can carry his late-season form into the new campaign, then Arsenal have every chance of significant improvement. The last six months of Wenger's reign were largely miserable but they may yet be remembered for the parting gift of an elite striker that helps this club rise to its feet again.
Register for free to continue reading
Registration is a free and easy way to support our truly independent journalism
By registering, you will also enjoy limited access to Premium articles, exclusive newsletters, commenting, and virtual events with our leading journalists
Already have an account? sign in
Join our new commenting forum
Join thought-provoking conversations, follow other Independent readers and see their replies