Arsenal offer Arteta the chance to arrest decline
Spaniard hopes to revitalise career but exit deepens gloom at Everton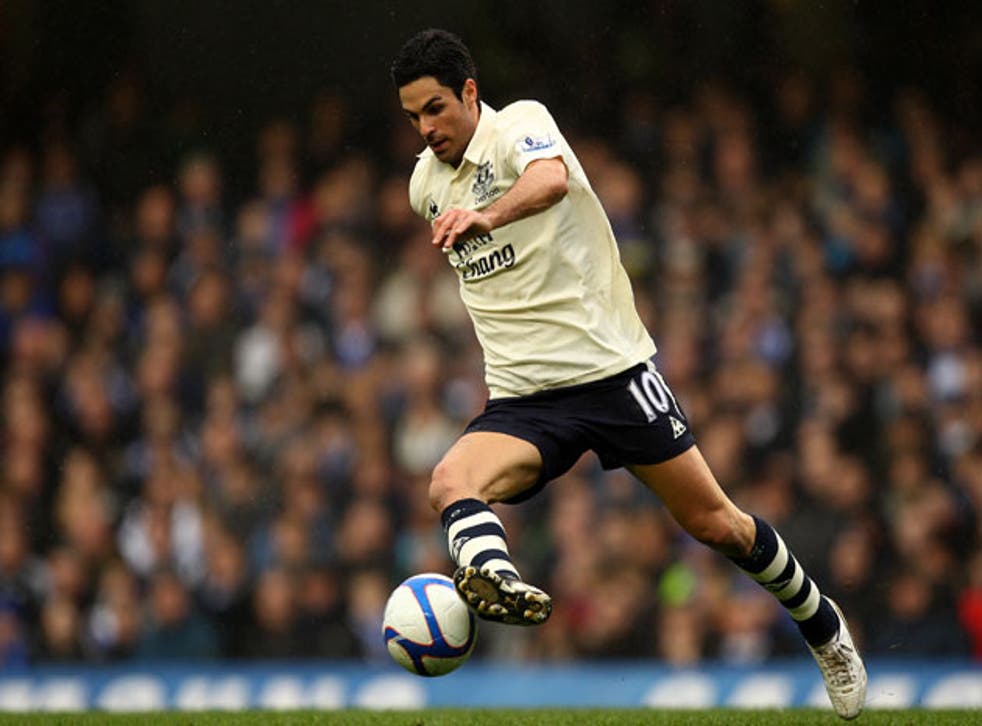 Amanda Holden and Derek Hatton got on Twitter to express their dismay, while Coleen Rooney complained that she would have to change her son Kai's Everton shirt. Mikel Arteta set tongues wagging from Liverpool to London with his £10m deadline-day move, a last-minute transfer that completed Arsène Wenger's hasty rebuilding and left Everton's squad looking thinner than ever, with David Moyes unhappily afforded no time to find a replacement.
While Everton fans wring their hands over their club's transfer inactivity, Arsenal's supporters will hope Arteta makes rather more of an impact than Wenger's last recruit from the Merseysiders, Francis Jeffers, the £10m flop in the box who scored four League goals.
In Arteta's case, his technical ability is unquestioned but his waning influence since returning from a cruciate ligament injury had become such a concern that, according to sources at Everton, it was the subject of a team meeting during this summer's US tour where the question was asked: why is our most talented player not performing?
When Arteta agreed a new £75,000-a-week contract in August 2010, there were genuine expectations Everton would push for a Champions' League place; instead the Spaniard struggled for form in a side lacking the necessary scoring power and it reached the stage where his motivation came under question.
Although he struck a match-winning penalty on his final Everton appearance at Blackburn last weekend, Arteta scored only three Premier League goals last season and provided four assists. The hope for Arteta and Arsenal is that Champions' League football will revitalise the 29-year-old, one of Moyes' most astute purchases when joining from Real Sociedad for £2.2m in 2005. The player, who accepted a pay cut to force the deal through, reflected that it was "the right moment" and Joe Royle, the last Everton manager to win a trophy, agrees.
"Arteta arguably hasn't been at his best for Everton for a couple of years. Even his biggest fans would tell you his current form hasn't been great. He probably needs a change," said Royle.
Whatever follows for Arteta, Royle warned Arsenal supporters not to expect a direct replacement for Cesc Fabregas, his fellow Barcelona academy product. "Arteta obviously has ability [but] for me he's always been at his best for Everton on wide left. Whether or not he is going to be a natural replacement for Fabregas, that's a tall order as Fabregas did the lot."
A member of Everton's 1970 title-winning side, Royle remembers the "total shock" of Ball's sale for a then-record £220,000 fee. Everton had been league champions 18 months earlier and still had Sir John Moores' lavish backing – a far cry from their impoverished state under Bill Kenwright.
Kenwright – unable to deliver investment and with two failed stadium moves and a £45m debt – has stretched Everton's limited resources to breaking point just to keep Moyes's squad intact. Under pressure from the bank, the club have raised £20m in player sales since January, while bringing in two loanees, Dutch wing-back Royston Drenthe and Argentine striker Denis Stracqualursi. Though Everton insist Moyes did not have to sell a key player, and would have had much of the £10m fee but for the timing, Arteta suggested his transfer was "the best solution for everyone".
The fact is a fourth successive transfer window closed without the Scot making a major permanent signing and supporters are restless. The Blue Union group, which published a transcript of a summer meeting with Kenwright in which he admitted pleading with the bank "don't kill us this season", met in Liverpool yesterday, urging supporters to "oppose stagnation". Another group of concerned Evertonians are investigating the possibility of setting up a supporters' trust to help the board. And to think Arsenal fans think they've had it bad.
Join our new commenting forum
Join thought-provoking conversations, follow other Independent readers and see their replies