Analysis
Unai Emery's Arsenal revolution will need to stretch to youth team if club is to return to former glories
Under Arsene Wenger the club's commitment to nurturing young players waned, but success both home and abroad offers plenty of encouragement, writes Luke Brown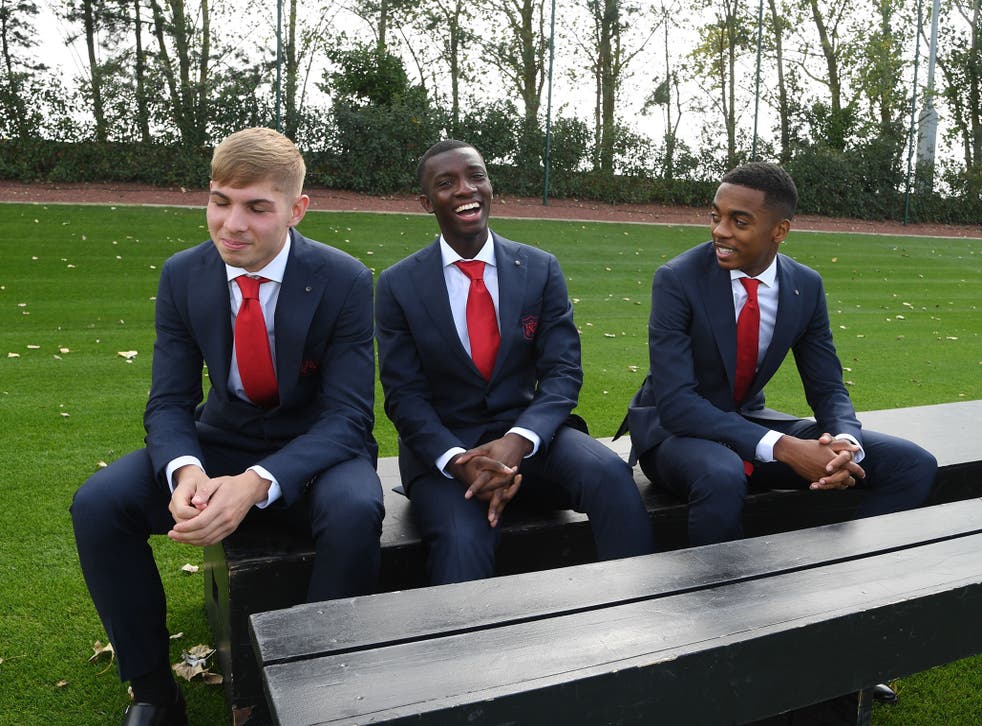 "It is amazing and I am very proud to be the fifth recipient of this award from Arsenal," Jack Wilshere announced at the Grosvenor House Hotel in the spring of 2011, one hand holding the PFA Young Player of the Year award, the other thrust nonchalantly into his left pocket. "It is good to keep this history going. Arsenal is a good club for bringing youngsters through and they keep proving it."
Glasses chinked. Gareth Bale glowered. Yawns were stifled. A respectful speech, sure, delivered with a self-assuredness befitting of the next great hope of English football. But hardly one to have the suited and booted crowd sat in front of him jumping out of their seats in rapturous applause, and the hacks sat at home scrambling frantically for their pens.
Or so we thought at the time. Seven years later, and Wilshere's once anodyne words feel rather more instructive now than they did back then. Nurturing young players has long been trumpeted as an Arsenal tradition – right up there with the suits before games shtick, and the skipper autocratically decrying the length of his team mate's shirt sleeves – and yet Wilshere remains the last Arsenal player to win the award. The club's famous conveyor belt of young talent has ground to a halt.
So, what happened to the history Wilshere spoke of? What happened to that proud tradition? And what happened to the famous 'Arsenal DNA'?
Arsenal injury latest, 12/10

Show all 8
Arsène Wenger bought into this process, at the beginning. But as the adulation gave way to condemnation, and the homemade WENGER OUT placards spread from The Emirates to the skies above The Emirates to The Pope's Easter address, his interest in this enshrined commitment waned. During his last decade at the club, of the 16 players aged 23 or under brought in only two – Aaron Ramsey and Granit Xhaka – became first-team regulars.
Wenger's reaction was, fundamentally, an understandable one: why focus on the future when it only grew narrower with each passing weekend? Even so, Unai Emery deserves great credit for arriving in north London and immediately integrating several young players into his first-team squad – just as soon as he had finished banning sugary orange drinks and constructing a pitch side gym at Arsenal's London Colney training ground.
Summer signings Lucas Torreira (22) and Matteo Guendouzi (19) have become midfield lynchpins. Ainsley Maitland-Niles (21) started the opening game of their campaign against Manchester City, before being forced off injured. Emile Smith Rowe (18) has been handed opportunities in the cup competitions. Eddie Nketiah (19) is close to a similar breakthrough.
Emery was toeing the party line as early as the club's pre-season tour to Singapore. "For the history of Arsenal, it needs every year and every day for us to work with young players to give them the chance to work for us and show their quality," he proclaimed after a friendly with Atletico Madrid. Yet seasoned Emeryologists know the Spaniard has always been willing to throw youngsters in at the deep end. Presnel Kimpembe and Giovani Lo Celso became key players at Paris Saint-Germain. Ditto Timothee Kolodziejczak and Vitolo at Sevilla.
If Arsenal are to reclaim this intrinsic part of their identity, the hard work needs to go beyond Emery, who has rather enough on his plate as it is. And so the continued good form of Arsenal's Under-23 team, under the stewardship of erstwhile Invincible Freddie Ljungberg, is just as encouraging as the sight of a wide-eyed Guendouzi dominating Premier League matches as if still strolling out for second-tier Lorient.
The Swede's sprogs currently sit second in the Premier League 2, ahead of a game with table toppers Everton in two weeks' time. Nketiah has been in superb form – scoring four goals in four games – while there is also considerable excitement at the club over the likes of midfielders Joe Willock and Robbie Burton, and encouragingly versatile defender Tobi Omole.
Somewhat ironically, the greatest indication yet that Ljungberg is moving the Academy in the right direction came this week, during the international break, while he presumably had his feet up at home in front of a good Scandi noir. Arsenal's development side has always been successful – but the way in which their young talents this week replicated their domestic success at international level helps to vindicate the wider strategy behind the Academy's work.
The full list of this week's successes is as follows: Smith Rowe scored and assisted for the England U19's against Portugal. Reiss Nelson, on loan at Hoffenheim, scored and assisted for the England U21's against Andorra. Nketiah and Willock both scored for England's U20's. And Daniel Ballard scored the winner for Northern Ireland's U21's. "The character limit on that last tweet was seriously testing us," the poor soul in charge of Arsenal's official Twitter account wrote late on Thursday night, after attempting to cram all of that into a solitary post.
The obvious question now is how many of these players will find themselves presented with a route into Arsenal's first-team, at a time when international opportunities are decidedly easier to come by then precious minutes in the Premier League. Fail to integrate anybody anytime soon, and Arsenal risk raids from opportunistic Bundesliga teams, keen to supplement their growing ranks of British talent.
And yet, under Emery, the chances of that appear sufficiently lower than at many other Premier League clubs. Because he has already shown he is bold enough to promote players from Ljungberg's squad, and bolder still to drop established big names to accommodate them. It's the only chance Arsenal have of truly reclaiming the most cherished strand of their DNA, and having another player follow in Wilshere's footsteps at a fancy London hotel.
Register for free to continue reading
Registration is a free and easy way to support our truly independent journalism
By registering, you will also enjoy limited access to Premium articles, exclusive newsletters, commenting, and virtual events with our leading journalists
Already have an account? sign in
Register for free to continue reading
Registration is a free and easy way to support our truly independent journalism
By registering, you will also enjoy limited access to Premium articles, exclusive newsletters, commenting, and virtual events with our leading journalists
Already have an account? sign in
Join our new commenting forum
Join thought-provoking conversations, follow other Independent readers and see their replies