Arsenal reach new heights under Unai Emery to sink Tottenham in pulsating north London derby
Arsenal 4-2 Tottenham Hotspur: The hosts threw away their early lead but a second-half surge saw them clinch victory in the most thrilling of circumstances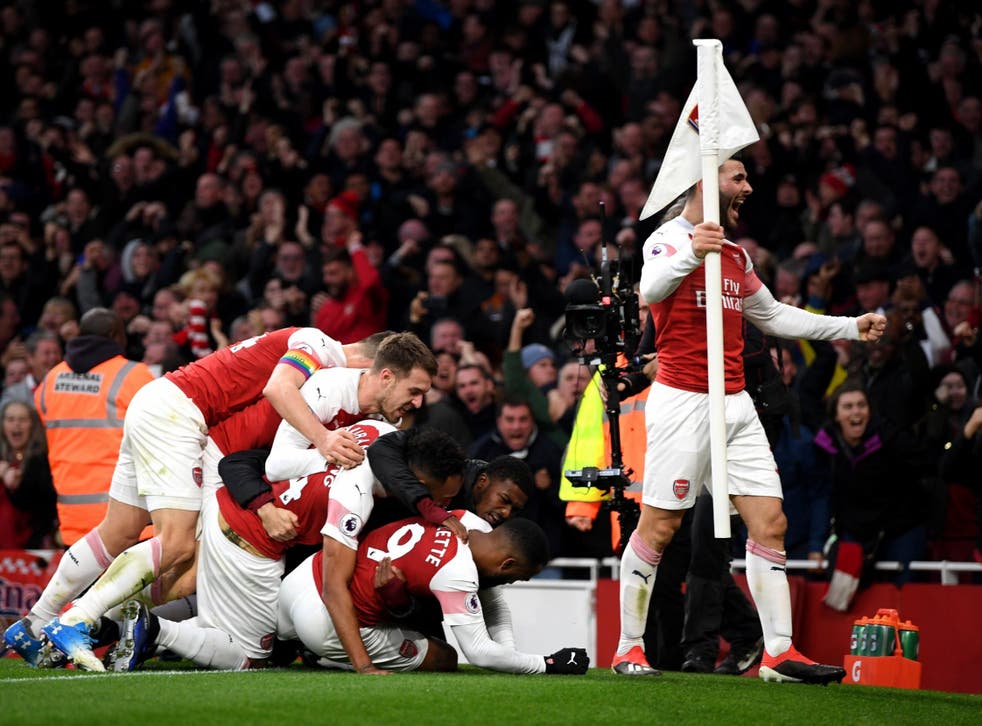 North London is red. As blood-red as Arsenal's superior desire and ruthless hunger, as red as the mist that descended on the Emirates Stadium, turning the 196th derby into the Premier League's most deliciously spiteful game of the season. As red as the flares emanating from the Clock End, filling the stadium with the smell of cordite and burned ambitions. As red as the card that Jan Vertonghen saw late on for catching Alexandre Lacazette's ankle. As red as the blushes of the Tottenham defence, after a string of individual errors that saw a 2-1 lead flipped into a resounding 4-2 thumping.
It was a 99-minute epic, a game of filth and fury and noises off and noises on. Scarcely has this stadium sounded louder and more passionate than when Arsenal were setting about their bitter rivals in the second half, undoing the shocking four-minute first-half spell in which they both lost their lead and lost their heads. Seldom have they howled more indignantly than at referee Mike Dean, again inserting himself front and centre with two penalty decisions, one of them highly contentious. Seldom have they bayed more furiously than when Eric Dier ran towards them after his equalising goal, inciting a touchline confrontation that involved a lot more than the 22 players on the field.
But for all the bawling and the brawling, this was a game won by clinical, calculated tactics. This was Unai Emery's best game by far as Arsenal manager, an imposing statement of his ability and a testament to his excruciating attention to detail. It wasn't just the way his side seized control of the game by pressing Tottenham until they cracked, the sort of concerted, choreographed blitz that wouldn't have disgraced a Guardiola, Klopp or Tuchel side. It was the way he continued to make the running as the game went on, recapturing the initiative with a daring double substitution on 45 minutes, switching to a back four just as Mauricio Pochettino was switching to a back five.
It was that sort of game for Spurs: one in which they always seemed to be just a step off the pace. Perhaps their efforts of the last week, the exhausting wins over Chelsea and Inter Milan, had blunted their edge just a little. Even so, it was occasionally hard to see what they were trying to do here, the midfield diamond that had thwarted Chelsea so effectively proving largely toothless here against an Arsenal side happy to cede the centre and carry out their blitz on the flanks. Harry Kane emphatically put away his first-half penalty but was otherwise anonymous. Dele Alli was grasping at thin air. Moussa Sissoko, so rampant of late, was poor in a game that demanded just a little more craft and poise.
All of which might have been fine had Tottenham's back four held out. Instead, Vertonghen and Juan Foyth had a horrible game at the centre of defence, Eric Dier fared little better when he joined them in the second half, and if these games are partly about territory and momentum, about composure and eliminating errors, then Arsenal made all the running. They won the ball high, piled the pressure on, and Tottenham aren't passing the ball well enough at the moment to get themselves out of trouble.
The visitors went deservedly behind. Serge Aurier made the initial mistake; Foyth game away a cheap free-kick; Vertonghen brushed the ball with his hand as he leapt with Shkodran Mustafi. Dean missed nothing. Tottenham protested little. Aubameyang's penalty was unerring. The clock showed 10 minutes.
It wasn't until around 25 minutes in that Tottenham were able to get a grip on the game. The big question was whether Arsenal could maintain their awesome level of intensity, but it was still surprising just how quickly Tottenham hauled themselves back into contention. Firstly Dier got in between Granit Xhaka and Lucas Torreira to flick in Christian Eriksen's free-kick at the near post – Bernd Leno fumbled the ball as it went in – and in the ensuing touchline melee, Arsenal temporarily lost sight of their gameplan. Four minutes later Son Heung-Min went through on goal, Rob Holding slid in, and Dean awarded the penalty, more on impression than anything else. It was a silly challenge, but as replays showed, Holding had made no actual contact.
Now it was Spurs with the strut, 2-1 up at half-time and now strong favourites to close out the match. But the main root of their problems – their hopelessly narrow midfield – hadn't been resolved. Emery moved quickly, introducing Lacazette and Aaron Ramsey for the ineffectual Henrikh Mkhitaryan and the inconsequential Alex Iwobi at half-time. And 10 minutes into the second half, Hector Bellerin had all the time to thread the ball through to Ramsey – a 45-yard pass all along the ground down the middle of the pitch. Ramsey's flick was sumptuous, Aubameyang's first-time finish from 20 yards sublime. It was his 10th goal of the season.
For the third time this afternoon, the derby now lurched violently in a new direction. Tottenham went to a three at the back to counter the dual threat of Aubameyang and Lacazette; Emery immediately responded by withdrawing Mustafi and switching to a four, packing the midfield. Ramsey was superb coming off the bench, and with 16 minutes remaining he robbed the hapless Foyth on the halfway line and slipped it to Lacazette, whose curling shot deflected off Dier and past Hugo Lloris.
Torreira finished proceedings minutes later. Dier committed to the sliding interception and caught only fresh air. Torreira's low, tight finish was fierce, cathartic, lawless. Arsenal had done Spurs again. And though the fundamentals of these two sides remain largely unchanged by a single game – Arsenal remain queasy at the back, Tottenham will still probably be fine for the top four – we got the first twinges of what could be a glorious new chapter in the rivalry. Spurs will shrug this off and try and regroup for Southampton in midweek. For Arsenal, however, this is a result that will give them strength and heart, an afternoon on which they explored the boundaries of their potential and realised they were further than they thought. Maybe, just maybe, this could be the start of something.
Register for free to continue reading
Registration is a free and easy way to support our truly independent journalism
By registering, you will also enjoy limited access to Premium articles, exclusive newsletters, commenting, and virtual events with our leading journalists
Already have an account? sign in
Register for free to continue reading
Registration is a free and easy way to support our truly independent journalism
By registering, you will also enjoy limited access to Premium articles, exclusive newsletters, commenting, and virtual events with our leading journalists
Already have an account? sign in
Join our new commenting forum
Join thought-provoking conversations, follow other Independent readers and see their replies