Understanding Alexis Sanchez and why his fierce loyalty and loner attitude could see him stay at Arsenal
He has been seen as an outcast among his Gunners colleagues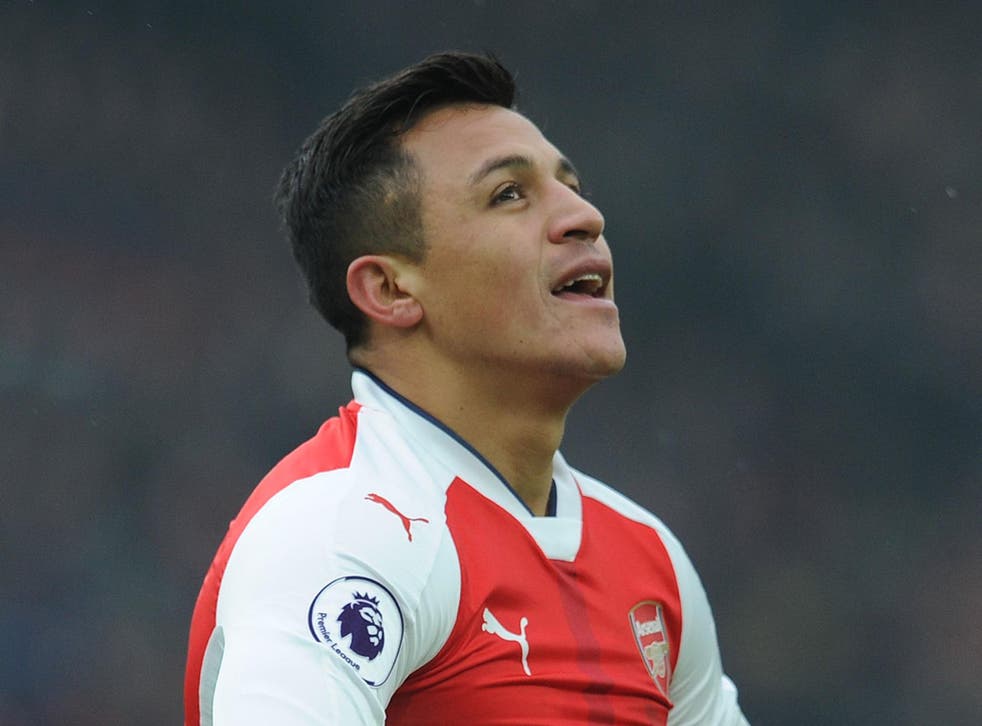 There are few people in football who can claim to really know the "very introverted" Alexis Sanchez well, even in the Arsenal and Chile squads, but Jorge Aravena would have a better claim than most.
A former Chilean international midfielder, he was the coach who first picked the 15-year-old Sanchez for the country's underage sides, and was then his manager at Cobreloa when Udinese went to watch a mere 17-year-old and "knew immediately" they had something special.
Aravena recognised something special in Sanchez's personality way back then, something that is also likely to be crucial as to the big question of where he plays next season.
Arsenal's dirty dozen

Show all 12
"It was always his great ambition to progress," Aravena tells The Independent, "to look for better horizons, for places to better himself and maximise his capabilities."
That is a key to understanding so much of Sanchez's contrastingly extroverted on-pitch personality and also what he wants for his career. It is also why Arsene Wenger is right about him… to a point. Sanchez does indeed want to stay at Arsenal, but only so long as they show they can build "a winning project". He ultimately wants the medals to reflect his talent, and show he has maximised it.
That desire further distils Sunday's FA Cup semi-final against Manchester City as a crucial match in regards to Sanchez's future as much as his manager's, and not just because he is facing one of the many clubs who are known to want the 28-year-old. He will be centre of attention and central to everything.
If Arsenal win and again make the final, it would alleviate the sense of decline around the club, and potentially spark the team again ahead of what is hoped to be a summer of high change. Even if they don't and Sanchez finally decided to leave, though, there is no guarantee City would be his first choice. The Chilean's winning mentality isn't the only aspect of his personality that would decide his future.
A man who very much likes to keep himself to himself, Sanchez is said to absolutely adore London because the sheer size of the city allows him an anonymity he cherishes. It gives him the space to go to the park with his beloved dogs and his girlfriend without any hassles, and with complete freedom. He also loves to sit at home and play the piano, something else he was quite good at. This is after all someone so reticent about the spotlight off the pitch that Arsenal employees find it very difficult for him to do any media or a commercial week. Sanchez is aware all of this would be much more difficult in a much smaller city like Manchester.
Some of the South American and Chilean players who have lived in London have also confided they have invited the forward to their regular barbecues and get-togethers, but that he has just never shown much interest.
That overt sense of independence is seen by some close to the Arsenal squad as a reason why he doesn't seem to fully fit with the group. It can also mean that his abrasive outbursts about performance can become more of an issue than they otherwise would, such as when Wenger dropped him for the 3-1 defeat to Liverpool in March, because he is not necessarily all that pally with particular teammates.
Who could Arsenal eventually replace Sanchez with?

Show all 6
That is nothing new.
Chile at last won their first ever trophy at the 2015 Copa America with what was considered a united tightly knit squad that fit their hosting of the country and furthered the connection to the home crowd, but Sanchez was even there seen as the star someway apart from the group. That campaign also started with many questions about his relationship with teammates, after he got into a heated argument over set-pieces with midfielder Marcelo Diaz following a 1-0 pre-tournament friendly against El Salvador. Captain Gary Medel had to step in, but it reveals a lot about Sanchez's attitude that he understandably didn't think it was a big deal.
"We're all good," he said at the time. "It's normal. Everything's sorted, there's no fight and we are all calm, they're things that happen in a match."
They're also, to Sanchez, how you eventually win matches; how you get better. There was then his input to Chile's true crisis of that campaign, when Arturo Vidal was arrested for drink-driving. After the midfielder issued a tearful public apology and was granted a reprieve, Sanchez also issued a demand. Vidal was told to "bust your ass" for the team to make up for it. A tone had been set.
FA Cup semi-final: Arsenal v Manchester City match preview
That Copa America ended with everyone smiling, after Sanchez had so impudently dinked the winning penalty in the final shoot-out against Argentina.
It is that smile Aravena most remembers from the young Sanchez, as well as that spontaneous joy to his game.
"He always just loved playing football," the former international says. "He had this happiness. He would get kicks and be knocked to the ground, but still get up smiling. That didn't bother him either.
"He was very, very happy, always listening and looking to improve. He was always very respectful and liked to listen a lot to the advice of the coaches and those with more experience than him."
They in turn loved to just watch him play, as one story from Aravena makes clear.
"I took charge of a lot of games with the underage teams, and would be looking at a lot of players, so there were times when I would put Alexis on the bench to assess others. I remember he was a sub once, though, and it was a very bad game, very boring. So I went to him and told him: 'Alexis, this match is very bad. I'm bored. Get out there and entertain me."
That freewheeling excitement to Sanchez's game has made him the exhilarating force of nature he is as a forward, but might also have been one big reason he didn't quite succeed at Barcelona. He had gone to Camp Nou from Udinese in 2011 after illuminating Serie A with the way he would so thrillingly destroy defenders and goalkeepers at high speed, his career itself simply accelerating since Udinese initially sent him on loan to Colo Colo and River Plate as a teenager.
Many who have worked with Sanchez say he has always needed that freedom of being the main forward to really flourish but, while he initially looked a good fit for Barca and someone who could also offer the defending European champions something different, he was never really going to find that freedom in a highly systemised team where Lionel Messi was the centre of everything. Sanchez has already been the subject of some light dressing-room ridicule because many of the players struggled to understand his thick Topocilla accent, but some high-level Camp Nou sources also felt he struggled to understand the truly collective play they idealised. Guardiola's first requirement from any player was to have the sense of pause to stop the ball and look up, but Sanchez's first instinct was to just get it and torpedo forward and that took over every time. There was just that difference in mentality.
That raises questions as to why Guardiola wants him now, but then there is also a difference in the Catalan coach's game at City. His current side are themselves much more freewheeling than his Barca, more direct and more based on pace. Sanchez would fit into that much better, but then his aggression would also fit the profile of the relentless forward Antonio Conte wants at Stamford Bridge. The Chilean would meanwhile appreciate how Chelsea so regularly compete for the top trophies, as well as the fact they would allow him to live in London. Paris is also attractive in that regard, while Juventus could yet change the landscape of European football further if they go and win the Champions League this season.
There will always be interest from the Chinese Super League but some Arsenal sources say that Sanchez has no interest in leaving Europe or the top-level game and that intermediaries have quoted what would have to be "life-changing money" to even consider it.
Sanchez's life has already changed drastically from his childhood in dusty Topocilla in the far north of Chile, an area that is one of the poorest in the country. He was always looked to give him something back and paid for several social amenities and football pitches in the town. That is something else said about Sanchez himself. He may be extremely independent, but he is also intensely loyal.
It is one reason why he would yet stay at Arsenal. Sunday could be significant in that regard. After it, we'll know that little bit more - or at least as much as we can when it comes to Sanchez.
Register for free to continue reading
Registration is a free and easy way to support our truly independent journalism
By registering, you will also enjoy limited access to Premium articles, exclusive newsletters, commenting, and virtual events with our leading journalists
Already have an account? sign in
Register for free to continue reading
Registration is a free and easy way to support our truly independent journalism
By registering, you will also enjoy limited access to Premium articles, exclusive newsletters, commenting, and virtual events with our leading journalists
Already have an account? sign in
Join our new commenting forum
Join thought-provoking conversations, follow other Independent readers and see their replies