Arsenal vs Benfica Emirates Cup match report: Yaya Sanogo's show surprises Arsene Wenger
Arsenal manager can't help smiling as forward scores four goals then trips over his own feet
Michael Calvin
Saturday 02 August 2014 20:03 Comments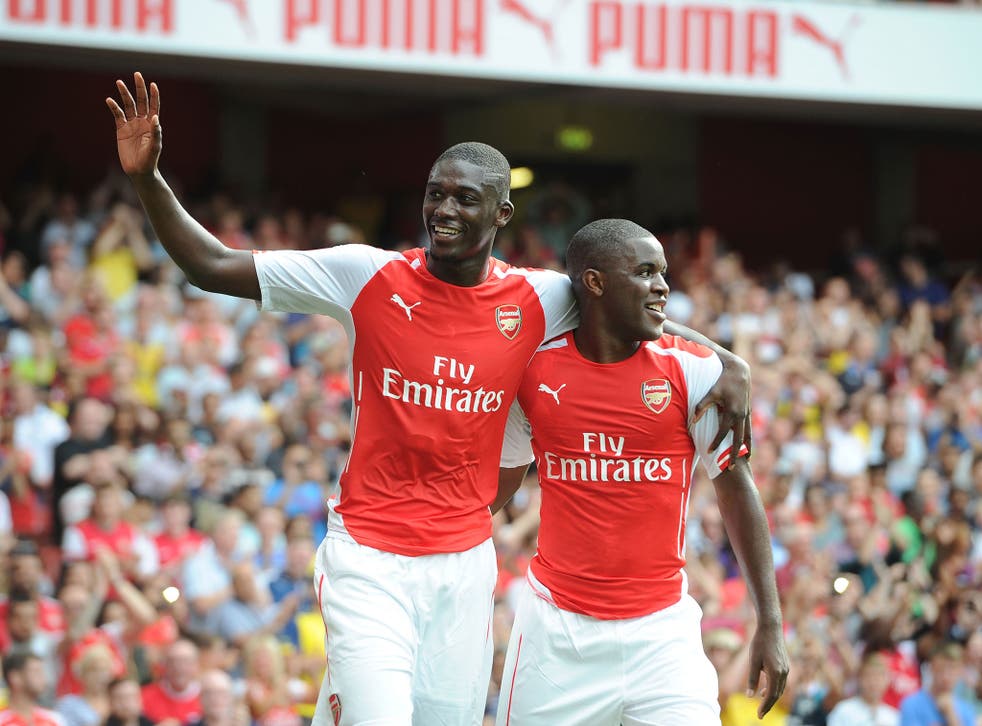 Truly, we live in an age of miracles and wonders.
Yaya Sanogo morphed into Thierry Henry, scored four goals in 22 minutes, but still managed to trip over his own feet as he attempted to high-five half of the residents of north London in celebration.
The man is a nascent folk hero; a forward who brings the anarchy of a Keystone Kops chase to the supposed professionalism of the Premier League.
It was somehow appropriate that he should limp off after slightly straining a hamstring trying to breakdance through a bewildered Benfica defence.
Arsenal played with the verve of European champions for an hour in which Benfica played as if someone had swapped their energy drinks for Vinho Verde.
The biggest Premier League transfers 2014-15

Show all 53
It was surreal stuff, a veritable summer beach fantasy, but since context is all, we had better remind ourselves that this was merely the Emirates Cup.
Arsenal manager Arsène Wenger, who has insisted that he intends to involve Sanogo and Joel Campbell in his squad this season, admitted: "It is difficult to draw conclusions after that.
"The most-positive aspect was we played our game; a game based on movement, technical skill and togetherness in the final third."
Benfica's goal, a header from Nicolas Gaitan, was supremely irrelevant.
It was a gentle warm up, the equivalent of a ruminative game of snap before the eyeballs-out video arcade frenzy of what is already being flagged up as The Greatest Premier League Season Since Sky Invented Football.
It didn't need Wenger's bizarre guard of honour, formed by a faintly bemused bevvy of air stewardesses provided by the sponsoring airline.The programme, which featured a cartoon version of Jack Wilshere in X-Man mode on the cover, was equally over the top.
It was an afternoon of fun and idle speculation, rather than glamour and certainty.
Arsenal's second game of the four-team tournament, against Wenger's former club AS Monaco today, will likely represent an increase in intensity, despite the French team's one-paced 2-2 draw with Valencia in the curtain raiser.
Dimitar Berbatov, whose flicks, feints and pouts have become more pronounced in tax exile, will be assured of the traditional welcome Arsenal supporters afford former Tottenham players.
The Bulgarian was ritually jeered when making way yesterday for Radamel Falcao, who will have more than a 19-minute cameo to underline his recovery from the knee injury which prevented him enlightening the World Cup.
Arsenal's German World Cup winners are yet to join up with the squad, and although the Arsenal manager insisted that Alexis Sanchez is not fit, he will play him on the flank for 45 minutes today.
Gunners fans had the air of farmers at a livestock fair as they started to assess new signings. Does Alexis, as he insists on calling himself, live up to his bloodlines?
Has a young buck like Calum Chambers the right pedigree? Will the latest French import, Mathieu Debuchy, have sufficient quality? Is it time to cull Wojciech Szczesny as first-choice goalkeeper?
The tentative answers to such questions were you bet, undoubtedly, and who knows?
They are going to love Sanchez at the Emirates. Introduced for the final 18 minutes, he was showboating within 60 seconds.
He provided the "new dimension" Wenger had promised, and nearly set up a last-minute goal for fellow substitute Francis Coquelin, who hit the post.
Chambers, half the price of the Chilean at £16 million, played with unhurried grace and impressive positional intelligence for the full 90 minutes in an unfamiliar right-sided centre half role.
For someone developed as either a right back or right winger at Southampton, his versatility is impressive, and it augurs well for a storied future.
The other two new boys didn't get off the bench.
Debuchy is evidently earmarked as Bacary Sanga's successor at right back, but Szcesny will come under pressure from David Ospina, the Colombian goalkeeper who was signed from Nice, but didn't make the matchday squad.
The creator of their 27th-minute opening goal, Aaron Ramsey with a brilliant turn, run and pass, was no surprise. The scorer, Sanogo, certainly was.
He is earnest, gangly and endearingly unco-ordinated, but the falling backheeled flick with which he ended his wait for his first goal for the club hinted at hidden depths.
It all then got rather silly. Campbell, another peripheral striker who is seeking to make a permanent impact, finished crisply from a clever cross by Hector Bellerin before Sanogo completed his hat-trick before half time.
The memory of him going into Benny Hill mode after another close-range goal four minutes into the second half brought a smile to Wenger's face.
"That's football," he said. "It always surprises you – and me as well."
Line-ups:
Arsenal (4-1-4-1): Martinez; Bellerin, Chambers, Monreal (Miquel, 72), Gibbs; Flamini (Arteta, 60); Campbell (Sanchez, 72), Ramsey (Wilshere, 60), Rosicky (Coquelin, 60), Oxlade-Chamberlain (Cazorla, 46); Sanogo (Akpom, 72).
Benfica (4-1-4-1): Artur; Pereira, Cesar, Sidnei, Elisu (Benito, 18); Talisca (Almeida, 59); John (Cadeias, 59), Amorim (Teixeira, 83), Gaitan (Cancelo, 83), Salvio (Bebe, 57); Lima (Derley, 83).
Referee: Lee Mason
Register for free to continue reading
Registration is a free and easy way to support our truly independent journalism
By registering, you will also enjoy limited access to Premium articles, exclusive newsletters, commenting, and virtual events with our leading journalists
Already have an account? sign in
Join our new commenting forum
Join thought-provoking conversations, follow other Independent readers and see their replies