Sean Dyche calls for video replays in Premier League after offside decision gifts Arsenal victory again
Laurent Koscielny won a 98th-minute penalty despite standing in an offside decision, three months after heading in an offside- winning goal against Burnley at Turf Moor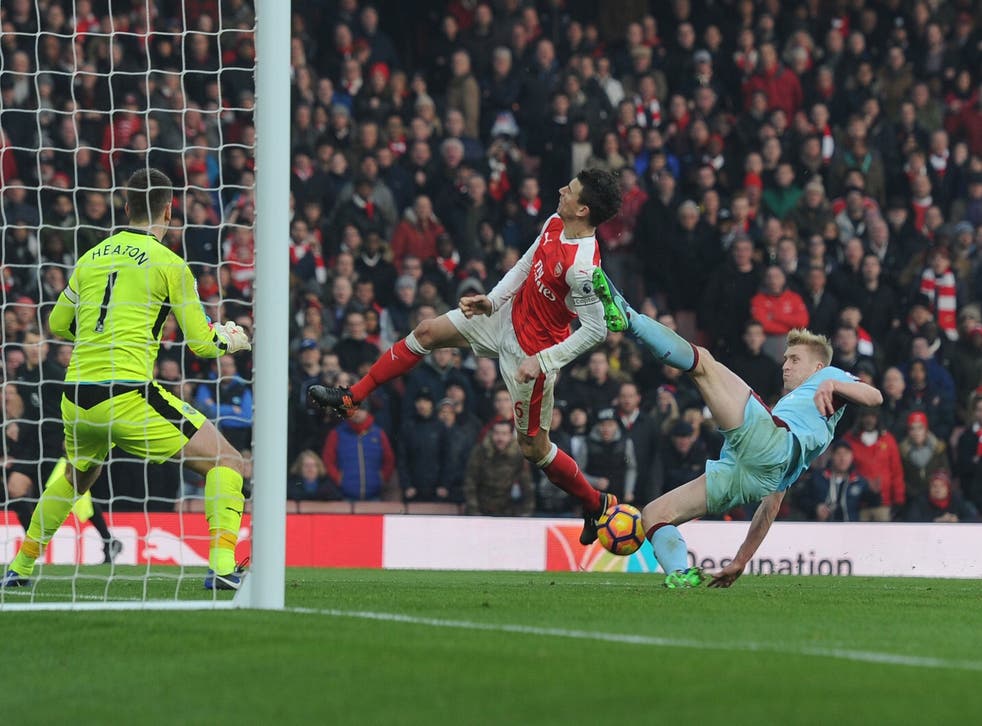 Sean Dyche admitted Arsenal's last-minute winning goal "left a bitter taste" after watching Laurent Koscielny have a decisive influence from an offside position for the second time this season that has now cost Burnley what could prove two valuable points in the fight for Premier League safety, with the manager admitting it might be time for video replays to be used during matches .
Koscielny secured Arsenal a 1-0 victory four minutes into injury time when these two sides met at Turf Moor last October, despite heading in from an offside position. The defender's intervention came even later here at the Emirates Stadium, as the defender attempted to head an Alexis Sanchez free-kick despite starting in an offside position. Burnley defender Ben Mee's raised foot led to the referee, Jon Moss, awarding a second penalty of the match, allowing Sanchez to secure a 2-1 victory that keeps Arsenal in touching distance of league leaders Chelsea.
Dyche took a measured approach afterwards, doing well to hide any anger that may be inside, but he was left to rue the costly decisions against his side and insisted that at this level, it was an easy offside to give and said that the linesman, Andy Halliday, needed to make the "brave" call.
"Well it's bizarre to think that two last-minute incidents against the same side home and away has cost us two points, it's a bizarre twist, an unfortunate twist, of fate," Dyche said afterwards.
"We get back in it, and then really you can't believe the decision, because I mean the mad thing about it now, I'm sure you're all aware that they [linesmen] have to wait until something happens before they put the flag up. But if you think about it, if he just put his flag up he's offside.
"So then he has to wait, then the ref gives the [penalty] decision, and now he has to be brave because he's under pressure now, he's thinking 'oh god he's given a penalty, what do I do now?', that kind of thing, whereas if he just put his flag up he's offside.
"We all know he's offside, it's as simple as that. So that's really, really disappointing, but what do you do? It's one of those things. We can only hope over a season we get something back."
Dyche's frustration was only magnified by the fact that Burnley deserved something out of the match, having fought valiantly to get back on level terms after Shkodran's Mustafi's opener by heading in a Mesut Ozil corner.
It means they continue to hold the worst away record across the top four flights of English football alongside Rotherham, with their point at Manchester United the only one claimed this season away from Turf Moor, and it led Dyche to admit that sooner or later video replays will be needed in the Premier League when such crucial decisions go wrong.
Arsenal vs Burnley player ratings

Show all 22
"Well I think it's the future whether I'm a fan of them or not," he said. "I think it will come because you obviously hope not to look back at some of these decisions over the season, but I think two points over the season like this, if you read that on our current league form and where we are, I think people would say they're going along nicely, so they've both been taken away by a decision.
"Therefore I think it's highly likely over time that some form of video replay will be used. We'll see, but I think it is likely over time that it will be used."

Dyche also questioned Jon Moss, the referee, for awarding a second penalty five minutes after pointing to the spot for Burnley's equaliser, with Francis Coquelin tripping Ashley Barnes in the Arsenal area to allow Andre Gray to convert.
"He has to make the challenge because [Koscielny's] already a body in front of him and he's offside, so now he has to work extra hard to try and get around him to make the challenge, so he wouldn't have had to make the challenge if he was level with him. Ben would've dealt with the ball anyway, or it would've gone out," Dyched explained.
"I'm not sure, I mean earlier on in the game Giroud goes for an overhead kick and I said to the fourth official 'surely that's dangerous play in the middle of the box' and he said 'well he wasn't close enough to it', so then the one against Ben, he's clearly going for the ball, he's only got eyes for the ball, the lad's stooping to head it, it's an honest challenge. But that aside we don't have to worry about that because it's offside so the linesman has to give that."
Join our new commenting forum
Join thought-provoking conversations, follow other Independent readers and see their replies