Arsenal vs Crystal Palace match report: Olivier Giroud wonder-goal sets up Gunners victory
Arsenal 2 Crystal Palace 0: Alex Iwobi got the second goal for the hosts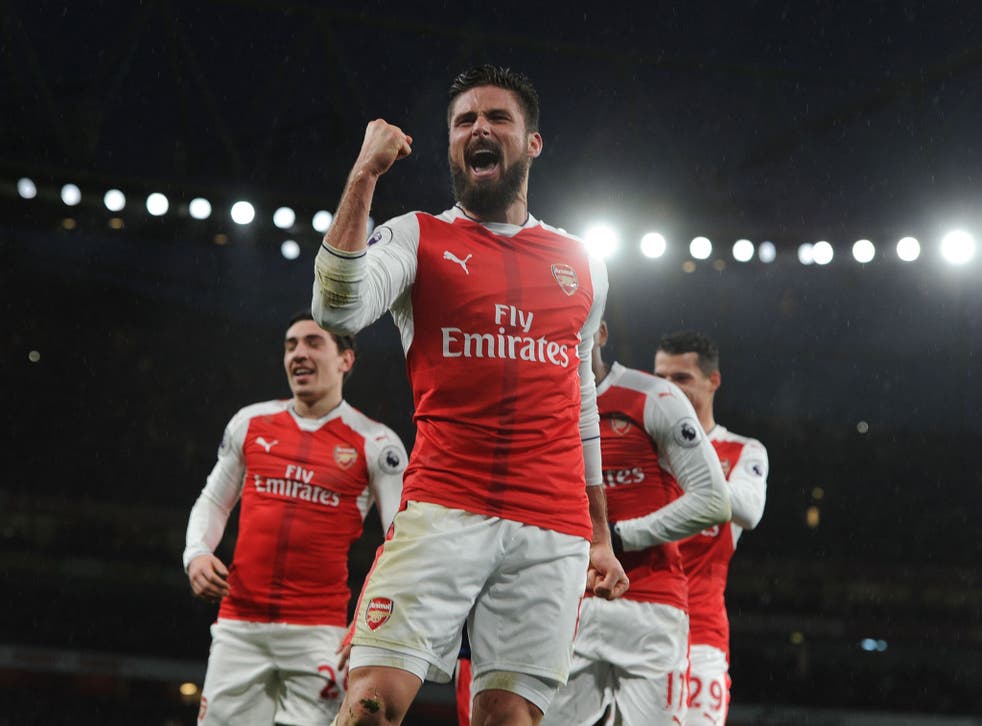 There will be roughly 1,000 goals scored in the Premier League in 2017 but none of them will be better than the one Olivier Giroud scored this afternoon. The goal set up a routine 2-0 win over Crystal Palace but, with all due respect to Sam Allardyce's side, it almost felt wasted on a game like this.
If this goal sets the tone or the standards for Arsenal's year then they will everything in sight. More likely, though, it was a dazzling one-off, one of those happy sequences of play when every single kick came off just as it was intended.
There are brilliant team goals and brilliant individual goals but this one was both. The move was a perfect counter-attack, as Arsenal swept up-field through the cold rain. The finish was an audacious scorpion kick, in off the underside of the crossbar before Wayne Hennessey could react. Spectacular by itself, of course, but even better as the climax of the attack.
16 minutes had been played with Arsenal comfortably on top but waiting for their breakthrough. Giroud should have converted Nacho Monreal's low cross after just five minutes but could barely connect with the ball. Palace had come here to frustrate and it was just starting to feel like it could be a difficult afternoon.
Lucas Perez, making a rare league start, won the ball with a sliding tackle in his own right-back area. He passed to Hector Bellerin who passed to Giroud, deep inside his own half. With more confidence than might be expected, Giroud played a clever little flick to Granit Xhaka, and suddenly Arsenal were away. Xhaka found Alex Iwobi, and in turn found Alexis Sanchez, breaking forward. Sanchez tore down the inside-left channel, stopped, looked up, cut back and clipped a right-footed cross into the box.
It was the only imprecise moment of the move, as the cross arrived just behind the run of Giroud, galloping forward into the box. But rather than turning back, Giroud kept going, sticking his bent left leg out behind himself, flicking it so as to backheel the ball forward over his head into the near top corner of Wayne Hennessey's goal. It was like Henrikh Mkhitaryan's execution of the same technique at Old Trafford last week, except it was from further out, and Giroud was onside.
As is often the case with goals this good, there was plenty of surprise mixed into the roars of celebration, and then subsequent rounds of applause when the goal was shown back. It took a while for the game and the fans to settle down again. Everyone knew that this match's defining moment had already passed.
The goal deserved to win the game, and so it did. There was never any chance of Crystal Palace getting back into the match. They barely came with enough ambition to get 0-0, and as soon as they were behind their focus was on damage limitation and preserving their resources for their far more important game at home against Swansea City on Tuesday night. The only question left was when and how Arsenal would score their second.
It should have come just before the break when Sanchez picked up a ball in the box, made himself space and shot, only for Hennessey to stick out a leg to make the save. For a player of Sanchez's quality it was a bad miss.
But Arsenal only had to wait until 10 minutes into the second half. Sanchez, dangerous as ever out even out on the left, darted a clever pass through to Monreal, whose runs caused Palace problems all afternoon. Monreal's cross was blocked by Scott Dann, lifting the ball high up into the air. For all the Palace defenders in the box, Iwobi got there before anyone, and he was clever enough to head the ball over Hennessey and James Tomkins, going in off Joel Ward's head.
There were still 35 minutes left but very little happened as both teams were happy enough to play out the 2-0, knowing that they have another important game just a few days away. Sam Allardyce took off Yohan Cabaye, Andros Townsend and Christian Benteke to protect their legs while Wenger made three quick changes himself.
Alex Oxlade-Chamberlain was the brightest of the Arsenal substitutes and nearly scored with his left foot in added time. It did not matter though. The game was decided and defined by Giroud long before.
Arsenal (4-2-3-1) Cech; Bellerin, Gabriel, Koscielny, Monreal; Elneny (Coquelin, 72), Xhaka; Perez (Ramsey, 72), Iwobi (Oxlade-Chamberlain, 77), Sanchez; Giroud
Palace (4-1-4-1) Hennessey; Kelly, Dann, Tomkins, Ward; Flamini; Townsend (Lee, 71), Puncheon, Cabaye (Mutch, 65), Zaha; Benteke (Campbell, 77)
Register for free to continue reading
Registration is a free and easy way to support our truly independent journalism
By registering, you will also enjoy limited access to Premium articles, exclusive newsletters, commenting, and virtual events with our leading journalists
Already have an account? sign in
Register for free to continue reading
Registration is a free and easy way to support our truly independent journalism
By registering, you will also enjoy limited access to Premium articles, exclusive newsletters, commenting, and virtual events with our leading journalists
Already have an account? sign in
Join our new commenting forum
Join thought-provoking conversations, follow other Independent readers and see their replies